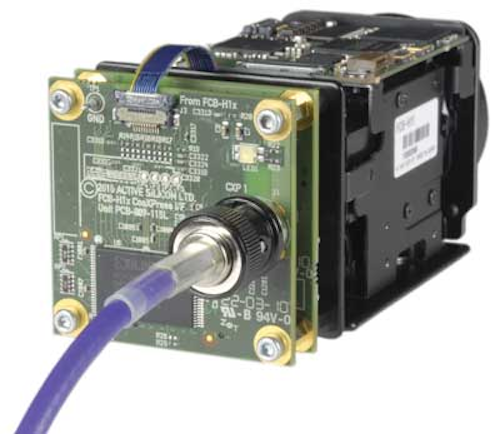 With the introduction of faster megapixel image sensors and cameras, system integrators now require frame grabbers that support higher data rates
Andrew Wilson, Editor
At 2009's VISION show in Stuttgart, a consortium of camera, frame grabber, and cable companies won the VISION Award for the development of the CoaXPress (CXP) interface. Originally developed by Adimec, AVAL Data, Active Silicon, NED, and Components Express using transceivers from EqcoLogic, the standard has now been endorsed by eleven other vendors of cameras and frame grabbers.
Setting the standard
Designed to replace the established Camera Link standard in applications that require transfer rates faster than 680 Mbytes/s, CXP allows 6.25 Gbits/s of image data to be transferred over a single coaxial cable from camera to frame grabber. For even higher data rates, multiple CXP channels can be used.
To verify the integrity of images transferred over CXP, image packets contain a cyclic redundancy check (CRC) code rather than a packet resend mechanism. For triggering, GPIO, and register control, CXP also features a 20.833-Mbit/s uplink. Both the uplink and downlink use 8B/10B coding to provide DC balance and clock recovery. Like many other currently available camera-to-computer interfaces, CXP also allows 24 V/13 W of power to be transferred over each coax cable.
Supporting camera-to-computer distances up to 40 m at 6.25 Gbits/s, the CXP interface can also support lower data rates at longer distances. Some manufacturers have shown camera-to-computer connectivity at speeds of 3.125 Gbits/s and distances up to 100 m over standard RG59 and RG6 cable.
Defense and security
Using a single CXP cable with standard BNC connectors to supply data, control, and power can prove especially useful in defense and security applications. More than two years ago at the SPIE Defense + Security show in Orlando, FL, Adimec demonstrated the use of its Opal Camera connected through a single 75-Ω slip ring to an Active Silicon CXP frame grabber, a video of which can be seen at http://bit.ly/uwuqxX.
Other camera vendors targeting the security market include Sony with its range of FCB-H11 and FCB-H10 block cameras. Providing autofocus, autoiris capability, the cameras are well established in security markets but lack a Sony-supplied CXP interface. Capitalizing on this need, Active Silicon has developed a single add-in camera board that allows the block camera's power, control, and data to be managed over a single coax cable (see Fig. 1).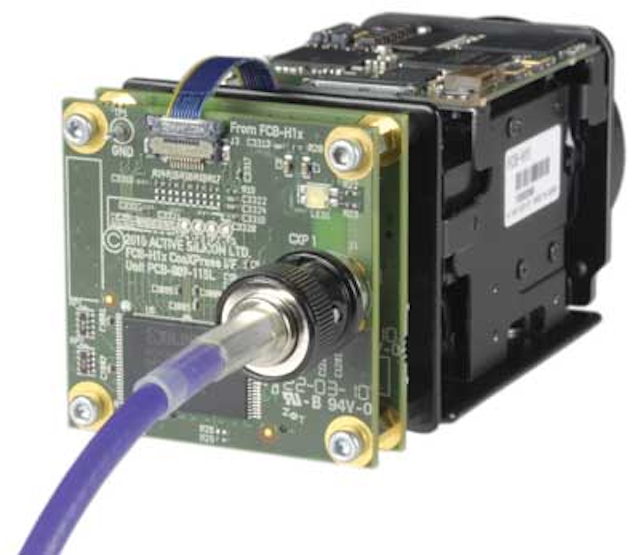 FIGURE 1. Recognizing the success of Sony's FCB-H11 and FCB-H10 block cameras in security applications, Active Silicon has developed a single add-in camera board that allows the block camera's power, control, and data to be managed over a single coaxial cable.
Camera support
Because a single cable can support data rates up to 6.25 Gbits/s, camera vendors that currently offer Camera Link interfaces are migrating their product lines to the CXP standard, incorporating single-cable interfaces into their products. Area-array camera vendor Imperx has built the interface into its latest Bobcat ICX-B1410, a 1392 × 1040-pixel, 2/3-in. interline CCD camera cable of running at 30 frames/s. According to Imperx, CXP will be adopted on other camera products this year.
While single-channel implementations will support most of today's area-array cameras, demands of higher-speed cameras are being met by vendors incorporating two and four CXP interface channels into their products. First to announce a dual-channel camera, Adimec offers the Quartz Q-4A180/CXP, a 2048 × 2048 × 10-bit area-scan CMOS camera that runs at 180 frames/s over two standard coaxial cables.
To attain even faster data transfer rates, both Optronis and Mikrotron have introduced high-speed cameras that use four CXP channels. Optronis' CL4000CXP, for example, is a 4-Mpixel (2304 × 1720) CMOS camera capable of running at speeds up to 500 frames/s. The camera uses four CXP channels to transfer data to CXP-based frame grabbers at speeds up to 25 Gbits/s. Both of these cameras are supported by four-channel CXP frame grabbers from Active Silicon.
On its booth at the VISION 2011 show in Stuttgart, Optronis also showed a four-channel CXP frame grabber from industrial inspection specialist Intek-Plus. According to Bernd Reinke, PhD, division manager of Optronis, the yet-to-be-named frame grabber was especially developed to meet the needs of Intek-Plus's customers working on semiconductor inspection applications.
Mikrotron has also developed a 4-Mpixel CMOS camera, the EoSens 4CX, that is capable of running at 500 frames/s. In the initial release of the camera, the company used a 5W5 connector to transfer data over four coax lanes and a fifth channel as the upstream link. At the time, this connector eliminated the need for four separate cables to perform data transfer and was shown interfaced to a prototype 5W5-based frame grabber from Silicon Software.
According to Andreas Ertl, vice president of engineering at Mikrotron, there is at present no commercially available frame grabber with a 5W5 connector. Because of this, the company offers a break-out cable that allows the 5W5 connectors to be interfaced to five BNC connectors. In future versions, however, Mikrotron and Silicon Software may announce four-channel standard CXP-compatible versions of both cameras and frame grabbers.
Of course, says Colin Pearce, CEO of Active Silicon, given the launch of two- and four-channel cameras and frame grabbers, the center of much discussion is a new connector proposal for multiway connectors—one that allows single, dual, quad, and higher links to be used (see "Multiway CoaXPress connectors come into play" below).
While many of the currently available CXP-based cameras employ area-array sensors, other companies are offering linescan-based cameras targeted at web inspection applications. These include NED's XCM80160CXP, an 8k × 1-pixel linescan camera, and e2v's EliiXA, a 16k × 1-pixel, 12-bit linescan camera capable of running at 100 kHz, which equates to 1.6 Gpixels/s, requiring four CXP links. This was demonstrated at VISION 2011 running with Active Silicon's Quad CXP frame grabber.
Computer interfaces
To support these cameras, many companies now produce frame grabber boards that have been designed in a modular fashion to allow system integrators to purchase only the hardware they require. Active Silicon offers three CXP PCI Express x8 (Gen2) frame grabber boards that offer single, dual, and quad CXP interfaces. Similarly, BitFlow also offers three boards in its Karbon-CL KBN-PCE-CXP1/2/4 half-size x8 PCI Express series.
These companies have taken a modular approach to product design; others have introduced products that support dual and quad versions of the CXP interface. BAP Image Systems' CXP frame grabber is a two-channel PCI-Express x4 board; AVAL Data's APX-3662 is billed as a PCI Express Gen2 x4 lane board that can support two CXP cameras.
At VISION 2011, Matrox Imaging also announced its Radient eV-CXP, a PCI 2.0 x8 CXP frame grabber board that provides four independent CXP links (see Fig. 2). According to the company, single- and dual-channel versions may be developed in the future depending on market demand. In applications requiring extremely high frame rates, developers can offload image-acquisition management from the host CPU using Matrox's on-board MicroBlaze soft processor and perform on-board image preprocessing tasks such as Bayer interpolation, color space conversion, and LUT mapping.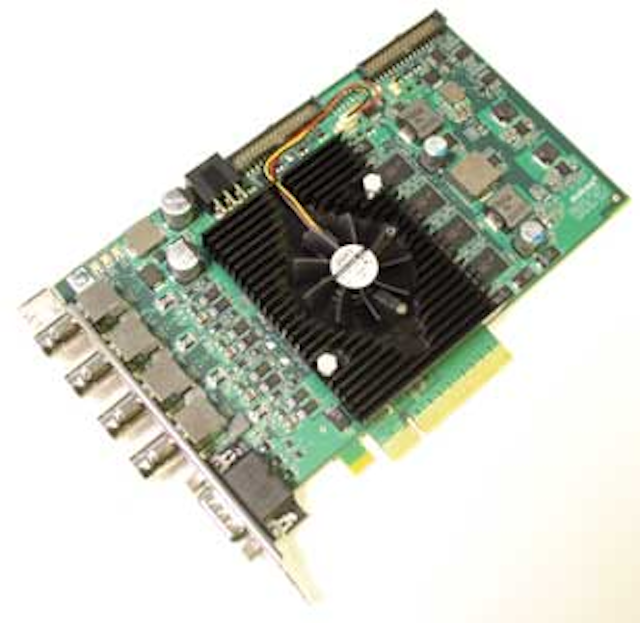 FIGURE 2. Matrox Imaging's Radient eV-CXP is a PCI 2.0 × 8 CXP frame grabber board that provides four independent CXP links. According to the company, single- and dual-channel versions may be developed in the future depending on market demand.
Although many low-cost CXP interface boards simply allow camera-to-computer connections, more sophisticated products incorporate auxiliary I/O lines to provide control for external triggers, shaft encoders, and camera exposure. Active Silicon's Firebird Quad CXP-6 frame grabber, offers four opto-isolated inputs, four opto-isolated outputs, four TTL inputs, four TTL outputs, four RS-422 inputs, and four RS-422 outputs that can be accessed from a 50-way header connector on the board.
Design and deployment
So we have established that numerous cameras and frame grabbers support the CXP standard. Other companies are busy developing products that aid in the design and deployment of systems based on the standard.
To speed the development of CXP-based products, Sensor to Image offers field-programmable gate array (FPGA) CXP-protocol cores for several Altera and Xilinx FPGAs. At the December 2011 ITE show in Yokohama, Japan, the company's CXP FPGA transmitter core was certified CXP-compliant to a data rate of 3.125 Gbits/s using frame grabbers from both Active Silicon and AVAL Data. Sensor to Image's CXP FPGA receiver core was also certified compliant using cameras from Adimec and NED.
Such FPGA cores will allow manufacturers to build CXP-compatible products more easily; still, many of the applications in which these products will be employed require high-speed images to be stored as they are captured. To meet these demands, IO Industries has developed a solid-state digital recorder dubbed DVR Express that allows inputs from two CXP/PoCXP cameras to be recorded at speeds up to 3.125 GHz and displayed at similar rates (see Fig. 3).
g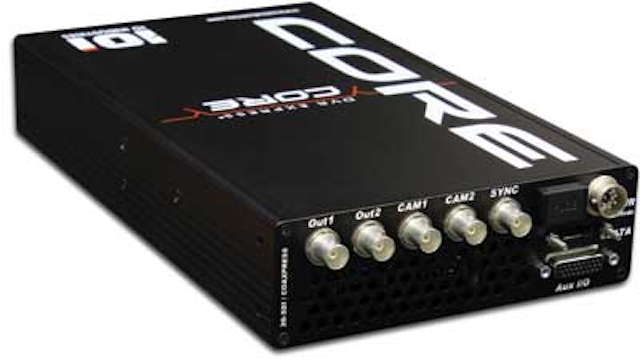 FIGURE 3. To meet the demands of developers wishing to store high-speed images from CXP-based systems, IO Industries has developed a solid-state digital recorder dubbed DVR Express that allows inputs from two CXP/PoCXP cameras to be recorded at speeds up to 3.125 GHz and displayed at similar rates.
Like the company's previous Camera Link version of the DVR, the CXP model is expected to be used in systems where long sequences of data must be captured and later used to troubleshoot industrial machinery or in simulation systems to emulate high-speed procedures (see "Digital video recorder captures Camera Link images," Vision Systems Design, February 2011).
In the two years since its initial introduction, support for the CXP standard has grown from just a handful of companies to more than seventeen vendors. With the introduction of ever faster CMOS-based cameras based around imagers from Awaiba, Alexima, CMOSIS, and ON Semiconductor, it is highly likely that the standard will be adopted by many more area and linescan camera manufacturers this year.
Multiway CoaXPress connectors come into play
Since the introduction of CoaXPress, several manufacturers have introduced high-speed cameras and frame grabbers based on four CoaXPress links. These provide a raw data rate of 25 Gbits/s, which equates to an acquisition rate of about 2 Gpixels/s. Previously, it was suggested that the 5W5 connector may provide a good solution for this, though recently Components Express has proposed a far more flexible and novel solution using DIN 1.0/2.3 connectors to the CoaXPress Working Group.
This connector type, already used in communications and broadcast, provides a novel plug-and-play ability in which single, dual, and quad cables may be plugged into a single frame grabber in any combination. At about half the size of a BNC connector and with the ability to provide a roadmap to 12.5 Gbits/s per link, this connector is a good candidate to provide the data rates likely to be required over the next few years.
The proposed connector standard also provides for a high-speed uplink—another feature on the CoaXPress roadmap for specialized applications. The PDF file at http://bit.ly/yYODhC shows typical cable configurations and illustrates the plug-and-play capability. Further investigation and testing is still required, but with increasing demand for ultrahigh-speed acquisition and associated cabling requirements, this solution has great potential.
Colin Pearce is chief executive officer of Active Silicon (Iver, UK).
Company Info
Active Silicon
Iver, UK
www.activesilicon.com
Alexima
Pasadena, CA, USA
www.alexima.com
AVAL Data
Tokyo, Japan
www.avaldata.com
Awaiba
Madeira, Portugal
www.awaiba.com
Adimec
Eindhoven, the Netherlands
www.adimec.nl
BAP Image Systems
Erlangen, Germany
www.bapimgsys.com
BitFlow
Woburn, MA, USA
www.bitflow.com
Components Express
Woodridge, IL, USA
www.componentsexpress.com
CMOSIS
Antwerp, Belgium
www.cmosis.com
e2v
Chelmsford, UK
www.e2v.com
EqcoLogic
Brussels, Belgium
www.eqcologic.com
ON Semiconductor
Phoenix, AZ, USA
www.onsemi.com
Imperx
Boca Raton, FL, USA
www.imperx.com
Intek-Plus
Daejeon, Korea
www.intekplus.com
IO Industries
London, ON, Canada
www.ioindustries.com
Matrox Imaging
Dorval, QC, Canada
www.matrox.com/imaging
Mikrotron
Unterschleissheim, Germany
www.mikrotron.de
NED
Osaka, Japan
www.ned-sensor.co.jp
Optronis
Kehl, Germany
www.optronis.com
Sensor to Image
Schongau, Germany
www.sensor-to-image.de
Silicon Software
Mannheim, Germany
www.silicon-software.com
More Vision Systems Issue Articles
Vision Systems Articles Archives