Business News
Biennial show integrates robots and vision; Management Moves; Alliances accelerate; MORE...
May 1st, 2003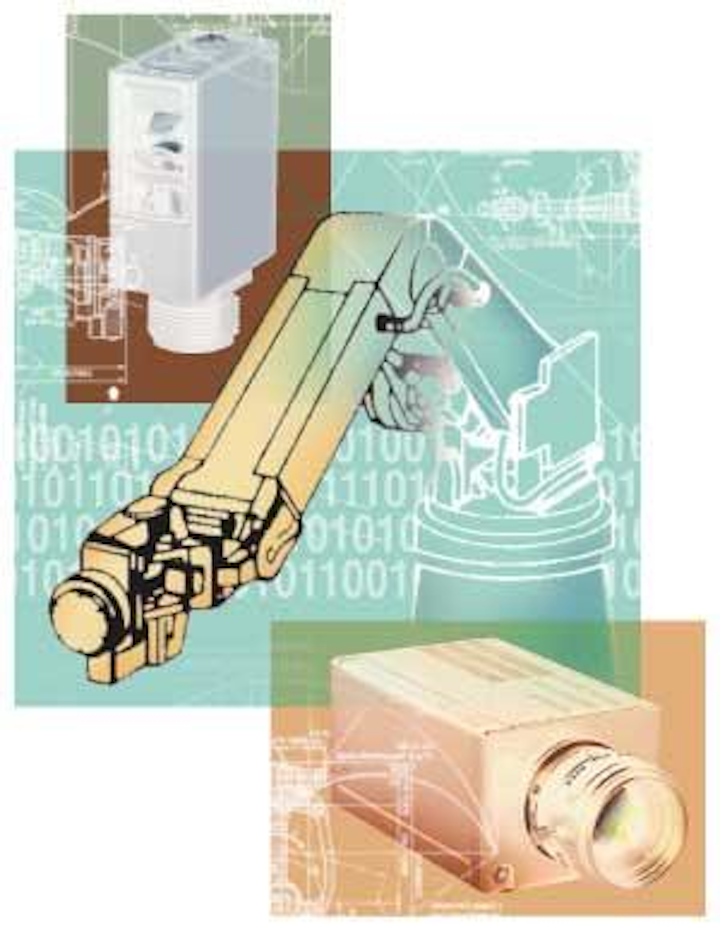 Biennial show integrates robots and vision
by George Koetelly, Editor in Chief
georgek@pennwell.com
Having the theme "accomplish your mission with robots and vision," the 2003 International Robots & Vision Show is being held at the Donald E. Stephens Convention Center in Rosemont, IL, June 2–5, 2003. The show is sponsored by the Robotic Industries Association (RIA; Ann Arbor, MI; www.roboticsonline.com) and the Automated Imaging Association (AIA; Ann Arbor, MI; www.machinevisiononline.org). These two trade groups represent more than 500 manufacturing companies involved in robotics and machine vision and include component suppliers, systems integrators, end users, research agencies, consulting firms, and university laboratories.
Some 10,000 manufacturing leaders are expected to attend the two events and examine the wares of more than 150 exhibitors. Some of the latest products to be displayed include industrial robots, cameras, cables, vision processors and systems, frame grabbers, lighting and optics, motion control, sensors, and software.
The 21 sessions that make up the conference will cover practical applications and solutions split among four theme tracks:
Robotics—emphasizes safety issues; integration, packaging, and palletizing applications; technology advances; and new developments in robots and vision
Business—emphasizes flexible vs. fixed automation; use of robots and vision systems; and justifying automation case studies
Machine-Vision—emphasizes lighting and optics; cameras and smart sensors; robot and 3-D vision; and new machine-vision and robotic developments and applications
Research—emphasizes robotic research and development; nontraditional applications; and future advances.
The 34th International Symposium on Robotics (ISR 2003), sponsored by the International Federation of Robotics (Paris, France; www.ifr.org), will be held jointly with the International Robots & Vision Show. ISR is held in the United States once every six years and will provide leading-edge and applied-research presentations by robotics experts from around the world.
Seven tutorials have been scheduled on the opening day of the show. Tutorial 1, "Getting started with machine-vision—what every new user should know," and Tutorial 2, Robot safety—what your company needs to know about the ANSI/RIA robot safety standard," will both be offered from 8:30 a.m. to 11:00 a.m. Tutorial 3, "Getting started with robotics—what every new user needs to know," and Tutorial 4, "Beginning lighting & optics," go on concurrently from 12:30 p.m. to 3:00 p.m. Tutorial 5, "Cutting-edge research in robotics," plays solo from 1:30 p.m. to 4:30 p.m. Last, Tutorial 6, "Advanced lighting & optics," and Tutorial 7, "Successfully integrating robots & machine vision at your company," run simultaneously from 3:30 p.m. to 6:00 p.m.
A workshop on flexible measurement is on the agenda for Wednesday, June 4, from 10:00 a.m. to noon. Sponsored by the Metrology Automation Association (Ann Arbor, MI; www.metrologyautomation.org), this workshop aims at the professional development of set-up technicians, production foremen, manufacturing engineers, and plant managers. A Metrology Automation Pavilion also will be available on the show floor. It will display products, applications, and technologies for inspection, measurement, and general metrology.
Dean Kamen, president of DEKA Research and Development Corporation and chairman and chief executive officer of Segway LLC, will be the featured speaker at the "Spirit of Innovation Luncheon" on June 4. Among his accomplishments are the Segway Human Transporter, a breakthrough in personal transportation, and the Independence IBOT Mobility System for the physically challenged, designed to climb stairs, traverse uneven terrain, and raise the user to eye level with a standing person. Kamen holds more than 150 US and foreign patents, many of them for innovative medical devices that have expanded the frontiers of health care worldwide.
Attendees to the International Robots & Vision Show gain free admission to two collocated shows: Sensors Expo 2003 and Industrial Fastener & Forming International Show.
Management Moves
Agilent Technologies Inc. (Palo Alto, CA; www.agilent.com), a supplier of CMOS image sensors, has agreed to acquire the intellectual property and other assets of Pixel Devices International Inc. (PDI; Sunnyvale, CA), a developer of CMOS image sensor technology. Key PDI employees will join Agilent's Semiconductor Products Group, including PDI chief technical officer Boyd Fowler.
DVT Corp. (Duluth, GA; www.dvtsensors.com), a supplier of sensor technology, has moved into new corporate headquarters in Duluth, GA. The new facility provides more than three times the floor space of the previous building and features an applications demo area, conference rooms, and an expanded global training center and communications infrastructure to support its free classroom training and Web-based technical support.
ipd (Billerica, MA; www.goipd.com), the intelligent products division of Coreco Imaging Inc., has named Firstsight Vision Ltd. (Tongham, Surrey, UK; www.firstsightvision.co.uk) as the UK distributor of its line of user-friendly machine-vision appliances, systems, and software for manufacturing end users and system integrators.
Omron Electronics LLC (Schaumburg, IL; www.omron.com) has appointed Craig Bauer as chief operating officer and promoted Frank Newburn to cochief executive officer. Newburn will maintain his title as Omron Electronics president, as well as continuing his responsibilities as president of Omron Manufacturing of America. Bauer was previously chief executive officer of Videojet Technologies Inc.
Alliances accelerate
VistaScape Technology Corp. (Atlanta, GA; www.vistascape.com), a supplier of integrated security-and-surveillance management software, and FLIR Systems (Portland, OR; www.flir.com), a supplier of infrared imaging products, have agreed to integrate FLIR's thermal imaging technology with VistaScape's Security Data Management Systems to provide an object-detection solution for homeland security, counterterrorism, and force protection applications.
PPT Vision Inc. (Eden Prairie, MN; www.pptvision.com), a supplier of 2- and 3-D machine-vision-based automated inspection systems, has appointed
Power/mation Division Inc. (St. Paul, MN; www.powermation.com), a distributor of industrial automation and controls products, as the exclusive distributor for PPT's Impact and 2-D machine-vision systems in the upper Midwest region.
Contracts Committed
Braintech Inc. (N. Vancouver, BC, Canada; www.braintech.com) has installed multiple units of its 3-D Vision Guided Robotics software into Ford Motor Co. new engine plants in Canada. The initial order for 19 systems was placed with ABB Canada and includes ABB robots and Braintech software.
Dalsa Imaging (Waterloo, ON, Canada; www.dalsa.com) has received a production order for high-performance digital cameras totaling more than $2.2 million. The order, which is expected to be delivered over the next 12 to 15 months, was placed by a leading producer of capital equipment for the semiconductor-manufacturing industry. The cameras will enable semiconductor manufacturers to maintain better process quality and control, improve yield, lower costs, and accelerate the ramp-up of leading-edge lithographies and processes.
Technology Trends
Atmel Corp. (San Jose, CA; www.atmel.com) is showing its CMOS camera module, Eye-On-Si. This module contains a 1/7-in. optical-format CMOS camera chip with 352 × 288-pixel resolution in less than 0.5 cm3. It includes a single chip (sensor and image processor), a lens, a flexible cable, and all necessary peripheral components.
E Ink Corp. (Cambridge, MA; www.eink.com) has been awarded its 30th US patent in the area of paper-like electronic displays and related technologies; the company has more than 150 applications pending. The company is advancing its electrophoretic information displays, also known as electronic ink displays. Paper-like electronic displays are bright with high contrast, can be read in any lighting condition including direct sunlight, and can be seen at any viewing or illumination angle. They are thinner, lighter, and consume less power than liquid-crystal displays and organic light-emitting displays.
IC Media Corp. (San Jose, CA; www.ic-media.com) has unveiled its ICM110T single-chip, digital color, 3-Mpixel CMOS image sensor. This sensor uses 0.25-µm process technology, 4 × 4-µm pixels, a 2048 × 1536-pixel array at up to 12 frames/s with sub-sampled quarter and quarter-quarter (1/16) resolutions, and correlated double sampling with an internal 11-bit analog-to-digital converter and timing circuitry.
National Semiconductor (Santa Clara, CA; www.national.com) has integrated serialized LVDS outputs into a 10-bit, 40-MSPS A/D converter with an embedded clock and parallel outputs. The same converter with serialized LVDS outputs and an embedded clock transforms digital data into a single LVDS serial data (2-pin) stream with an embedded clock at a data rate of 400 MSPS.
NEC America Inc. (Irving, TX; www.nec.com) has developed programmable parallel processor chip for in-vehicle video image-recognition applications that can integrate 128 single-instruction multiple-data-processing elements that operate at about 100 MHz to achieve a peak-processing performance of 51.2 GOPS.
Micron Technology Inc. (Boise, ID; www.micron.com) has released samples of CMOS image-sensor System-on-a-Chip (SoC) devices (MI-SOC-0343) and stand-alone VGA-size CMOS image sensors (MI-0343). The stand-alone sensor operates at 40 mW at 15 frames/s and the SoC operates at 85 mW at 15 frames/s. Both products offer a VGA resolution of 640 × 480 pixels and can be programmed for progressive-scan images up to 30 frames/s. The SoC can be programmed to output images in 8-bit CCIR 656 (YCrCb) or 565-RGB format.
Texas Advanced Optoelectronic Solutions Inc. (Plano, TX; www.taosinc.com) has introduced its TCS230 Programmable Color Light-to-Frequency Converter. The converter is an integrated red, green, and blue (RGB) color sensor with a digital-compatible interface that integrates RGB filters on a single die that enables 10 to 12 bits of resolution per color channel without the need for analog-to-digital converters. It achieves color sensing through a 64-photodiode grid that consists of 16 red, green, blue, and clear photodiodes. All 16 photodiodes of the same color are connected in parallel, and colors can be dynamically selected for use during operation.
Market Motives
Business Communications Co. Inc. (Norwalk, CT; www.bccresearch.com), in its RGB-252 Mass Storage Systems Developments and Trends Report, finds that the total market for mass-storage systems will average 12.2% annual growth advancing to nearly a $110 billion value by 2007. The North American mass-storage market will continue to be the dominant regional market. The European region will retain its second-place standing and move forward at a double-digit rate to reach more than $34 billion by 2007. The Asia-Pacific region will generate nearly $18 billion in revenues by 2007.
Dataquest Inc., a unit of Gartner Inc. (San Jose, CA; www.gartner.com), forecasts that the worldwide semiconductor market will grow 8.9% in 2003, with revenues totaling $167 billion, up from $153.4 billion in 2002. A slowdown in the market at the end of 2002 continued into the first quarter of 2003, but Gartner Dataquest analysts expect business spending will return in the second half of 2003, which will fuel demand.
Frost & Sullivan (San Jose, CA; www.frost.com) in its World Machine Vision Inspection System Market Report reveals that the industry generated revenues totaling $1.12 billion in 2002. It projects that total market revenues could reach $2.62 billion in 2009 but cites such problem areas as lack of interface standards, small research and development budgets, complicated user interfaces, complex software, and simpler algorithms.