Business Vision
Imaging ranks as one of the top engineering achievements; Alliances accelerate; Technology trends; Management moves; and Market vision.
Jul 1st, 2000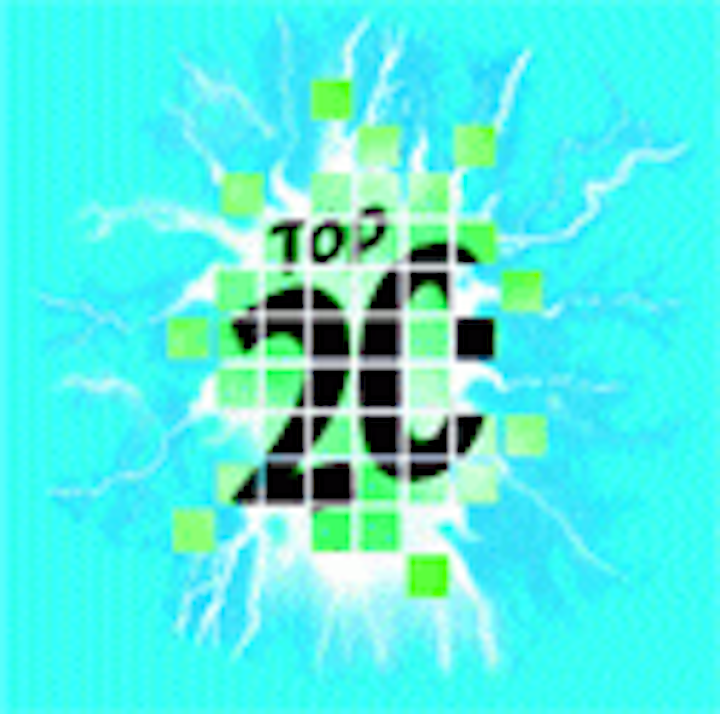 Imaging ranks as one of the top engineering achievements
Under the direction of the National Academy of Engineering (NAE), more than two-dozen US professional engineering societies recently compiled a list of the 20 greatest engineering achievements of the 20th century. In first place was electrification, "which powers almost every pursuit and enterprise in modern society," said the NAE. Imaging technologies was ranked 14th.
According to the NAE, the most significant engineering achievements of the last century were: electrification, the automobile, the airplane, safe and abundant water, electronics, radio and television, agriculture mechanization, computers, the telephone, air conditioning and refrigeration, interstate highways, space exploration, the Internet, imaging technologies, household appliances, health technologies, petroleum and gas technologies, lasers and fiberoptics, nuclear technologies, and high-performance materials.
Alliances accelerate
Sarnoff Corp. (Princeton, NJ; www.sarnoff.com) is integrating its high-sensitivity CMOS camera-on-a-chip technology with the Litton Electro-Optical Systems (Garland, TX) image-intensified camera system to create a video-enabled night-vision system for the US Army Communications-Electronics Command.
Video Display Corp. (Tucker, GA), a supplier of display parts and products, has agreed to acquire Lexel Imaging Systems (Lexington, KY), a supplier of displays for industrial, military, and medical applications.
Adept Technology Inc. (San Jose, CA; www.adept.com), a manufacturer of industrial robots and factory-automation products, has signed a corporate internal integrator agreement with Corning Inc. (Corning, NY; www.corning.com), a supplier of optical fiber and photonic products, to provide SCARA and Cartesian robots with vision guidance to automate portions of Corning's assembly processes.
Eastman Kodak Co. (Rochester, NY; www.kodak.com), a supplier of sensor, camera, and imaging products and technologies, has disclosed the extension of a current cross-license agreement by two years with eMagin Corp. (Hopewell Junction, NY; www.emagincorp.com), a developer of optoelectronics and virtual imaging technologies. Both companies are jointly developing organic light-emitting diode microdisplay and viewfinder optics technologies.
Conexant Systems Inc. (Newport Beach, CA; www.conexant.com), a developer of digital CMOS image sensors, has agreed to acquire Sierra Imaging Inc. (Scotts Valley, CA), a provider of digital image processors and image-management software.
Technology trends
BioShape AG (Berlin, Germany; www.bioshape.com) has developed a new technology for precise on-line measurement of the cornea during refractive eye surgery. During operation, an ultraviolet (UV) laser pulse hits a fine screen and projects striped patterns of UV light onto the cornea. These patterns emit visible blue fluorescence that is measured with a digital camera.
Management moves
3D Systems Corp. (Valencia, CA; www.3dsystems.com), a producer of solid imaging products and services, has promoted Charles Hull to executive vice president and chief technology officer.
Eastman Kodak Co. (Rochester, NY; www.kodak.com), a supplier of sensor and camera products and technologies, has elected two managers to the position of senior vice president: James C. Stoffel, currently director research and development, chief technical officer, and vice president; and David L. Swift, currently chairman and president, greater Asia region, and vice president.
In July 1999, Intermac Technologies Inc. (Woodland Hills, CA) and six other barcode companies sued the Lemelson Limited Partnership in the Reno, NV, federal court, seeking a declaration that certain Lemelson vision-system patents are invalid and unenforceable. The Lemelson motion to dismiss the Intermec suit was denied recently by a federal judge in Phoenix, AZ.
Fakespace Systems Inc. (Kitchener, ON, Canada; www.fakespacesystems.com), a supplier of advanced visualization systems, has named Jerome King manager of business development, commercial systems. He previously served in management positions at the technical computing division of Hewlett-Packard Co.
FLIR Systems Inc. (Portland, OR; www.FLIR.com), a supplier of thermal imaging and broadcast camera systems, has named John C. Hart, a director of the company, as acting president and chief executive officer.
Media Cybernetics LP (Silver Spring, MD; www.mediacy.com), an image-analysis software provider, has promoted John Schmitz to vice president, engineering, and William Schotts to vice president, technical services.
Market vision
The Semiconductor Industry Association reports that the worldwide sales of semiconductors reached an all-time high of $14.96 billion in March 2000, increasing from $11.18 billion for March 1999 or a 33.8% year-to-year growth. The Asia Pacific and Japan markets surged 46.1% and 38.6%, respectively, from last year's totals. The Americas' market rose 25.1%, and Europe sales grew 29.2% for the same period.
In its report, LG-244 Machine Vision: What's Ahead?,Business Communications Co. Inc. (Norwalk, CT; www.buscon.com) states that US sales of machine-vision systems totaled $1.82 billion in 1999. These sales are predicted to more than double over the next five years to $3.96 billion in 2004 at an annual average growth rate of 16.8%.
According to the recent Stanford Resources (San Jose, CA; www.stanfordresources.com) Flat-Panel Monitor Market Trends 2000 report, the worldwide market for desktop and workstation TFT-LCD flat-panel monitors will grow from 7 million units in 2000 to 63.4 million units in 2006. The OEM value for these monitors will grow from $5.7 billion in 2000 to $28.6 billion in 2006.
GEORGE KOTELLY EDITOR IN CHIEF
GEORGEK@PENNWELL.COM