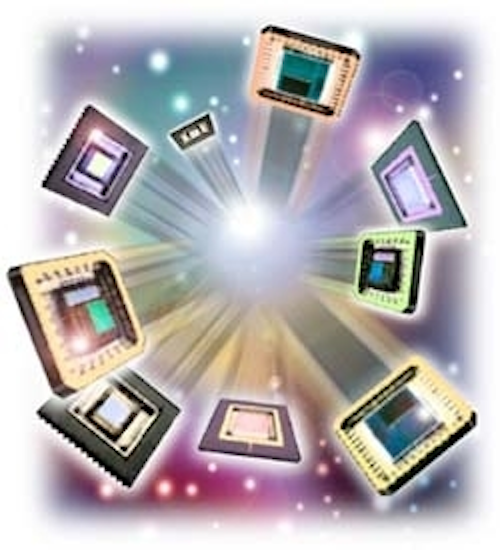 George Kotelly,Editor in Chief, georgek@pennwell.com
More on CMOS image sensors
The flow of information on CMOS image sensors continues unabated. More and more companies are introducing CMOS devices with enhanced specifications and technologies as cost-effective replacements for competing CCD sensors. These devices are anticipated to result in camera-on-a-chip designs for high-end, digital still and video cameras and scanners.
For example, UMC (Sunnyvale, CA; www.umc.com), a semiconductor foundry that operates seven wafer fabs in Japan and Taiwan, has disclosed a proprietary 0.18-µm-process CMOS sensor that is based on a generic mixed-mode process. This process demonstrates a "3 in 1" integration, which combines an analog-to-digital converter, digital image processor, and an imaging sensor on a single chip. It has the potential to produce pixel sizes as small as 3 µm and resolutions greater than 5 Mpixels.
Says Jim Ballingall, UMC vice president of worldwide marketing, "The transition from CCD to UMC CMOS is further facilitated in that changes in optics are not necessary due to smaller pixel sizes. Offerings in advanced-logic, mixed-signal, and microdisplay technologies enable a complete digital camera solution."
Adds Sabrina Kemeny, chief executive officer of Photobit Corp. (Pasadena, CA: www.photobit.com), a supplier of CMOS image sensors, "We look forward to continuing our long-term relationship with UMC as it continues to deliver the quality image-sensor technology we need for development of our camera on a chip."
Derek Cheung, vice president of research and director of the Rockwell Science Center (Thousand Oaks, CA; www.risc.rockwell. com), says, "We committed to UMC's 0.25-µm CMOS image-sensor process technology for developing our CMOS imaging-system-on-a-chip for high-performance video cameras. We look forward to migrating to UMC's 0.18-µm process and achieving greater performance."
Another developer of low-power CMOS imagers and intelligent cameras, SMaL Camera Technologies Inc. (Cambridge, MA; www.smalcamera.com), has unveiled its SCT-00VC single-chip CMOS image sensor that features the company's Autobrite technology. This technology allows the imager to adjust its dynamic range and provide quality images of scenes that are bright enough to saturate other standard imagers. Says Charles G. Sodini, company president, "Our imager is based on a proprietary brightness-adaptive pixel. Coupled with our proprietary algorithms, the imager permits the design of cameras that adapt to a variety of lighting conditions. The Autobrite technology captures the dark details of a scene while ensuring that the bright regions never saturate. In addition to this advantage, the VGA imager consumes just 30 mW at 60 frames/s."
Harry S. Lee, company vice president of technology, adds, "Coupled with our imager design is an optics design that allows us to build an extremely thin camera. For example, we are featuring our CMOS imager in a 0.2-in.-thin digital still camera called the Ultra-Pocket camera."
The SCT-00VC's VGA imager is a 642 x 482-pixel array in a 1/3-in. format. It provides low fixed-pattern noise and a variable frame rate up to 60 frames/s for capturing still or full-motion video. Available in color or monochrome, it also features on-chip programmable digital gain, correlated double sampling, timing, and 12-bit analog-to-digital converters.
Yet another image-sensor developer, Motorola Semiconductor Products Sector (Austin, TX; e-bus.mot-sps.com), has released its MCM20027 1280 x 1024-pixel, SXGA progressive scan image sensor, manufactured using Motorola's ImageMOS wafer process along with pixel design and patented pinned photodiode technology from Kodak and Motorola. It consumes less than 250 mW of power and includes correlated double sampling, programmable gain amplifier, analog-to-digital converter, and light sensitivity to 3 lux at 10 frames/s. The sensor outputs 10-bit Bayer-encoded RGB data.
Alliances accelerate
Indigo Systems (Santa Barbara, CA; www.indigosystems.com), a manufacturer of infrared detectors and imaging modules, and Northrop Grumman Electronic Sensors and Systems Sector (Linthicum, MD; www.northgrum.com), a manufacturer of defense, space, marine, automation, and information systems, has formed an alliance to develop advanced detector-fabrication capabilities.
I-Bus/Phoenix (San Diego, CA; www.ibus.com), a provider of CompactPCI products and services, has acquired Gateworks Corp. (Atascadero, CA; www.gateworks.com), a supplier of embedded computers and systems.
Image Processing Systems Inc. (Markham ON, Canada: www. ipsautomation.com), a developer of electronic vision systems, has agreed to form an alliance with Luxell Technologies Inc. (Mississauga, Ont., Canada; www.luxell.com), a supplier of flat-panel-display manufacturing processes, to develop inspection and yield-management technologies for manufacturing thin-film electroluminescent and organic electroluminescent flat-panel displays.
Agilent Technologies Inc. (Palo Alto, CA; www.agilent.com), a technology provider of communications and life-sciences products and services, and FlashPoint Technology Inc. (San Jose, CA; www.flashpoint.com), a supplier of digital imaging products, will jointly market a series of digital still-camera designs based on the Agilent HDCP-3200 camera controller chip and the FlashPoint Digita operating system software.
Lexel Imaging Systems (Lexington, KY; www.lexelcorp.com), a wholly owned subsidiary of Video Display Corp. (Tucker, GA;www.videodisplay.com), which supplies display products, has agreed to acquire the CRT manufacturing operations of the former DatagraphiX (Poway, CA) business unit of Anacomp.
Philips Medical Systems North America (Shelton, CT; www.medical. philips.com), a supplier of diagnostic imaging systems and services, has entered into a marketing agreement with InSiteOne (Wallingford, CT; www.insiteone.com), a provider of digital imaging storage and archiving services. Philips will incorporate InSiteOne's patent-pending InDex archive platform as part of its Inturis for Radiology Picture Archiving and Communication System Application Service Provider network architecture.
Lambda Research Corp. (Littleton, MA; www.lambdares.com), a supplier of light and illumination system design, analysis, and software, has acquired Oslo lens-design software from Sinclair Optics Inc. (Fairport, NY), supplier of optical design software for desktop computers.
Foresight Imaging (Chelmsford, MA; www.foresightimaging.com), a supplier of frame-grabber boards, and Lead Technologies Inc. (Charlotte, NC; www.leadtools.com), a provider of imaging development toolkits, have teamed to produce a video-streaming-to-DICOM platform. This platform combines the Foresight I-series of frame grabbers and video streamers and the Lead Technologies' LeadTools medical-imaging software toolkit to stream video from a variety of medical-imaging modalities and create a standard DICOM file that is network available to DICOM-compatible servers.
C-MAC Industries Inc. (Montreal, QC, Canada; www.cmac.ca/), a supplier of electronic products and systems for the defense and aerospace markets, has completed its acquisition of DY 4 Systems Inc. (Kanata, Ont., Canada; www.dy4.com), a provider of boards, software, and systems in commercial and defense markets.
Technology trends
IBM Microelectronics (East Fishkill, NY; www.chips.ibm.com) is pilot-producing microchips using its CMOS 95 0.13-µm-process technology. This technology combines copper-wire layer techniques, silicon-on-insulator transistors, and low-k dielectric insulation techniques.
Medical-imaging researchers at the Massachusetts Institute of Technology (Cambridge, MA; web.mit.edu) have developed an optical coherence tomography imaging needle that can be inserted into solid tissue and organs to obtain high-resolution interstitial images of 6 mm in diameter and several millimeters in length. The 410-µm-external-diameter needle contains a single-mode fiber that has a graded-index lens and a custom microprism. Low-coherence light is generated by a modelocked Cr:forsterite laser and guided down the fiber in 25-fs pulses centered at 1270 nm with an axial resolution of 6.7 µm.
Teradyne Japan Division (Chiba, Japan; www. teradyne.com) has unveiled its IP750 image-sensor test system, which can parallel-test CCD and CMOS image sensors. Based on the company's J750 VLSI 100-MHz test system, the IP750 incorporates Windows NT-based IG-XL as the test development platform, integrated parallel architecture, handler, prober, and illuminator.
Intel Corp. (Santa Clara, CA; www.intel.com) claims to have built the smallest and fastest CMOS transistor, measuring 30 nm and three atom layers thick. This technology is expected to structure microprocessors within 5 to 10 years that contain more than 400 million transistors, run at 10 GHz, and operate at less than 1 V. The company also unveiled a 1.3-GHz Pentium four-chip processor, an 800-MHz Celeron processor, which includes a 100-MHz system bus, and an 810E2 chipset, which supports the bus with advanced controllers.
Mercury Computer Systems Inc. (Chelmsford, MA; www.mc.com) has unveiled its RACE++ series VantageRT 7400 PCI-based line of computers for digital and image processing. This product combines RACE++ multiprocessing interconnect architecture, Motorola PowerPC 7400 microprocessors, AltiVec vector-processing technology, and real-time operating software to provide processing systems that scale from 2 to 32 processors in an industrial PC chassis.
CR Technology (Aliso Viejo, CA; www.crtechnology.com) has introduced its RTI-7500 in-line vision inspection system to check solder joints and verify parts installation on up to 18 x 20-in. printed-circuit boards using a megapixel color image-processing camera. The company also expanded its headquarters facility by 26,000 sq ft.
August Technology Corp. (Bloomington, MN; www.augusttech.com) has developed a three-dimensional inspection technology called Rapid Confocal Sensor that merges the proven concepts of confocal microscopy and custom optical design and software algorithms (patent-pending).
Management moves
Lasiris Inc. (Montreal, QC, Canada), a provider of light lasers and phase masks, owned by StockerYale Inc. (Salem, NH; www.stockeryale.com), a supplier of special illumination and optical component products, has changed its name to StockerYale Canada Inc. It will retain the Lasiris brand name for its products. StockerYale Inc. also has named Francois Ouellete as vice president of research and development, optical components. In addition, the company has purchased a 60,000-sq ft facility in Montreal to design, develop, and manufacture optical components and light lasers. This facility also will house Optune Technologies, a new subsidiary chartered to develop tunable optical filters.
Dalsa Corp. (Waterloo, Ont., Canada; www.dalsa.com), a supplier of industrial image sensor chips and digital cameras, has restructured into four business units: vision for machines under general manager Raif Brooks; vision systems under general manager Jim Roberts; life sciences under general manager Hugh Garvey; and digital cinema under David Gardner to exploit core technologies and to enter new markets.
Davidson Optronics (West Covina, CA; www.davidsonoptronics.com), a manufacturer of optical components, has promoted Tolis Deslis to president and chief executive officer.
Photon Vision Systems Inc. (Cortland, NY; www.photon-vision.com), a developer of single-chip CMOS sensors, has established an imaging-solutions group within the company that will combine front-end CMOS image sensors with back-end processors to deliver complete imaging systems on just one or two chips.
Rodenstock Precision Optics (Rockford, IL; www.rodenstockoptics. com), a supplier of industrial lenses and accessories recently acquired by the Linos Group, has named Mark Vosloo president. He is also president of Linos Photonics Inc. (Milford, MA; www.LINOS-Photonics.com) and Linos Photonics Ltd. (Milton Keynes, Buckinghamshire, England).
Silicon Image Inc. (Sunnyvale, CA; www.siimage.com), a supplier of semiconductor products and services for the display, storage, and networking markets, has promoted Steve Tirado to chief operating officer and appointed Badar Baqai executive vice president of engineering. Tirado was previously executive vice president of marketing and business development. Baqai formerly served as executive vice president of the systems solutions group at Fujitsu Microelectronics Inc.
Eastman Kodak Co. (Rochester, NY; www.kodak.com) has elected president and chief executive officer Daniel A. Carp to chairman of the board of directors.
Analogic Corp. (Peabody, MA; www.analogic.com), a supplier of OEM medical, industrial, and telecommunication subsystems and systems, has appointed Lothar Koob executive vice president. He was previously president and chief executive office of Humphrey Systems.
The Automated Imaging Association (AIA; Ann Arbor, MI; www. machinevisiononline.org) has elected Fred Molinari, president and chief executive officer of Data Translation Inc. (Marlboro, MA: www.datatranslation.com) to its board of directors.
Melles Griot (Rochester, NY; www. mellesgriot.com), supplier of photonic products, has promoted Jamie Hutchins to product manager for vision systems and appointed Charles E. Synborski business-unit director for optical systems and custom photonics modules and Robert J. Hutchison North American nanopositioning team leader.
A bill to establish the National Institute of Biomedical Imaging and Bioengineering at the National Institutes of Health (NIH) passed both the House of Representatives and the Senate during the final hours of the 106th Congress. The new institute will be funded by an amount equal to the amount currently spent by the NIH for imaging and engineering programs.
Market vision
The Semiconductor Industry Association (SIA; San Jose, CA; www. semichips.com) reports that worldwide sales of semiconductors were up $18.3 billion in November 2000, an increase of 28.4% over the same month last year. The Japanese market rose 38.9%, Americas 30%, Europe 21.4%, and Asia/Pacific 20.9%.
Market-researcher Gartner Group Dataquest (Stamford, CT; www.dataquest.com) estimates that semiconductor sales in 2000 grew 31% over 1999 numbers to $222.1 billion. The top semiconductor supplier is still Intel Corp. (Santa Clara, CA; www.intel.com) with projected 2000 revenues of $29.8 billion, up 11% over 1999 figures.
Market-researcher DisplaySearch (Austin, TX; www.displaysearch.com) reports that worldwide shipments during third-quarter 2000 for liquid-crystal-display (LCD) monitors climbed 39% year-to-year to 1.7 million units, a record high after three consecutive quarters of limited growth. For 2000, LCD monitor shipments are expected to grow 41% to 6.31 million units with revenues rising 35% to $7.3 billion. In 2001, shipments are projected to soar 96% to more than 12.3 million units with revenues surging 41% to $10.3 billion.
LG Philips LCD Co. Ltd. (Seoul, Korea; www.lgphilips-lcd.com) has sold more than 1 million 15.1-in. thin-film-transistor liquid-crystal-display (TFT-LCD) units from January to October 2000. The 15.1-in.-diameter units hold a 76% share of the overall TFT-LCD monitor module market, according to DisplaySearch.
The Society for Information Display (SID; San Jose, CA; www.sid.org) has named eMagin Corp. (East Fishkill, NY; www.emagin.com) the winner of the 2000 SID Information Display Display of the Year Gold Award. The company won the award based on its advancements in organic light-emitting-diode (OLED) microdisplay technology, referred to as OLED-on-silicon.
The MIT Technology Review (Cambridge, MA: www.techreview.com) has published its Technology Top Ten, a list of ten emerging technologies and technologists that are projected to profoundly impact the economy. It identified biometrics as a top technology, Visionics Corp. (Jersey City, NJ; www. visionics.com) as a leading company in this field for its facial-recognition technology and FaceIt product, and Visionics chief executive officer Joseph J. Atick as an innovator who exemplifies the potential and promise of this field.
Contracts committed
DRS Technologies Inc. (Parsippany, NJ; www.drs.com) has selected Mercury Computer Systems Inc. (Chelmsford, MA; www.mc.com) to supply a $215,000 initial order of RACE++ digital signal- and image-processing products for the SIRIUS long-range infrared search and target-tracking system.
Photon Vision Systems (Cortland, NY; www.photon-vision.com) has received $250,000 in New York State funds to support the company's expansion and planned facility in Homer, NY. Other related benefits include an estimated $446,000 in tax credits and rebates and an estimated $224,000 in sales-tax exemptions.
American Science and Engineering Inc. (Billerica, MA; www.as-e.com) has delivered MobileSearch mobile scanning equipment to the UK Customs and Excise government agency for use at British ports. This nonintrusive x-ray inspection system, which emits less than 1% of the radiation levels of conventional x-ray scanners, will identify hidden contraband.
New York-Presbyterian (New York, NY; www.nyp.org), a health-care provider, has installed Amicas Inc. (Newton, MA; www.amicas.com) Web-based medical imaging software to capture, display, distribute, and store digital medical images, including x-rays, CT scans, and MRIs, to 900 desktop PC stations.
InVision Technologies Inc. (Newark, CA; www.invid sion-tech.com) has sold CTX 9000 DSi and CTX 2500 computed-tomography-based explosives-detection systems and ancillary items worth $7 million to the Federal Aviation Administration (Washington, DC).