Business Vision
The CMOS image-sensor market continues to escalate as new and established suppliers are introducing devices with improved specifications and technologies.
Jan 1st, 2001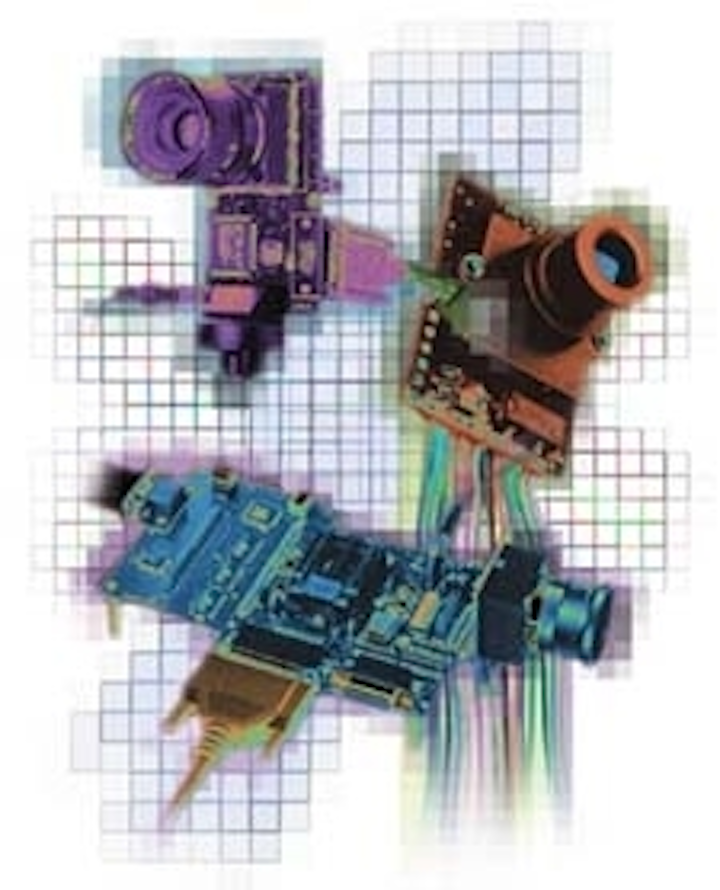 George Kotelly, Editor in Chief
georgek@pennwell.com
CMOS image-sensor market intensifies
The CMOS image-sensor market continues to escalate as new and established suppliers are introducing devices with improved specifications and technologies. Most CMOS image sensors are produced using 0.5-µm technology. Now, however, manufacturers are dramatically shrinking the size of these sensors to 0.35 and 0.25 µm. They are also developing CMOS integrated support chips that will find applications as front-end sensors; integrate with back-end imaging processors for lower system size, cost, and power consumption. Analyst Ron Glaz at IDC (Framingham, MA; www.idc.com) forecasts that 6 million units of CMOS image sensors will ship for the PC camera market and 5 million units for the digital still-camera market during 2000.
Claiming to be the industry's leading CMOS image-sensor supplier, Agilent Technologies (Palo Alto, CA; www.agilent.com) has released a line of image-processing chips that can be integrated with its own CMOS image sensors. These products accentuate Agilent's move from a sensor-device manufacturer to a digital-imaging-system supplier. Brian O'Rourke, senior analyst at Cahners In-Stat Group (Scottsdale, AZ; www. instat.com), says that Agilent's move warns the market that sensor vendors must get more involved in the back-end image-processing business.
Agilent has unveiled two image-processing chips: HDCP-2000 for USB-based PC cameras and HDCP-2010 for hand-held computers, cell phones, and notebook computers. Designed for VGA- and CIF-resolution cameras, both chips provide sensor control, automatic exposure and white-balance functions, and JPEG compression with programmable quantization tables. The HDCP-2000 features a USB interface, whereas the HDCP-2010 offers an image output in either direct JPEG or YUV formats for parallel or serial output. The HDCP-2010 comes in a small 48-pin micro-BGA package and consumes less than 100 mW. Both image processors provide a proprietary sensor interface for the HDCS family of CMOS image sensors that integrates the characteristics of these sensors into an optimized image-processing pipeline.
In addition to its two image-processing chips, Agilent is also launching HDCP-3200, a complete digital image processor designed for a full-featured digital still camera. A Motorola Coldfire 32-bit core running at 144 MHz provides flexibility for adding and customizing new features. The embedded chip offers a high-performance hardware image pipeline and a JPEG codec. Based on the HDCP-3000 originally used in HP-designed digital cameras, this processor aims at mid-range to low-end digital still cameras and can be used with both CCD and CMOS sensors.
Moreover, Agilent is introducing two CMOS image sensors: the HDCS-2020 for VGA resolution and HDCS-1020 for CIF resolution. The VGA version provides a 10-bit A/D and runs at 15 frames/s, whereas the CIF version offers an 8-bit A/D and handles 30 frames/s. Using the 0.35-µm process, the Agilent CMOS image sensors incorporate a 7.4-µm pixel pitch.
A startup company, IC Media Corp. (San Jose, CA; www.ic-media.com) is also using 0.35-µm process in its first commercial product. The ICM105A CMOS image sensor incorporates a 640 x 480-sensor array that can capture still or full-motion video at up to 30 frames/s. It includes a 9-bit analog-to-digital converter that performs correlated double sampling to improve image quality as well as 6 x 6-µm digital sensors. The company is also integrating its CMOS sensor with image-processing chips. For example, its ICM512D system-on-chip combines a CIF-resolution CMOS sensor, a color processor, an NTSC encoder, and a TV output.
Taiwan Semiconductor Manufacturing Co. (TSMC; Hsin-Chu, Taiwan; www.tsmc.com) is claiming to be the world's first semiconductor foundry to provide 0.25-µm CMOS image-sensor technology. The geometry reduction offers 3-Mpixel resolution for a range of vision products such as digital still cameras and digital video cameras for Internet-based PCs. It also holds the promise of true "camera-on-a-chip" capabilities with the inherent attributes of lower cost, higher volumes, lower power consumption, higher reliability, and faster-time-to-market production. In addition, CMOS image sensors are also said to deliver "system-on-a-chip" technology that can integrate built-in logic ICs, SRAM devices, and image-processing circuits.
To pioneer this manufacturing breakthrough, TSMC collaborated with two leading US imaging technology companies: Photobit Corp. (Pasadena, CA: www.photobit.com), a supplier of CMOS image sensors, and Y Media Corp. (Irvine, CA; www.y-media.com), a supplier of high-density image sensors. These companies assisted in analyzing wafers for performance and functionality.
Comments Ian Olsen, Y Media founder and chief executive officer, "This significant reduction in process geometry allows both an increase in the number of transistors and fill factor without compromising performance and an increase in pixel design options." His company recently introduced a 3.17-Mpixel CMOS-based image sensor. Adds Eric Fossum, chief technology officer at Photobit, "This technology will foster new advancements in active-pixel CMOS image-sensor designs."
Photobit is developing a small camera-on-a-chip that operates at 2.7 V and consumes less than 50 mW. It emphasizes that matching image processors to specific CMOS sensors offers a single solution for digital-imaging platforms.
Yet another company, Photon Vision Systems Inc. (Cortland, NY; www.photon-vision.com), specializes in CMOS image-sensing technology. It recently received patent approval for a novel active column sensor. This sensor architecture incorporates a unity gain amplifier in each column that detects more signal in each pixel and helps reduce fixed-pattern noise. The company is integrating this architecture into a line of scanning linear imager sensors using a patent-pending PVS-bus output technology. These sensors offer 7-µm square pixels, resolutions from 1 x 2048 to 1 x 8196 pixels, one to four ports, and throughputs of 60 MHz per port.
According to market-researcher Cahners In-Stat Group, semiconductor revenues for PC cameras are predicted to soar to $1 billion in sales by 2003. Most PC cameras are expected to be based on single-chip designs. Other CMOS image-sensor applications include digital displays, security systems, hand-held devices, and embedded cameras.
Management moves
OPTICS 1 Inc. (Westlake Village, CA; www.optics1.com), a supplier of optical, electro-optical, and optomechanical systems, has named William McGuigan engineering manager. He formerly was chief optical engineer of BAE Systems.
Three-Five Systems Inc. (Tempe, AZ; www.threefive.com), a supplier of visual display systems, has promoted Robert W. Harrison to vice president.
Melles Griot (Rochester, NY; www.mellesgriot.com), a supplier of photonic products, has named Charles E. Synborski business unit director for optical systems and custom photonic modules and Jamie Hutchins product manager of vision systems. Synborski held a position with Perkin Elmer Corp. Hutchins was a product manager at Danfoss Videk.
Photon Vision Systems Inc. (Cortland, NY; www.photon-vision. com), a developer of single-chip CMOS sensors, has named Christian M. Boemler senior project engineer and David F. Swift ATE design engineer. Boemler last served as senior hardware engineer for InfiMed Inc. Swift was previously a controls engineer at Schneider Packaging Equipment Co.
Lambda Research Corp. (Littleton, MA; www.lambdares.com), a provider of optical software and services, has named Leo Gardner manager of consulting services. He previously held senior positions at SSG Inc.
Insight Control Systems International Inc. (Safety Harbor, FL; www. insightcontrol.com), a provider of inspection and process control platforms, has appointed Richard Hebel vice president, sales and marketing. He was previously vice president at Key Technology Inc.
Market vision
According to Semiconductor Equipment and Materials International (SEMI; Mountain View, CA; www.semi.org), the North American-based manufacturers of semiconductor equipment reported a slight increase in shipments for October 2000 with a book-to-bill ratio of 1.17: $117 in orders were received for every $100 worth of products shipped. The three-month average of worldwide shipments in October 2000, was $2.59 billion, which was 5% higher than the September 2000 shipments level and 75% higher than the $1.48 billion shipments level of October 1999.
Contracts committed
DRS Technologies Inc. (Parsippany, NJ; www.drs.com) has received a $3.9 million contract from the US Army Communications-Electronics Command (Fort Monmouth, NJ) to deliver leading-edge infrared focal-plane arrays for combat helicopters.
Quantum3D Inc. (San Diego, CA; www.Quantum3D. com) has received a multimillion-dollar subcontract from Lockheed Martin UK (London, England; www.lockheedmartin.com) to provide PC-based image generators for the UK combined arms tactical trainer.
American Science and Engineering Inc. (Billerica, MA; www.as-e.com) has received a $1.8 million order from the US government for nine 101Z VAN x-ray inspection systems. These systems will be used to scan packages and cargo at US border crossings and ports of entry to detect contraband.
Imaging Dynamics Corp. (Calgary, Canada; www.xrayimaging.com) has sold six Xplorer digital radiography detector systems, worth $900,000, to MEVA bildgebende Systeme GmbH & Co, a German company representing a consortium of 17 dealers in Germany, Austria, and Switzerland.
Correction: The correct Web site for Vitana Corp. is www.vitana.com (see Vision Systems Design, Dec. 2000, p. 21).