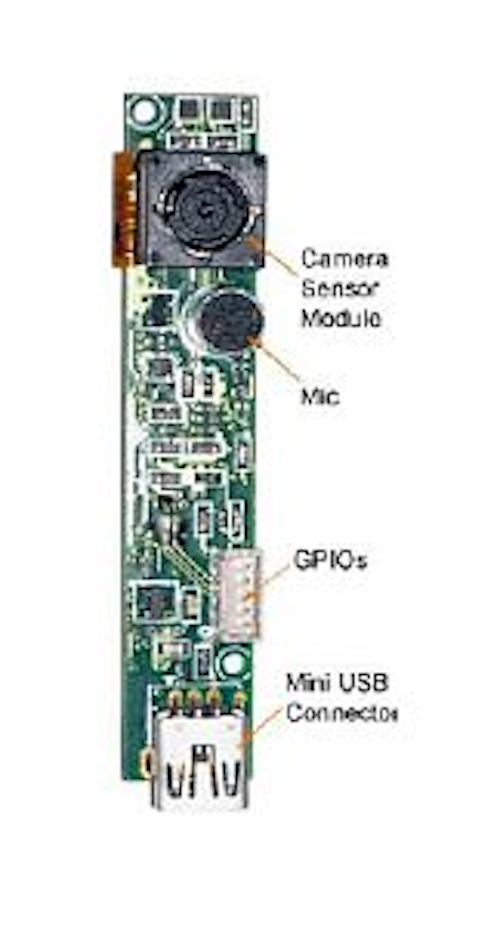 The e-CAM33_USB, a 3.2-Mpixel USB camera module, houses an autofocus pluggable camera with OV3640 CMOS image sensor from OmniVision. The camera features a built-in microphone and an integrated ADC, which can provide high-quality audio sampling functions. It is fully compliant with the USB Video Class (UVC) 1.0 standard and USB Audio Class 1.0 standard, and also offers GPIO support through UVC extensions. GPIOs can be used for LED lighting, receiving end user input through keys, or operating a relay.
e-con Systems
St. Louis, MO, USA and Chennai, India
-- Posted by Vision Systems Design

---
NEW PRODUCT PRESS RELEASE
e-con Systems India (P) Ltd.
+91 44 42033600
sales@e-consystems.com
e-con Systems Announces a 3 Mega Pixel Autofocus USB Camera Module
St. Louis, USA / Chennai, India
e-con Systems Inc., a camera solutions company based out of St Louis, USA and Chennai, India announces the launch of e-CAM33_USB, a 3.2 Mega Pixel USB camera module housing Autofocus pluggable camera with OV3640 CMOS Image sensor from Omnivision. This e-CAM33_USB has a built in microphone and an integrated ADC which can provide user with high quality audio sampling functions.
"The e-CAM33_USB is an integrated UVC+UAC solution that can support autofocus, manual focus, GPIO functions through UVC Extension. This is an ideal solution for customers interested in USB cameras for non-traditional applications by leveraging the UVC extension features of the camera" said Ashok Babu, President, e-con Systems.
This USB camera module is fully compliant with USB Video Class (UVC) 1.0 Standard, the USB Audio Class 1.0 Standard and supports additional features like Autofocus, GPIO support through UVC extensions. e-CAM33_USB will work on operating systems that support the UVC standard, such as Windows XP (SP2), Windows 7, Linux and Mac, without the need to install any device driver. For supporting the Autofocus and GPIO, e-con Systems provides additional UVC extensions.
e-CAM33_USB provides four general purpose (GPIO) pins through UVC extension control. These general purpose pins can be used for LED lighting, receiving end user input through keys or operating a relay etc. This camera solution is targeted for applications like Interactive Education & Meeting solutions, Document Visualisers, Digital Pathology and Video Conferencing among others. Industries like Digital pathology where in the pathologist can talk to someone while looking at the live tissues, he can do that and also provide inputs to capture images, do autofocus etc. using the e-CAM33_USB.
Availability
e-con Systems provides the sample Application with Source Code and this camera module solution is very easy to integrate for both prototyping and production. The pricing for this USB Camera module starts at USD 39 at 1K pieces. Interested customers can directly procure the USB camera modules from e-con's webstore.
Customization services
Customers who are interested in customizing the e-CAM33_USB can contact e-con directly with their requirements. e-con can redesign to suit customer's form factor and any other special requirements. Please send email to sales@e-consystems.com for further enquiries.
About e-con Systems
e-con Systems is an embedded product design services company focused on camera technology. e-con Systems offers reference design based on several camera modules for different application processors like OMAP3530, DM3730, DM365. Customers in the past have customized e-con's camera reference design and have been using it in their products like Video surveillance systems, handheld data loggers, low-vision equipment, microscopes and endoscopes. In addition to this, e-con Systems offers design services like device driver development, BSP porting, customized board and PCB design.
SOURCE: e-con Systems