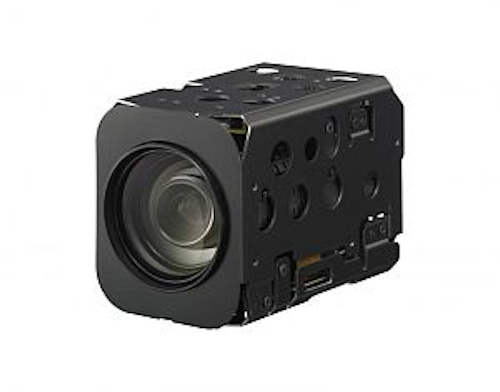 FCB-EH6300, FCB-EH3400, and FCB-EH3300 high-definition cameras are designed for intelligent transportation system (ITS) developers, OEMs, and system integrators. The cameras provide programming control via VISCA protocol and are suited for integration into dome enclosures for automated license plate recognition, traffic monitoring, and other ITS imaging tasks. The FCB-EH6300 combines full 1920 x 1080p HD resolution with 20x optical zoom. The FCB-EH3400 and the FCB-EH3300 cameras offer 1280 x 720p HD resolution with 28x and 20x zoom lenses. Auto Wide-D Mode and other features enhance dynamic range and image quality under various environmental conditions.
Sony Electronics
Park Ridge, NJ, USA
-- Posted by Vision Systems Design

---
NEW PRODUCT PRESS RELEASE
SONY BLOCK CAMERAS GIVE GREEN LIGHT FOR HD INTELLIGENT TRANSPORTATION APPLICATIONS
Additions to FCB-EH Series Provide Flexibility & Choice of 1080p and 720p
ORLANDO, Fla. – Sony Electronics unveiled three new FCB-EH Series high-definition block cameras at the ITS World Congress.
The new cameras - FCB-EH6300, FCB-EH3400, and FCB-EH3300 models -- expand Sony's range of HD offerings for Intelligent Transportation developers, original equipment manufacturers (OEMs) and systems integrators. The cameras provide programming control via VISCA protocol and are ideal for integration into dome enclosures for Intelligent Transportation applications including ALPR, traffic monitoring, accident detection, electronic toll collection and parking and access control.

The FCB-EH6300 combines Full HD (1920x1080p) resolution with a 20x optical zoom in a compact (50x60x89mm) design. The FCB-EH3400 and the FCB-EH3300 cameras offer 1280x720p HD resolution with 28x and 20x zoom lenses, respectively. Each includes Sony's Auto Wide-D Mode as well as additional features to enhance dynamic range and image quality under a wide variety of environmental conditions.

"The new, expanded HD lineup of FCB-EH Series block cameras bring high definition imaging into the mainstream for Intelligent Transportation applications," said Ken LaMarca, vice president of the visual imaging products division at Sony Electronics. "The adoption of HD brings a wealth of benefits for existing applications as well as new opportunities for innovation."
LaMarca added that in response to customer needs, the new models now allow for the customization of image settings, such as chroma, knee, gamma and pedestal, to give OEMs and system integrators the ability to add their own unique value.
FCB-EH Series: A Full Range of HD and Features for Every Application
The FCB-EH6300 camera is the flagship of the new HD series and uses a high-performance 1/2.8-type Exmor CMOS sensor yielding approximately 3.3 effective megapixels. Both the FCB-EH3400, and FCB-EH3300 models share a 1/4-type Exmor CMOS sensor yielding approximately 1.4 effective megapixels. Minimum illumination is 0.5 lux (FCB-EH6300) and 0.25 lux (FCB-EH3400/3300) in high sensitivity mode.

The FCB-EH6300, FCB-EH3400, and FCB-EH3300 cameras incorporate an array of features to reduce the need for additional software and simplify the integration of third-party video development. When shooting in high- or low-contrast lighting situations, the Auto Wide-D mode switches on and off automatically to monitor the luminance differences within images. White Balance modes include Indoor, Outdoor, One-Push WB, Manual and Sodium Vapor Lamp. The Sodium Vapor Lamp mode automatically compensates for the yellowish tint inherent from the sodium vapor wavelength and adjusts the images so they are viewed in their original color.

Other features include temperature readout to monitor the camera's temperature to turn on heating or cooling fans as needed. The digital output (Y/Cb/Cr 4:2:2) via the digital LVDS interface provides easy integration with IP and Gigabit Ethernet solutions.
FCB-EH SERIES CONTINUES TO EXPAND
In early 2012, the FCB-EH3150 model is scheduled to join the FCB-EH Series. It will incorporate 1280x720p HD resolution with a 12x zoom lens coupled with features similar to its sister products.
PRICING & AVAILABILITY:
Each of the new cameras is available now, at the following suggested list prices: FCB-EH6300 - $695
FCB-EH3400 - $650
FCB-EH3300 - $550
SOURCE: Sony Electronics