Vision Research's 2-Mpixel camera has removable drives for additional flash storage
The Phantom Miro M320S camera from Vision Research is capable of recording 1320 frames/sec at its full resolution of 1920 × 1200 pixels.

Apr 23rd, 2012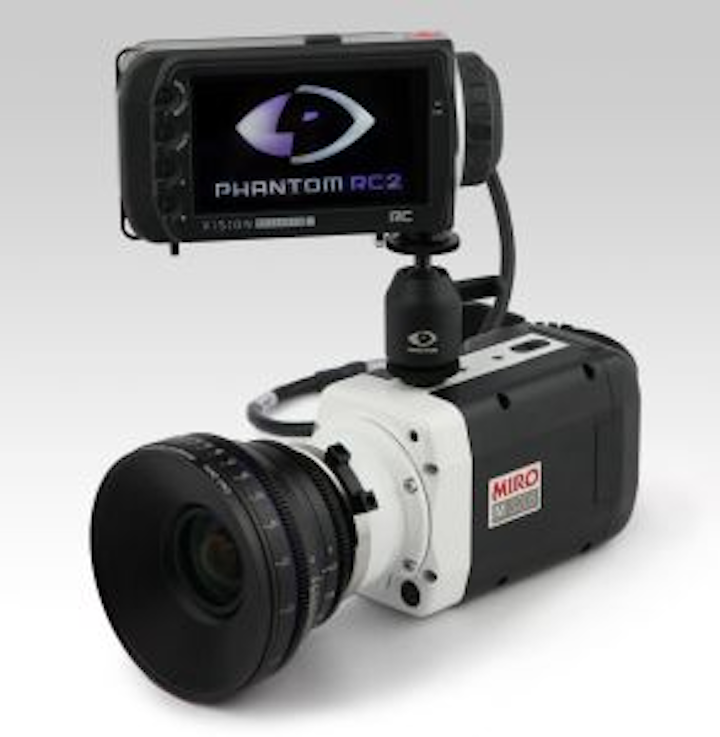 The Phantom Miro M320S camera is capable of recording 1320 frames/sec at its full resolution of 1920 × 1200 pixels, 1540 frames/sec at 1920 × 1080, 2250 frames/sec at 1152 × 1152, and higher frame rates at reduced resolutions. The M320S employs a 2-Mpixel CMOS sensor with 35-mm depth of field. It has standard 12-bit pixel depth and can be configured with 3, 6, or 12 Gbytes of internal RAM. The removable CineFlash drives offer up to 240 Gbytes of nonvolatile flash storage. Video output is HD-SDI from BNC connector; standard 720p, 1080i, and 1080psf signals are supported.
Vision Research
Wayne, NJ, USA
-- Posted by Vision Systems Design

View More Vision+Automation Products

Locate a vendor or system integrator in our Online Buyer's Guide

---
NEW PRODUCT PRESS RELEASE
Vision Research Introduces the Versatile Phantom Miro M320S Compact Digital High-Speed Camera
New Phantom Miro M320S Designed for a Variety of Applications From Scientific Research to Creative Media
WAYNE, N.J. – Vision Research, the leading manufacturer of digital high-speed imaging systems, presents the Phantom Miro M320S digital high-speed camera, which takes portable high-speed imaging to the next level by combining the lightweight, rugged design of Vision Research's latest Miro family with advanced features not found on any other camera in its class.
"Our new M320S follows Vision Research's Miro M-Series tradition in versatility by adapting to many imaging applications," comments Rick Robinson, Division VP Marketing, Vision Research. "With precise control over resolution, frame rate, exposure time, and trigger point, this camera is an ideal tool for everyone from scientists and engineers to professionals in TV production and new media applications. The advanced features and small, lightweight form factor make the Miro M320S the most accessible and adaptable Phantom high-speed digital camera available today."
The Miro M320S is capable of recording 1320 frames-per-second (fps) at its full resolution of 1920 x 1200; 1540 fps at 1920 x 1080; 2250 fps at 1152 x 1152; and higher frame rates at reduced resolutions. Leveraging the Academy Award-winning camera technology of the Phantom Flex, the M320S offers exceptional light sensitivity and picture quality with 35mm depth of field thanks to the camera's 2-megapixel CMOS sensor. The Phantom Miro M320S has standard 12-bit pixel depth and can be configured with 3GB, 6GB or 12GB of internal RAM Memory.
M320S Workflow
Featuring a single HD-SDI output, the M320S can adapt to a wide range of monitors and HD field recorders for a video-based workflow. For maximum quality using uncompressed raw files, the M320S takes advantage of the new Phantom CineFlash Storage system, which ships standard with every M320S camera. The removable CineFlash drives offer up to 240 Gigabytes of non-volatile flash storage. Once full, quickly download the drives via a CineFlash Dock over eSata, and the resulting Cine Raw files are ready to be reviewed and processed with either Phantom software or a number of compatible third-party solutions.
When used together with the Phantom Remote Control Unit (RCU), the Miro M320S becomes a fully portable high-speed camera system. In addition to controlling all recording parameters, the RCU's built in video monitor allows for live preview, framing, focus and full control of the HD-SDI playback. Users can trim the shot and quickly save it to the removable CineFlash drive, then start capturing the next shot right away.
Additional Features:
- HD-SDI video output, for 720p, 1080psf and 1080i monitoring
- Canon EOS, Nikon F, 35mm PL, and C lens mounts
- Size & Weight: 7.5 x 3.5 x 4 inches, 19 x 9 x 10 cm, Weight: 3.0 lbs, 1.4 kg
- Internal Mechanical Shutter
- Phantom RCU compatible
- Standard rechargeable battery
- Extreme Dynamic Range (EDR)
- Image-Based Auto-Trigger
- Continuous Recording
- Gb Ethernet on camera, eSata on CineFlash Dock
About Vision Research
Vision Research is a leading manufacturer of high-speed digital imaging systems that are indispensible across a wide variety of applications including defense, automotive, engineering, science, medical research, industrial manufacturing, packaging, sports broadcast, TV production and digital cinematography.
The Wayne, N.J.-based company designs and manufactures the most comprehensive range of digital high-speed cameras available today, all of which deliver unsurpassed light-sensitivity, image resolution, acquisition speed and image quality.
Over the course of its 60+ year history, Vision Research has earned numerous awards in recognition of its innovations in high-speed digital camera technology and sensor design, including a technical Emmy and an Academy Award. Vision Research digital high-speed cameras add a new dimension to the sense of sight, allowing the user to see details of an event when it's too fast to see, and too important not to. For additional information regarding Vision Research, please visit www.visionresearch.com.
Vision Research is a business unit of the Materials Analysis Division of AMETEK Inc., a leading global manufacturer of electronic instruments and electromechanical devices.
SOURCE: Vision Research