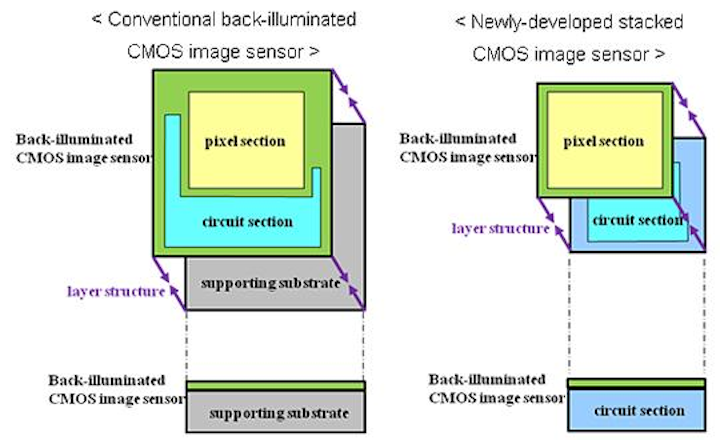 A new back-illuminated CMOS image sensor that layers back-illuminated structure pixels onto chips containing the circuit section for signal processing in place of supporting substrates in conventional back-illuminated CMOS image sensors has been developed by Sony (Tokyo, Japan). The stacked CMOS structure improves image quality with higher pixel numbers, increases imaging speed and low-light-imaging capability, and has a more compact size than traditional back-illuminated CMOS image sensors.
Conventional CMOS imagers mount the pixel section and analog logic circuit on top of the same chip, which require numerous constraints when wishing to mount the large-scale circuits such as measures to counter the circuit scale and chip size, measures to suppress noise caused by the layout of the pixel and circuit sections, and optimizing the characteristics of pixels and circuit transistors.
The Sony structure layers the pixel section containing formations of back-illuminated structure pixels over the chip affixed with mounted circuits for signal processing, which is in place of supporting substrates used for conventional back-illuminated CMOS image sensors. Via the stacked structure, large-scale circuits can now be mounted on small chip sizes. Furthermore, as the pixel section and circuit section are formed as independent chips, a manufacturing process can be adopted that enables the pixel section to be specialized for higher image quality while the circuit section can be specialized for higher functionality, thus simultaneously achieving higher image quality, superior functionality, and a more compact size. In addition, faster signal processing and lower power consumption can also be achieved for the circuit chip.
Samples will be shipped beginning March 2012. The new models have been developed with Sony's "RGBW Coding" function that facilitates low noise, high-quality image capture even in low-light conditions, and the proprietary "HDR (High Dynamic Range) Movie" function achieves brilliant color even when taking pictures against bright light.
SOURCE: Sony; originally posted by Gail Overton, Senior Editor, Laser Focus World