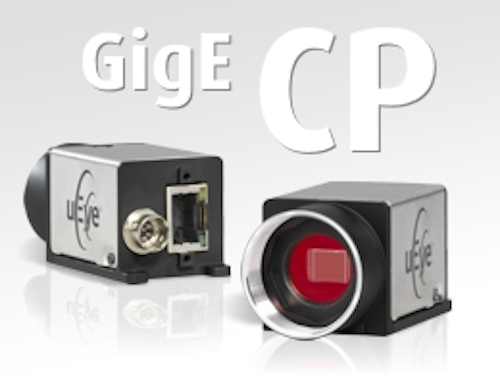 The latest CP Series camera, model 5240, is available in color and monochrome versions, employs a 1.3-Mpixel e2v CMOS sensor, and captures up to 50 frames/s using global shutter. Housed in a 29 × 29 × 41-mm footprint package, the GigE camera operates with power over Ethernet (PoE) and offers multiple areas of interest (AOIs) and real CCD replacement. CP models have 32 Mbytes internal memory, an FPGA for lookup table operations, 10/12-bit color depth depending on the sensor, optically isolated digital I/Os, and C-mount capability.
IDS Imaging Development Systems
Woburn, MA, USA
-- Posted by Vision Systems Design

---
NEW PRODUCT PRESS RELEASE
Smallest GigE with PoE – now available for delivery
The smallest GigE with Power-over-Ethernet is now available for delivery! All six family members of the CP series impress with an ultra-compact housing (29 x 29 x 41 mm), however the real innovations are hidden inside.
Whether it's Wide VGA or 5 Megapixel resolutions, the CP offers a great variety. Full of hidden treasures is model 5240, which boasts a high-resolution 1.3 Megapixel e2v CMOS sensor, with up to 50 frames per second and global shutter – hence you're getting excellent quality even if objects are moving.
Additionally, the 5240 offers flexible multi-AOI and real CCD replacement thanks to outstanding light sensitivity. And PoE allows you to experience real USB feeling whilst benefiting from a 2.5 times higher frame rate.

Whatever application: CP – It just fits!
Further info regarding the CP camera range is available on http://www.ids-imaging.com/CP...
The GigE uEye CP features an extremely compact housing with a size of only 29 x 29 x 41 mm. Yet it offers all the benefits of Gigabit Ethernet technology: high bandwidth of more than 100 MByte/s with cable lengths up to 100 meters.
In addition, this camera can be operated with Power-over-GigE (PoE) or an external power supply. Besides the lockable RJ45 port for GigE, the camera comes with a 6-pin Hirose connector for optional power supply (12-24V), trigger and strobe connections. The uEye Camera Manager guarantees easy and fast Plug-and-Play-configuration on Windows and Linux systems. The GigE uEye CP comes in several versions with modern CMOS sensors.
Features:
* GigE and Power-over-Ethernet (PoE)
* Modern CMOS sensors with global and rolling shutter
* 32 MB internal memory
* FPGA for LUT operations
* 10/12 Bit Color Depth (depending on sensor)
* Digital I/Os, optically isolated
* Lockable connectors
* C-Mount
SOURCE: IDS Imaging Development Systems