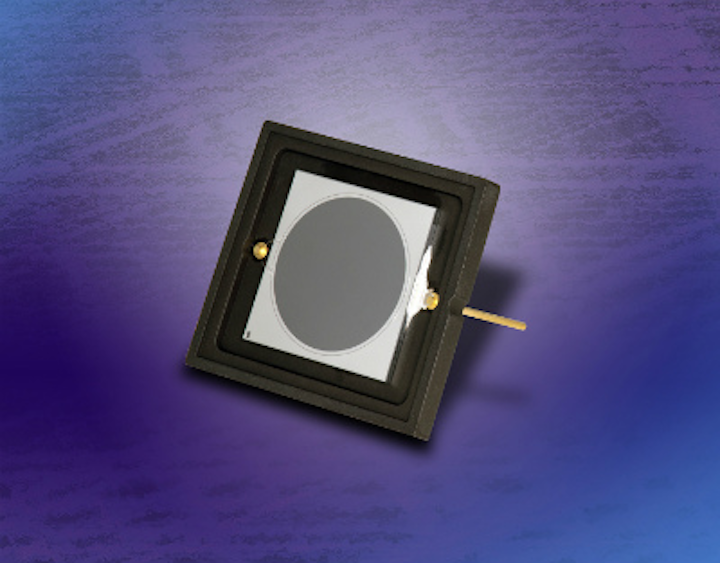 The AXUV63HS1 high-speed photodetector will be shown by Opto Diode Corporation at SPIE Photonics West 2019. The new photodiode has a circular active area of 9 mm in diameter, a typical rise time of 10 nsec, a maximum dark current of 100 nA, and a minimum reverse breakdown voltage of 160 V.
Storage and operating temperatures range from -10 °C to +40 °C, and in nitrogen or vacuum environments from -20 °C to +80 °C. The lead soldering temperature is 260 °C. Like other detectors in the AXUV line, the AXUV63HS1 detects energy from 100 eV to 50 keV and from 0.0124 nm to 190 nm.
Opto Diode will be located at Booth 4539.

To Learn More:
Contact: Opto Diode Corporation
Headquarters: Camarillo, CA, USA
Product: AXUV63HS1 photodiode
Key Features: 9 mm diameter circular active area, 10 nsec rise time, 100 nA maximum dark current, 160 V minimum reverse breakdown voltage.
What Opto Diode Corporation says:
View more information on the AXUV63HS1 photodiode.
View More Products | Locate a vendor or system integrator | Receive e-mail updates
Share your vision-related news by contacting Dennis Scimeca,Associate Editor, Vision Systems Design

To receive news like this in your inbox, click here.
Join our LinkedIn group | Like us on Facebook | Follow us on Twitter