Vision-based, multi-touch installation art helps emerging media industry
During the 2010 Vancouver Winter Olympic Games, Tangible Interaction used FireWire cameras from Point Grey in their digital media installations throughout the city.
Jun 25th, 2010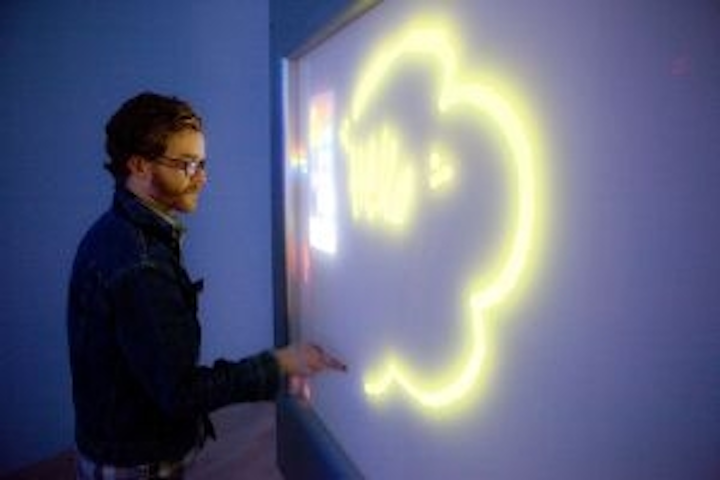 During the 2010 Vancouver Winter Olympic Games, Tangible Interaction (Vancouver, BC, Canada) used FireWire cameras from Point Grey Research (Richmond, BC, Canada) in their digital media installations throughout the host city's venues to entertain locals and visitors.
At the BC Pavilion, Tangible Interaction, a specialist in interactive experiences, designed a digital room to showcase Vancouver's new media industry. One installation included twelve multi-touch screens, each using a monochrome 0.3 megapixel (MP) Firefly MV FireWire CMOS camera.
The multi-touch screens covered four sides of each of the three interactive cubes in the room. A number of multi-touch applications were programmed in openFrameworks and Cocoa to showcase the works in a natural, interactive way. Community Core Vision, an open source blob tracking application from the Natural User Interface (NUI) group, was used for tracking fingers that touched the displays.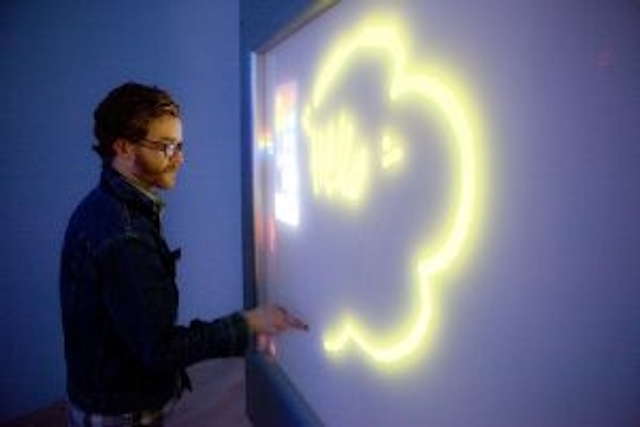 A plane of IR light was generated several millimeters over the acrylic surface; when fingers touched the surface they were illuminated with the IR light, which was captured by a camera that equipped with a near-IR wide-VGA CMOS sensor and IR bandpass filter.
Twelve computers operated each cube from a server room, while the Firefly MV cameras were inside the cubes in an adjacent room. FireWire extenders were used to overcome the FireWire distance limitation.
Interactive table
Tangible Interaction also designed an interactive table and light system for the Vancouver House. The interactive table allowed the public to share their views and impressions about Vancouver. Every time a new entry was made, a digital ribbon travelled across four projections that made up the surface of the table.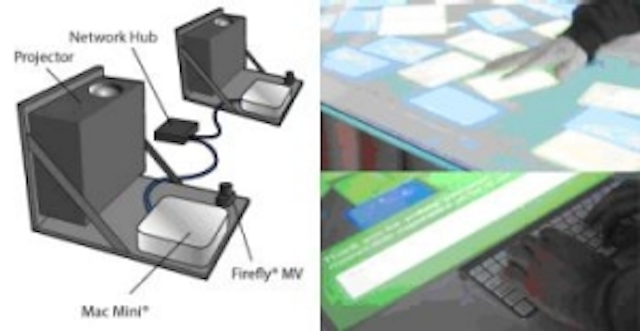 When the ribbon reached the end it lit up a 101-origami globe chandelier in a shade of green or blue. During the two weeks, there were over 5000 entries.
For this display, four Mac minis were used to create a large canvas. Four monochrome 0.3 MP Firefly MV cameras were used to detect people's hands when touching the table. Users were able to interact with the entries by moving their hands over the surface.
The cards that contained text entries moved and bumped into each other. Tangible Interaction used background differencing and optical flow to affect the motion of the cards triggered by the hands' shadows. The application was built in openFrameworks and used numerous extra features such as most pixels, optical flow, Box 2D, and others.
Digital Graffiti Wall at the Olympic Village.
Finally, Tangible Interaction installed a Digital Graffiti Wall in the Athlete's Village, enabling the creation of some fast and furious artwork. The unique technology used a 0.3 MP monochrome Firefly MV CMOS camera by Point Grey, and allowed athletes to digitally "paint" a surface in the same way they would tag a wall with traditional spray paint.
For more information, visit the Digital Graffiti Wall site at Tangible Interaction and Point Grey Research.
Posted by Vision Systems Design