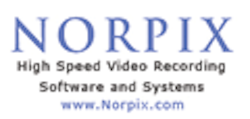 1751 Richardson St, Suite 6117
Montreal, QC H3K 1G6
Canada
High-speed digital video recording software and solutions for single or multiple cameras

NorPix is the leading developer of digital video recording software and solutions for high-speed video recording using either single or multiple cameras.

User applications of NorPix software and solutions include motion analysis and tracking, medical imaging and research, life science research, industrial trouble shooting and military applications.
Request More Information
Fill out the form below to request more information about NorPix Inc.
---