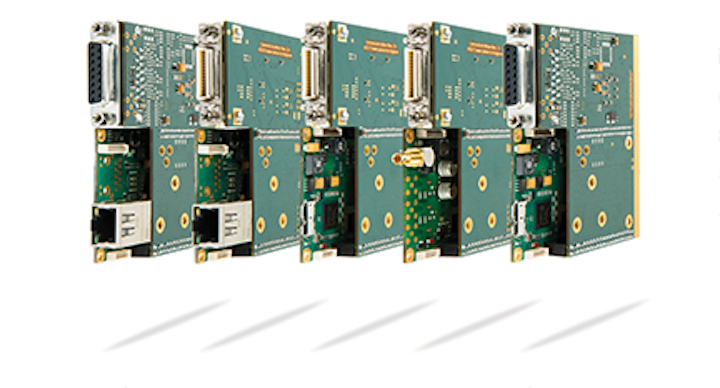 Image acquisition has advanced dramatically over the past decade with faster and higher resolution cameras, frame grabbers that support more cameras at higher frame rates, and vision interfaces offering higher bandwidth and longer cable lengths. Companies that are developing new systems from scratch have the luxury of selecting best-of-breed components based on the same vision interface standard that work perfectly together. But there are many other applications where companies are seeking improvements – faster processing speed, adding more cameras, operating cameras at a longer distance from the host, etc. But they want to keep the existing camera or detector despite of the fact that it's based on an older vision interface such as Camera Link or the even older analog PAL/NTSC interface. In particular, many Camera Link cameras are in use today with a maximum speed of 850 Megabits per second (MB/s) and maximum link length of 10 meters, far below the specifications offered by today's state of the art vision interfaces. Furthermore, Camera Link does not offer error checking and only provides 4 watts of power over the cable to the camera.
It's not hard to understand why many vision integrators and end users are sticking with Camera Link and even PAL/NTSC cameras. The design of an imaging application nearly always begins with the selection of the camera based on properties such as optical response, frame rate, color accuracy, and sensitivity that are finely tuned to the specific application. For example, flat panel detectors are increasingly used in digital radiography because they are more sensitive, faster and less expensive than film. Their sensitivity allows a lower dose of radiation for a given picture quality. On the other hand, the cameras used to inspect printed circuit boards are carefully tuned provide enough resolution to detect the smallest potential defect and the frame rate needed to keep up with production speeds.
Many of the cameras used in these applications and many other were developed years ago to work with outdated vision interface systems. But the cameras themselves provide excellent performance and the developers and users often do not want to spend the money, take the time or run the risk of replacing them. But they often do want to upgrade the systems such as by adding cameras, moving cameras to more distant locations, acquiring images at a faster rate, etc. Currently, the outdated vision interfaces used by the cameras often prevent these upgrades from being made.



CONNECT PAL/NTSC OR CAMERA LINK CAMERAS TO STANDARD COAXPRESS, GIGEVISION OR USB-3 PORTS
This obstacle has recently been overcome through the introduction of Euresys Camport Video Converters that can be used to connect cameras with previous generation vision interfaces such as Camera Link or PAL/NTSC to frame grabbers and other devices through the state- of-the-art CoaXPress, GigE Vision and USB-3 Vision interfaces.

Simply connect the camera to the converter using the older style interface and connect the frame grabber to the converter with the newer style interface. The converters are designed to minimize latency by specially optimizing transmission time to avoid delays.
Each of the three leading state-of-the art vision interfaces has different advantages and limitations and these should be considered in selecting the converter. GigE Vision has the advantage of using very inexpensive cable that provides a long reach of 100 meters. Another advantage is that inexpensive switchs can be used to aggregate cameras into a single network where any of them can be accessed by the host.

1 or 2 Gigabit per second (Gbps) GigE Vision systems are readily available with a number of 10 Gbps systems now entering the market. USB-3 Vision is offering 5 Gbps speeds and easy plug and play installation. On the other hand, cable length with USB-3 Vision is limited to 3 to 5 meters and available power over USB is also quite low at 4.5 watts. CoaXPress is generally considered to be today's highest performing standard because it offers high speeds and long link lengths. The CoaXPress interface currently offers speeds up to 6.25 Gbps, although converters normally are limited to 3 Gbps by Camera Link cameras. CoaXPress offers cable lengths up to 130 meters and up to 40 meters for full data rates. CoaXPress runs on coaxial cables which are the best solution for high speed data transmission because they provide a higher frequency spectrum than twisted-pair cables. CoaXPress also provides up to 13 watts of power to the camera per cable and offers cyclic redundancy check (CRC) error checking.

MEDICAL APPLICATIONS
Medical and dental imaging is the largest potential application for these new video converters. For example, there are an increasing number of imaging sources in the operating room such as computer assisted surgery systems, endoscope and microscope video, intraoperative imaging including magnetic resonance imaging (MRI) and fluoroscopy, and so on. These sources need to be networked so they can be displayed for the surgeon or shared with consultants or students and recorded for training or legal purposes. The cameras and imaging sources are typically acquired over time and support a variety of current and outdated vision interfaces. Video converters make it easy to connect older cameras to modern peripherals in order to deliver state of the art performance at an economical cost.
MILITARY AND SURVEILLANCE APPLICATIONS
There are also many potential applications in the military and surveillance fields.
Camport Video Converters are provided with the feature-rich Sphinx software development kit (SDK) that provides the building blocks to quickly and easily design high performance video applications that use minimal central processor unit (CPU) resources. The SDK includes a filter driver and acquisition library for Windows and optionally Linux. The converters are also compatible with third party software libraries including MATLAB, LabView, Halcon, Sapera, VisionPro, StreamPix and TroublePix.

In conclusion, the new generation of video converters makes it possible to update a wide range of existing cameras and other image sources to support the latest vision interface standards. So they can improve performance and range of a camera that perfectly fits the application's requirements.
Read more about Camport Video Converters: HERE