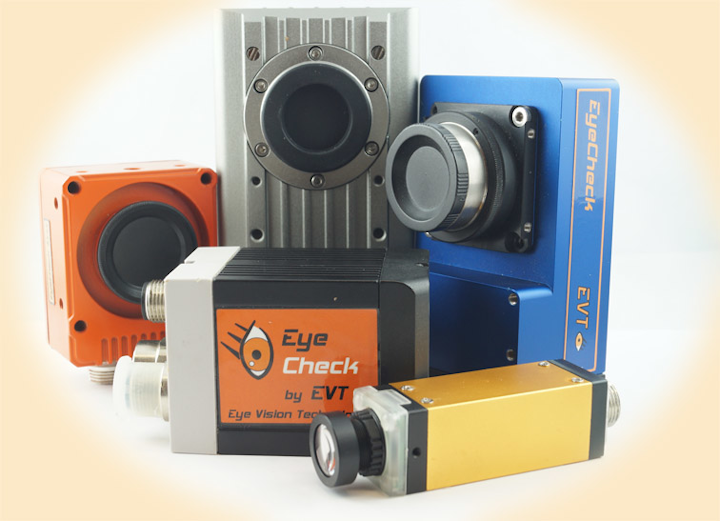 EVT offers the EyeVision image processing software not only as stand-alone PC & Embedded software, but also wrapped up in the various EyeCheck smart cameras.
EyeVision has a graphical user interface and is programmed with a drag-and-drop function. This offers a maximum ease of use, as no programming skills are necessary. The EyeCheck cameras are available in various hardware variations, starting with the compact, all-inclusive EyeCheck 900 and 1000 series with integrated light and lens. Then there is the EyeCheck 2000 and 5000 series with resolutions of 5 megapixel and more. The EyeCheck ZQ is not only equipped with an FPGA but is also as small as a thumb.
The new addition is the EyCheck 4000 Z series, a camera from the EVT hardware development. This series consists of a smart line scan camera with a resolution of up to 2x2048 pixel. And the series consists also of a matrix sensor camera with c-mount lens connection and a resolution of up to 5 megapixel with either greyscale or color sensor. Both camera options can be optionally equipped with a Myriad 2 Deep Learning processor. The Myriad 2 processor is especially designed for Deep Learning applications and offers advantages in power and speed.
All EyeCheck 4000 Z cameras have a FPGA, DualCore ARM processor as well as a GigE interface with Power over Ethernet (PoE). The user also gets the IP core for using the FPGA. And in addition to the EyeVision library the cameras support also other libraries such as OpenCV.
The EyeCheck 4000 ZLS line scan camera can also be equipped with a special command set for the inspection of endless material. Therefore the EyeVision software offers comfort, as it is intuitive and the necessary commands for the inspection of endless material such as paper webs and steel strips, are already included.
In contrast to the other EyeCheck cameras, the EyeCheck 4000 series is also available without the EyeVision software as pure camera hardware. In that case the cameras are called RazerCam ZLS for the line scan camera and RazerCam ZM for the matrix sensor camera.