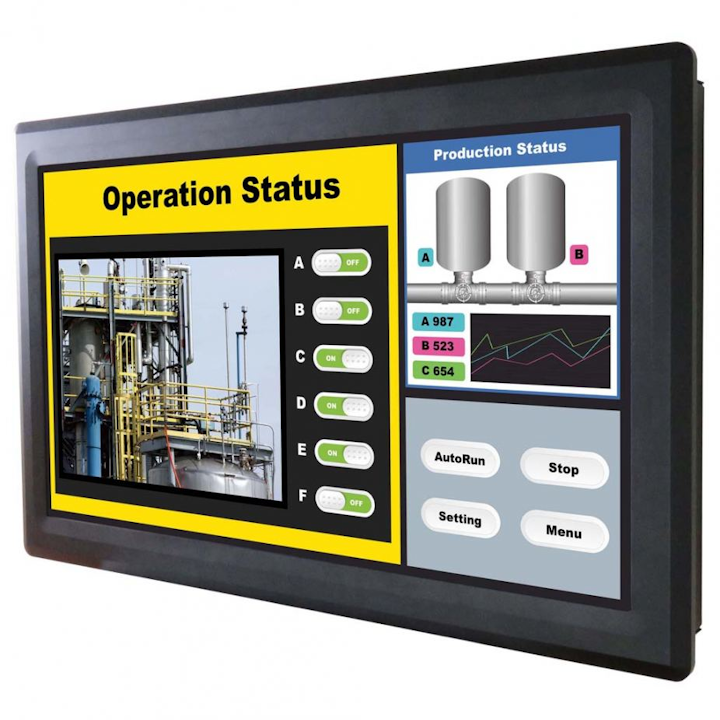 Quanmax, a well-known embedded computing technology provider, is pleased to launch a new widescreen panel PC, named KPC-2100 Series, providing factory owners a budget-friendly all-in-one computing system to enjoy more dynamic high-definition visualization of the processes happening in the production lines or on the factory floors.
KPC-2100 Series incorporates a 21.5" widescreen resistive touch screen into an all-in-one unit. The 21.5 inch is the smallest popular widescreen size supporting Full HD resolution. It is a perfectly cost-effective option to deliver detailed enough visual quality to the users. In addition, the widescreen format provides more viewing space and flexible split-screen configuration, allowing operators to reach more information at one glance without frequent toggling, which can lead to significant enhancement in productivity. Integrated with 5-wire resistive touch technology, KPC-2100 Series is not only user-friendly to operators, but also budget-friendly to owners.
The power of graphics processing is a critical technical index as visualization applications become more automated, sophisticated and interactive. KPC-2100 Series is powered by 7th-generation Intel Kaby Lake U-Series processors with 7th-generation Intel HD Graphics integrated. Featuring 2-digit graphics performance enhancement, it can have flawless playback rendering even at a better frame rate. In addition, the series supports maximum three displays at a time. Users can connect two external 4K monitors via DP and HDMI 2.0 interfaces to increase the productivity.
Protected by a robust gasket-sealed aluminum front bezel, KPC-2100 Series is compliant with IP65 rating. It can block water spray and dust from entering the system from the front side. The passive cooling design can minimize dust accumulation as well to prevent fan failure or heat dissipation interference. It is ideal for installation in harsh, wet and / or dusty industrial environments, such as food, & beverage factory, chemical production, outdoors or semi-outdoor conditions.
For more information, please refer to http://www.quanmax.com/site/product/panel-pc-kpc-2100/