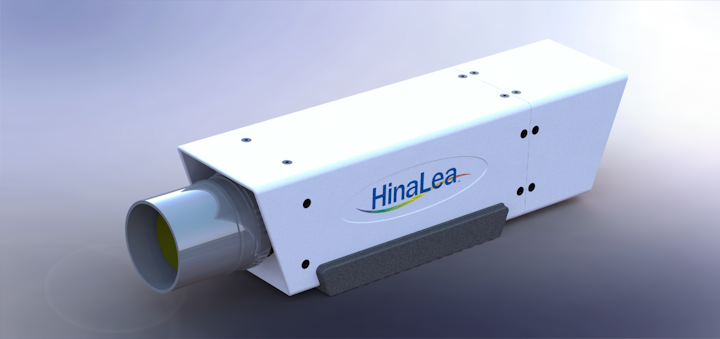 HinaLea Imaging, a leading international solutions provider of hyperspectral imaging technology, announced today the launch of a new Model 4200 Wide-Field Hyperspectral Camera, building on its successful product line of innovative intelligent hyperspectral imaging solutions.
The new Model 4200 is ideal for a wide range of laboratory and industrial applications, ranging from basic scientific and biomedical research to many industrial uses. While enabling a variety of use cases, the instrument can identify specific components and materials as well as verification of product quality/identification of defects (color matching, trueness and uniformity). This new and highly configurable system allows users to precisely tailor the instrument to their specific needs, while utilizing HinaLea's innovative technology capable of single-step capture of images with dynamically-defined spectral bands at high spatial and spectral resolutions.
With the Model 4200, users benefit from:
Contiguous, high-resolution imaging – The HinaLea system is the only staring hyperspectral system on the market that can scan the whole VIS-NIR spectrum with high spatial and spectral resolutions.
Wavelength selectivity – The HinaLea™ system can be programmed to scan only a subset of bands, and this subset can be dynamically controlled based on the object to be imaged.
Affordability – HinaLea's proprietary technology and manufacturing adaptation is based on a semiconductor fabrication process which makes the Model 4200 accessible to more users at never-before seen price points. Configurable scans can be much faster with generally smaller data sets, saving customers time and money.
Features and benefits include:
Staring Hyperspectral Imaging – No mechanical scanning is required, resulting in a lower-cost, reliable system.
True Hyperspectral Imaging – Unlike color-filter arrays, with the HinaLea Model 4200, there is no tradeoff between the number of spectral bands and effective spatial resolution.
Customizable – HinaLea works with selected, strategic partners to optimize the performance criteria for specific applications and will also consider OEM models.
"HinaLea's Model 4200 Wide-Field Hyperspectral Camera further expands the universe of applications we can address with our intelligent hyperspectral imaging solutions at a price level considerably less than other tunable cameras of inferior performance," said HinaLea's Director of Hyperspectral Imaging Alexandre Fong, "HinaLea's innovative technologies are poised to create a dramatic shift in the market making intelligent Hyperspectral Imaging widely available and improving all aspects of life."