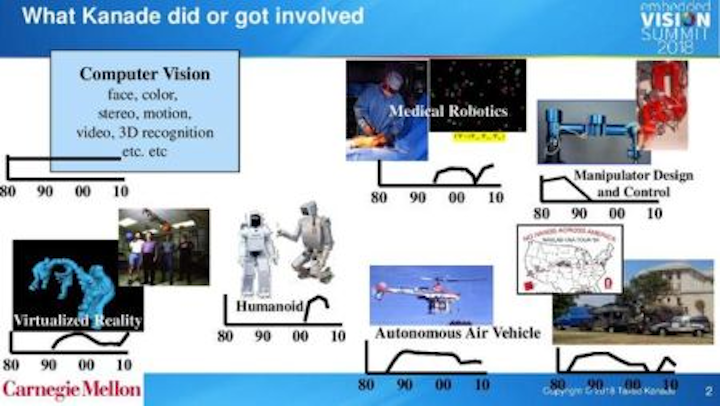 Longtime computer vision expert Dr. Takeo Kanade, U.A. and Helen Whitaker Professor at Carnegie Mellon University, presented the "Think Like an Amateur, Do As an Expert: Lessons from a Career in Computer Vision," at the 2018 Embedded Vision Summit.
In his keynote presentation, Dr. Kanade shared his experiences and lessons learned in developing a vast range of pioneering computer vision systems and autonomous robots, including face recognition, autonomously-driven cars, computer-assisted surgical robots, robot helicopters, biological live cell tracking, and a system for sports broadcasts.
For Dr. Kanade, good research derives from solving real-world problems, delivering useful results to society. "Think like an amateur, do as an expert," is Dr. Kanade's research motto: When conceptualizing a problem and its possible solution, think simply and openly, as a novice in that field, without preconceived notions. When implementing a solution, on the other hand, do so thoroughly, meticulously and with expert skill.