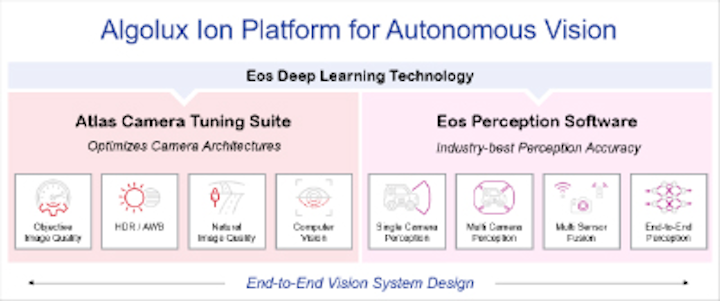 The Ion Platform from Algolux, to be shown by the company at the 2019 Embedded Vision Summit, is a software package built for autonomous vision system design and implementation. Ion is broken down into two primary components, the Atlas camera optimization suite, and Eos perception software.
The Atlas suite is designed to accelerate and automate optimal camera tuning and provide scalable and predictable metric-driven methodology. Eos software provides flexible implementation paths for single camera or multi-sensor architectures, and according to the company achieves superior results than other systems in low light and adverse weather conditions.
Algolux will show at its own booth, #411, and at Intel's booth, #307.

To Learn More:
Contact: Algolux
Headquarters: Montréal, QC, Canada
Product: Ion Platform
Key Features: TK
What Algolux says:
View more information on the Ion Platform.
Share your vision-related news by contacting Dennis Scimeca,Associate Editor, Vision Systems Design
To receive news like this in your inbox, click here.