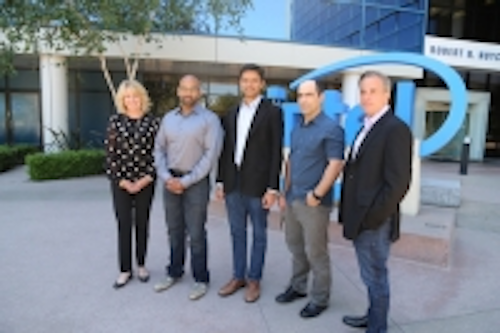 Intelhas entered into a definitive agreement to acquire Nervana Systems, a company that specializes in deep learning technology.
Based in San Diego and Silicon Valley, CA, USA, Nervana Systems was founded in 2014 and has a fully-optimized software and hardware stack for deep learning. Their IP and expertise in accelerating deep learning algorithms will expand Intel's capabilities in artificial intelligence, wrote Diane Bryant, executive vice president and general manager of the Data Center Group at Intel.
"We will apply Nervana's software expertise to further optimize the Intel Math Kernel Library and its integration into industry standard frameworks," she said. "Nervana's Engine and silicon expertise will advance Intel's AI portfolio and enhance the deep learning performance and TCO of our Intel Xeon and Intel Xeon Phi processors."
Naveen Rao, CEO and co-founder of Nervana, also commented on the acquisition: "With this acquisition, Intel is formally committing to pushing the forefront of AI technologies. Nervana intends to continue all existing development efforts, including the Nervana deep learning framework, Nervana deep learning platform, and the Nervana Engine deep learning hardware."
Rao added, "The combination of Nervana's technology and expertise incorporated into Intel's portfolio will take deep learning/AI solutions to the next level."
Perhaps somewhat obvious to those within the industry (and maybe even to those outside of it), is the fact that deep learning and artificial intelligence are technologies that are undoubtedly on the rise. A number of examples of this can be seen here:
Bryant provided a poignant quote on the topic in her press release on the acquisition: "While artificial intelligence is often equated with great science fiction, it isn't relegated to novels and movies," she said. "AI is all around us, from the commonplace (talk-to-text, photo tagging, fraud detection) to the cutting edge (precision medicine, injury prediction, autonomous cars). Encompassing compute methods like advanced data analytics, computer vision, natural language processing and machine learning, artificial intelligence is transforming the way businesses operate and how people engage with the world."
View the Intel press release.
Pictured: Intel's Diane Bryant with Nervana's co-founders Naveen Rao, Arjun Bansal, Amir Khosrowshaki and Intel vice president Jason Waxman
Share your vision-related news by contacting James Carroll, Senior Web Editor, Vision Systems Design

To receive news like this in your inbox, click here.
Learn more: search the Vision Systems Design Buyer's Guide for companies, new products, press releases, and videos