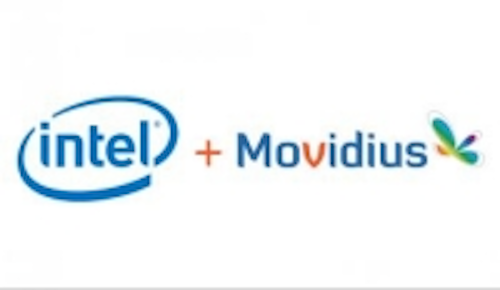 Intel has announced that it will acquire Movidius, a company that develops low-power, visual intelligence for connected devices, in an effort to improve its position to provide computer vision and deep learning solutions from the device to the cloud.
Having also recently acquired Nervana Systems, a company that specializes in deep learning technology, Intel gains low-power, high-performance SoC platforms for accelerating computer vision applications. The acquisition, according to Josh Walden, Senior Vice President and General Manager of Intel's New Technology Group, brings algorithms tuned for deep learning, depth processing, navigation and mapping, and natural interactions, as well as broad expertise in embedded computer vision and machine intelligence. Movidius' technology will also optimize, enhance, and bring Intel RealSense capabilities to fruition, he added.
"We see massive potential for Movidius to accelerate our initiatives in new and emerging technologies," he wrote in a blog post. "The ability to track, navigate, map and recognize both scenes and objects using Movidius' low-power and high-performance SoCs opens opportunities in areas where heat, battery life and form factors are key."
He added, "Specifically, we will look to deploy the technology across our efforts in augmented, virtual and merged reality (AR/VR/MR), drones, robotics, digital security cameras and beyond."
Remi El-Ouazzane, CEO of Movidius, also commented on the acquisition, noting that the Movidius mission is to give the power of sight to machines, and that as part of Intel, they will remain focused on this mission, but with the technology and resources to innovate faster and execute at scale.
"Our leading VPU (Vision Processing Unit) platform for on-device vision processing combined with Intel's industry leading depth sensing solution (Intel RealSense Technology) is a winning combination for autonomous machines that can see in 3D, understand their surroundings and navigate accordingly," he wrote. "Today, we're working with customers like DJI, FLIR, Google and Lenovo to give sight to smart devices including drones, security cameras, AR/VR headsets and more. But today's smart devices, while compelling, offer just a glimpse of what's to come."
Walden also commented on the future of computer vision: "Computer vision will trigger a Cambrian explosion of compute, with Intel at the forefront of this new wave of computing, enabled by RealSense in conjunction with Movidius and our full suite of perceptual computing technologies."
Terms of the deal were not disclosed.
View the Intel blog post.
View the Movidius blog post.
Share your vision-related news by contacting James Carroll, Senior Web Editor, Vision Systems Design

To receive news like this in your inbox, click here.
Join our LinkedIn group | Like us on Facebook | Follow us on Twitter
Learn more: search the Vision Systems Design Buyer's Guide for companies, new products, press releases, and videos