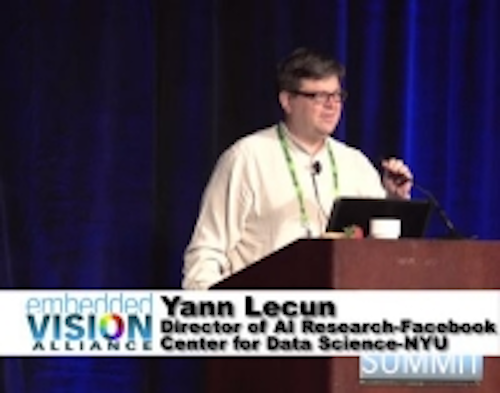 Deep learning is a hot topic in the imaging and vision world. Yann LeCun, who currently leads Facebook's various deep learning efforts, is one of the foremost authorities on the concept, and in 2014, delivered a keynote speech at theEmbedded Vision Summit that goes into great detail about the use of convolutional networks in computer vision applications.
LeCun, the Director of AI Research at Facebook and Silver Professor of Data Science, Computer Science, Neural Science, and Electrical Engineering at New York University, gave a speech entitled "Convolutional Networks: Unleashing the Potential of Machine Learning for Robust Perception Systems," in which he describes convolutional networks, how they've become the dominant method for various computer perception tasks, and how major companies like Facebook, Google, Microsoft, NEC, IBM, Baidu, and Yahoo have been successfully deploying them.
Additionally, the presentation provides examples of applications based on convolutional neural networks, such as smart cameras, mobile devices, automobiles, and robots, and describes how they transform the promise of real-time embedded systems capable of impressive image recognition tasks into reality.
Check out LeCun's entire presentation in this photo slideshow: