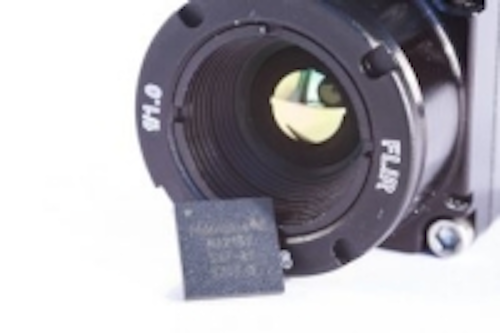 Movidius has announced a strategic collaboration with FLIR Systems to bring advanced computer vision capabilities to the Boson thermal imaging camera core.
In the collaboration, FLIR will integrate a Myriad 2 Vision Processing Unit (VPU) into the Boson camera core, enabling image processing at low power dissipation and bringing artificial intelligence to thermal imaging products. Myriad 2 is a vision processor capable of computer vision operations in such fields as deep learning, spatial computing and depth extraction, in a low-power package.
Customized collaboratively with FLIR, the Myriad 2's 12 programmable vision cores allowed FLIR to implement advanced image processing, super resolution, noise filtering, and blending algorithms, while still leaving compute resources available on-chip for customers to implement additional image processing and analytic algorithms.
"The state-of-the-art in computer vision has come a tremendous way in the last few years," according to Movidius CEO, Remi El-Ouazzane. "FLIR has developed the first-ever integrated solution that now allows customers to take advantage of these new advancements while continuing to leverage FLIR's unique thermal imaging technology and support ecosystem. FLIR will be instrumental in deploying advanced computer vision in applications such as home security, personal vision systems, drones, law enforcement and defense."
FLIR's Boson is now available in 320 or 640 VOx microbolometer infrared arrays that have a 12 µm pixel pitch, multiple field of view options, and multiple levels of sensitivity starting at <40 mK. The cameras will feature embedded video analytics, software-customizable functionality for video processing and power dissipation requirements, and built-in support for physical and protocol-level interface standards such as Ethernet, USB, SD card, LCD interfaces, and wireless video. Additionally, the cameras feature inputs and processing for auxiliary sensors, including visible sensors for FLIR's image blending.
"We're pleased to work with Movidius to deliver this amount of compute power into the size, weight and power requirements of the product you see today," said Andy Teich, President and CEO of FLIR Systems. "With system-on-a-chip interfaces and machine intelligence capability available through Movidius, we enable FLIR cores to make greater sense of the rich information being captured by our sensors."
The new Boson infrared camera core targets such applications as handheld thermal imaging systems, security and surveillance, UAVs, robots, navigation, obstacle avoidance, and automotive driver's vision enhancement, according to FLIR.
View more information on the Boson.
View more information on Movidius.
Share your vision-related news by contacting James Carroll, Senior Web Editor, Vision Systems Design
To receive news like this in your inbox, click here.
Share your comments, tips, or questions in our comments section below.
Join our LinkedIn group | Like us on Facebook | Follow us on Twitter