In this week's roundup from the Association for Unmanned Vehicle Systems International (AUVSI) which highlights some of the latest news and headlines in unmanned vehicles and robotics, FedEx unveils a solution for same-day automated deliveries, Volvo demonstrates the world's first full size autonomous electric bus, and Albuquerque, New Mexico prepares to use UAS to inspect roads, bridges and dams.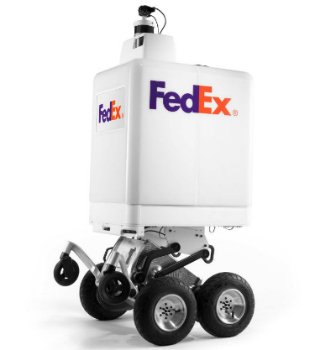 FedEx unveils its autonomous delivery robot; plans to test it this summer
On Wednesday, Feb. 27, FedEx Corp. unveiled its FedEx SameDay Bot, which is an autonomous delivery robot designed to help retailers make same-day and last-mile deliveries to their customers.
According to FedEx, retailers will be able to accept orders from nearby customers and deliver them directly to customers' homes or businesses the same day using the robot.
​FedEx notes that on average, more than 60 percent of merchants' customers live within three miles of a store location, which shows the potential for on-demand, hyper-local delivery. With this in mind, FedEx has also announced that it is partnering with several companies including AutoZone, Pizza Hut, and Target to help assess retailers' autonomous delivery needs.
"The FedEx SameDay Bot is an innovation designed to change the face of local delivery and help retailers efficiently address their customers' rising expectations," explains Brie Carere, executive vice president and chief marketing and communications officer for FedEx.
"The bot represents a milestone in our ongoing mission to solve the complexities and expense of same-day, last-mile delivery for the growing e-commerce market in a manner that is safe and environmentally friendly."
DEKA Development & Research Corp. is helping develop the FedEx bot. The company was founded by Dean Kamen, who has invented technologies such as the iBot Personal Mobility Device and the Segway.
"The bot has unique capabilities that make it unlike other autonomous vehicles," Kamen says.
"We built upon the power base of the iBot, an advanced, FDA-approved, mobility device for the disabled population with more than 10 million hours of reliable, real-world operation. By leveraging this base in an additional application, we hope that the iBot will become even more accessible to those who need it for their own mobility."
Designed to travel on sidewalks and along roadsides, the FedEx bot will safely deliver smaller shipments to customers' homes and businesses. The bot is equipped with pedestrian-safe technology from the iBot, as well as LiDAR and multiple cameras that allow it to be aware of its surroundings.
These features, along with machine-learning algorithms, allow the bot to detect and avoid obstacles, plot a safe path and allow the bot to follow road and safety rules.
Thanks to proprietary technology, the bot can also navigate unpaved surfaces, curbs, and even steps for an "extraordinary door-to-door delivery experience," FedEx says.
This summer, FedEx plans to test the bot in select markets, including Memphis where it is headquartered, pending final city approvals.
"We couldn't be more excited that FedEx chose its hometown as one of the pilot cities for this revolutionary innovation," says Mayor Jim Strickland, City of Memphis.
"We look forward to working with FedEx to continue introducing technologies that will help improve the quality of life in our community."
During the initial tests, deliveries will take place between selected FedEx Office locations. FedEx Office currently offers a SameDay City service that operates in 32 markets and 1,900 cities using branded FedEx vehicles and uniformed FedEx employees. This service will be complemented by the FedEx bot.
"The FedEx SameDay Bot represents the next chapter in our long legacy of delivering innovation and outstanding service, supported by an already existing FedEx logistics ecosystem," says Brian Philips, president and CEO of FedEx Office.
"We are excited to bring this technology to address new markets and better support our customers. The companies who have provided feedback on its potential use have been instrumental in ensuring we are looking toward the future of e-commerce."
Volvo Buses and Nanyang Technological University demonstrate full size autonomous bus
Volvo Buses and Singapore's Nanyang Technological University (NTU) have demonstrated what they are calling the world's first full size autonomous electric bus.
Having already undergone preliminary rounds of testing at the Centre of Excellence for Testing and Research of Autonomous vehicles (CETRAN) in Singapore, the bus, which is Volvo's first autonomous fully electric bus in public transportation, will soon begin trials on the campus of NTU.
There are also plans to extend the route beyond the university.
"Our electric bus featuring autonomous technology represents an important step towards our vision for a cleaner, safer and smarter city," says Håkan Agnevall, president Volvo Buses.
"The journey towards full autonomy is undoubtedly complex, and our partnership with the NTU and LTA is critical in realizing this vision, as is our commitment to applying a safety first approach."
Capable of carrying 85 people, the Volvo 7900 Electric bus is equipped with sensors and navigation controls that are managed by a comprehensive artificial intelligence (AI) system. Volvo notes that the AI system is protected with cyber security measures to prevent unwanted intrusions, to provide maximum safety and reliability.
The bus is also equipped with Volvo autonomous research software that is connected to key controls and multiple sensors. This software has been enhanced by NTU researchers with an AI system that communicates with sensors, which allow the bus to operate autonomously.
This incudes light detection and ranging sensors (LIDARS), 360-degree cameras and an advanced global navigation satellite system that uses real-time kinematics. According to Volvo, this is similar to any global positioning system (GPS), but it uses several data sources to give pin-point location accuracy up to one centimeter.
The system is hooked-up to an "inertial management unit," which measures the vehicle's lateral and angular rate, which will ultimately improve the vehicle's navigation when going over uneven terrain, to facilitate a smooth ride.
Albuquerque's Municipal Development Department using UAS to ensure safety of roads, bridges and dams
Albuquerque, New Mexico's Municipal Development Department will soon begin using a UAS to make sure the state's roads, bridges and dams are safe.
The city plans to start surveying bridges and dams once monsoon season starts, and the data collected will reveal what, if any, damage was done by the rains.
"The idea is just to make it more convenient, safer for our employees as well as to get more information and more data in a less amount of time," says Johnny Chandler, Municipal Development Department spokesperson, via KRQE.
The UAS is equipped with specialized software that allows it to get a much different view of bridges and streets than the view surveyors previously had, as the UAS shows the depth and topography of the area.
"It takes a 3D survey of the road, and also it's able to let you know what's kind of happening underground as well," Chandler explains.
Earlier this week, UAS pilots used the technology to take a closer look at a road that they suspect might be sinking. The UAS will allow large areas to be surveyed in a week without any, or minimal, road closures, which is much quicker that the conventional way that would take a month and cause a major disruption in traffic.
"The idea behind this drone is to streamline the process, to be a little less intrusive to the community and we're going to do as many as we can," Chandler says.
Share your vision-related news by contacting Dennis Scimeca,Associate Editor, Vision Systems Design

To receive news like this in your inbox, click here.