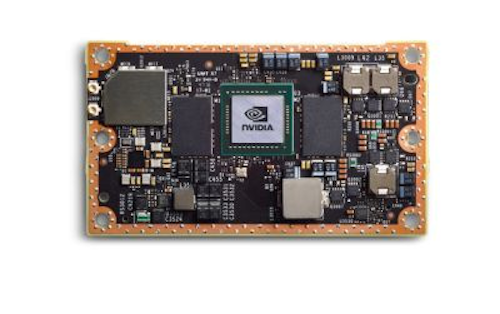 With an eye toward enabling applications such as factory robots, drones, and smart cameras for artificial intelligence (AI) cities, NVIDIA has introduced the Jetson TX2 credit-card sized platform that enables AI computing.
Jetson TX2 features the 256-core NVIDIA Pascal GPU, dual 64-bit NVIDIA Denver 2, Quad ARM A57 CPU, and delivers 4K x 2K video at 60 fps. The computer features 12 CSI lanes supporting up to 6 cameras, with 2.5 Gbytes/second per plane. For memory, the Jetson TX2 feature 8GB LPDDR4; 58.3 gigabytes/second, and for storage, 32GB eMMC. Additionally, the Jetson TX2 has 1 GB Ethernet connectivity, as well as USB 2.0 and USB 3.0 ports, with Linux for Tegra for operating system support.
Offering twice the performance of its predecessor, the Jetson TX1, it can run at more than twice the power efficiency while drawing less than 7.5 watts of power. This, according to NVDIA, enables the Jetson TX2 to run larger, deeper neural networks on edge devices, resulting to smarter devices with higher accuracy and faster response times for tasks like image classification, navigation and speech recognition.
"Jetson TX2 brings powerful AI capabilities at the edge, making possible a new class of intelligent machines," said Deepu Talla, vice president and general manager of the Tegra business at NVIDIA. "These devices will enable intelligent video analytics that keep our cities smarter and safer, new kinds of robots that optimize manufacturing, and new collaboration that makes long-distance work more efficient."
From the robotics side, Fanuc provided a testimonial on the product, noting that it "envisions more smart factories adopting artificial intelligence, and NVIDIA Jetson is a powerful platform to enable AI at the edge."
Toyota also provided a commented: "Jetson is powering all our Human Support Robots. We expect the platform's flexibility to open up a world of possibilities for our robotics system."
A number of academic institutions also provided comments on the Jetson TX2. One such comment was from MIT, who noted that: "Jetson is easy to use but can solve complex AI problems. Now with Jetson TX2, students taking our courses will be able to develop intelligent machines with even higher performance"
NVIDIA's new product is an open platform that is accessible to anyone for developing AI solutions at the edge, and it also enables Cisco to add AI features such as facial and speech recognition to its Cisco Spark products.
"Cisco is able to drive new experiences and remove the barriers between physical and virtual spaces, thanks to Jetson TX2's advanced technology capabilities in AI computing and graphics," said a Cisco testimonial.
Furthermore, the Jetson family is supports by the JetPack 3.0 software development kit, which enables the integration of AI into a variety of applications, while supporting the following:
TensorRT 1.0, a high-performance neural network inference engine for production deployment of deep learning applications
cuDNN 5.1, a GPU-accelerated library of primitives for deep neural networks
VisionWorks 1.6, a software development package for computer vision and image processing
The latest graphics drivers and APIs, including OpenGL 4.5, OpenGL ES 3.2, EGL 1.4 and Vulkan 1.0
CUDA 8, which turns the GPU into a general-purpose massively parallel processor, giving developers access to tremendous performance and power-efficiency
NVIDIA's Jetson TX2 Developer Kit will include the carried board and Jetson TX2 module, and will be available for $599 in the United States and Europe beginning March 14. Additional regions will be able to order the product in the coming weeks. The Jetson TX2 module will also be available in Q2 for $399 (in quantities of 1,000 or more) from NVIDIA and its distributors around the world.
View more information on the Jetson TX2.
Share your vision-related news by contacting James Carroll, Senior Web Editor, Vision Systems Design

To receive news like this in your inbox, click here.
Join our LinkedIn group | Like us on Facebook | Follow us on Twitter
Learn more: search the Vision Systems Design Buyer's Guide for companies, new products, press releases, and videos