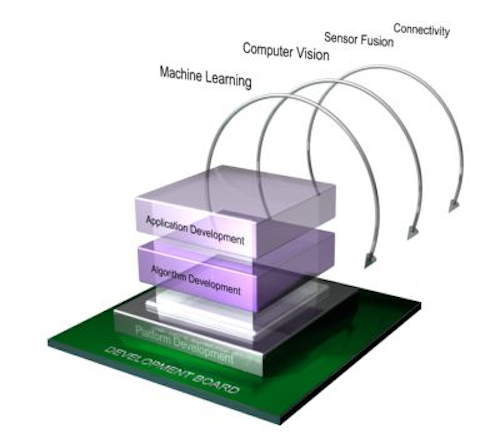 With the launch of the reVISION stack, Xilinx has expanded into the market of vision-guided machine learning.
Included in the reVISION stack is a range of development resources for platform, algorithm, and application development, including support for the most popular neural networks, such as AlexNet, GoogLeNet, SqueezeNet, SSD, and FCN. The stack also provides library elements such as pre-defined and optimized implementations for CNN network layers, required to build custom neural networks (DNN/CNN.)
Machine learning elements, according to Xilinx, are complemented by a set of acceleration-ready OpenCV functions for computer vision processing. For application-level development, Xilinx supports industry-standard frameworks including Caffe for machine learning and OpenVX for computer vision. Additionally, the stack includes development platforms from Xilinx and third parties, including various types of sensors.
With reVISION stack, a broad set of software and systems engineers—with little or no hardware design expertise—are now able to develop intelligent vision guided systems easier and faster. reVISION, according to the company, offers 6x better images/second/watt in machine learning inference, 40x better frames/second/watt of computer vision processing, and 1/5th the latency over competing embedded GPUs and typical SoCs. Developers with limited hardware expertise can use a C/C++/OpenCL development flow with industry-standard frameworks and libraries like Caffe and OpenCV to develop embedded vision applications on a single Zynq SoC or MPSoC, the company noted in a press release.
"Our eye tracking technology has greatly benefited individuals suffering from ALS or other forms of paralysis, powered by the Zynq SoCs for high resolution vision based analytics," said Robert Chappell, CEO and Founder, Eyetech Digital Systems in the press release. "The new reVISION stack offers new opportunities for algorithm development by leveraging the power of machine learning. This can enable us to expand our offering of human interaction hardware as well as improving our core eye tracking products."
Steve Glaser, SVP of Corporate Strategy at Xilinx also commented: "We are seeing tremendous interest in machine learning from the edge to the cloud, and believe that our ongoing investment in development stacks will accelerate mainstream adoption," he said. "Today, hundreds of embedded vision customers have realized greater than 10x performance and latency advantages with Xilinx technology. With the addition of reVISION, those same advantages will now become available to thousands of customers."
Xilinx envisions the stack being utilized in applications that include as high end consumer, automotive, industrial, medical, and aerospace and defense, as well as collaborative robots, sense-and-avoid drones, augmented reality, autonomous vehicles, automated surveillance, and medical diagnostics.
View more information on the reVISION stack.
Join our LinkedIn group | Like us on Facebook | Follow us on Twitter
Learn more: search the Vision Systems Design Buyer's Guide for companies, new products, press releases, and videos