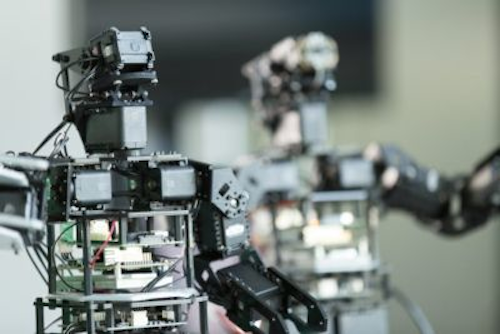 Building robotsfor pleasure is perhaps something you wouldn't think a high school student would want to be doing in their free time, especially in the summer. Sixteen-year-old Prat Prem Sankar, however, couldn't be happier doing just that.
An intern at NVIDIA, Sankar's interest in robotics began more than five years ago when his father bought him a Lego Mindstorms NXT set, which is programmable version of the toy. At that point, he said, he knew he wanted to be a robotics engineer. Flash forward to 2016's GPU Technology Conference—the world's largest event for GPU developers—where he sat in on a tutorial on deep learning. Here, said Sankar, is where he first saw the possibilities of what deep learning could be used for.
"It was the kind of technology I wanted to see in robotics. I knew right away I had to be part of the company."
Two months later, he joined NVIDIA as a summer intern, where he was given the chance to utilize deep learning by building three humanoid robots using Jetson TX1 embedded system developer kits, which are capable of running complex, deep neural networks.
The Jetson TX1 features 1 Teraflop / 254-core with NVIDIA Maxwell architecture, 64-bit ARM A57 CPU, 4K video encode (30 Hz) and decode (60 Hz), and a camera interface capable of handling up to six cameras, or 1400 MPixels/s. Sankar's robots, which he named Cyclops, were programmed by showing them thousands of images from the internet. In the video, the Cyclops robot is shown "looking" at an apple using a Logitech webcam, and is able to recognize it and keep it within its range of vision. It sees it as an apple, and is "confirming it constantly, checking back with the Jetson."
"The second that apple drops out of frame, and you put an orange [in frame] or replace it with some other kind of fruit, the robot continues searching—it's still looking for the apple. Deep learning is flashing thousands of images of apples, oranges, bananas, and other types of fruit—or whatever objects you want—and it creates a network, saying if it is red, go here, if it's a little round, go here."
In addition to his internship at NVIDIA, Sankar continues to build robots with his FIRST robotics team, the Arrowbotics. As the vice president of engineering, he has helped his team excel in competitions. Earlier this year, they built an obstacle-tackling robot that made it to the quarterfinals in the Silicon Valley Regional FIRST Robotics Competition. NVIDIA was recently named a gold-level supplier of the FIRST Robotics Competition, which is part of the company's effort to inspire more young students like Sankar to become science and technology innovators.
View the NVIDIA blog post on Sankar's work.
Share your vision-related news by contacting James Carroll, Senior Web Editor, Vision Systems Design

To receive news like this in your inbox, click here.
Join our LinkedIn group | Like us on Facebook | Follow us on Twitter
Learn more: search the Vision Systems Design Buyer's Guide for companies, new products, press releases, and videos