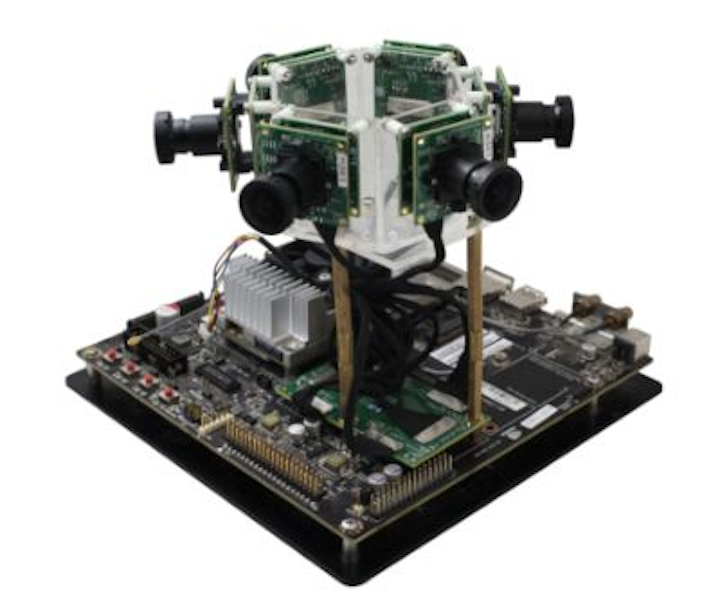 Designed for use on the NVIDIA Jetson TX1/TX2development kit, the e-CAM30_HEXCUTX2 from e-con Systems Inc. is a multiple camera solution that targets applications requiring multiple full HD cameras. NVIDIA's TX1 and TX2 can support up to six 2-lane MIPI CSI-2 cameras simultaneously, and as a result, the e-CAM30_HEXCUTX2 consists of six e-CAM30_CUMI0330_MOD cameras. These board-level cameras feature the 3.4 MPixel AR0330 color CMOS image sensor from ON Semiconductor and integrated advance image signal processor, M12 lens, and are connected to the e-CAMHEX_TX2ADAP adapter board using customized Micro-Coaxial cables. From there, the adapter board interfaces with the J22 connector on the Jetson TX1/TX2.
The e-CAM30_HEXCUTX2 streams 720p(HD), 1080p (Full HD) and 3.4 MPixel at 30 fps in uncompressed YUV422 format in both synchronous and asynchronous mode. Additionally, e-con Systems has developed the V4L2 API based camera driver on top of the JetPack 2.3/3.0 version from NVIDIA. This driver is a standard V4L2 driver and any V4L2 compatible application can access this camera. This solution, suggests e-con Systems, can be deployed into applications that require 360° imaging, including surveillance, autonomous vehicles, robotics, drones, and more.
To Learn More:
Contact:e-con Systems
Headquarters: Tamil Nadu, India
Product: e-CAM30_HEXCUTX2 multi-camera solution
Key Features: Designed for NVIDIA's TX1 and TX2, interfaces to adapter board, features of six e-CAM30_CUMI0330_MOD cameras (3.4 MPixel CMOS sensor, board-level design, up to 60 fps).
What e-con Systems says:
View more information on the solution.

View More Products| Locate a vendor or system integrator | Receive e-mail updates
Share new products that you think are particularly interesting or helpful by contacting James Carroll, Senior Web Editor, Vision Systems Design.
Share your vision-related news by contacting James Carroll, Senior Web Editor, Vision Systems Design

To receive news like this in your inbox, click here.
Join our LinkedIn group | Like us on Facebook | Follow us on Twitter