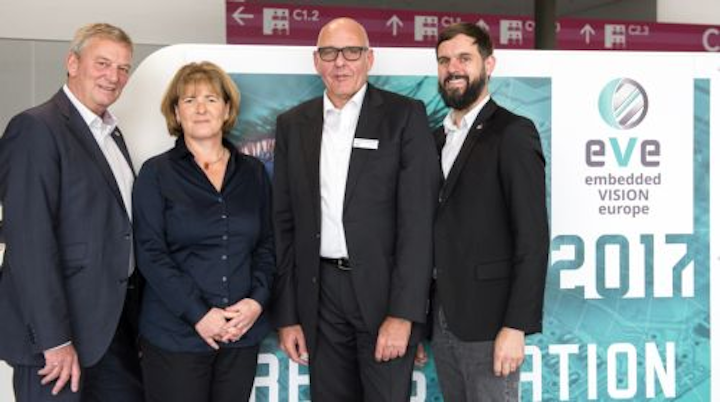 From October 12-13, approximately 200 people attended the first ever Embedded Vision Europe, which provided a venue for experts around the globe to discuss the latest developments in vision processing,image acquisition and deep learning in embedded vision.
The European Machine Vision Association (EMVA) and the team that hosts VISIONevery other year collaborated to produce the first European conference on embedded vision in an effort to highlight the capabilities of hardware and software platforms, to present applications and markets, and to create a platform for the exchange of information relating to embedded vision. Gabriele Jansen, Member of the Board of the EMVA, commented on the event.
"Machine Vision is a 10+ billion Euros industry with annual growth rates north of 10 percent. Embedded Vision provides the hardware and software tools to boost this growth far beyond traditional growth rates and traditional expectations. This is happening right here and right now."
She continued, "Europe's rich ecosystem of vision manufacturers, vision machine builders and vision solution providers and the new hardware and software platforms from the embedded world will be a perfect match. This is what we wanted to support with our conference by connecting people to people and people to knowledge. We are very happy to see that our idea has caught on with our target audience."
Florian Niethammer, Team Leader VISION at Landesmesse Stuttgart added his thoughts: "With around 200 attendees the debut of the Embedded Vision Europe was a full success. In this high-profile technical conference, the latest developments in embedded vision were shown. We are especially proud that together with our partner EMVA we managed to provide this trend topic in imaging with the platform it deserves and to organize the first event of this kind on a European level here in Stuttgart."
Speakers at the event included experts from Intel, Qualcomm Technologies, AMD, MathWorks, Xilinx, and more. In addition to presentations, attendees saw a table-top exhibition and had numerous networking opportunities. Plans are reportedly underway to establish the conference with an annual cycle, according to the EMVA.
Share your vision-related news by contacting James Carroll, Senior Web Editor, Vision Systems Design

To receive news like this in your inbox, click here.
Join our LinkedIn group | Like us on Facebook | Follow us on Twitter