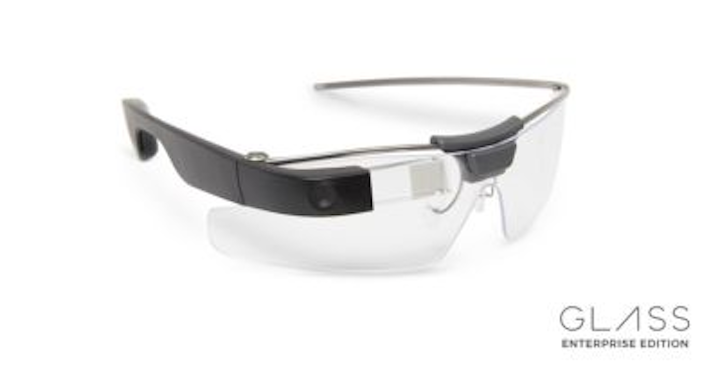 After failing to catch on after its initial release, Google Glass—an optical head-mounteddisplay shaped like sunglasses—has been reintroduced to businesses looking to utilize the product in a professional setting.
Developed by X (formerly Google X), Google Glass and all news relating to it essentially went dark in 2015, but two years later, the product is available as Google Glass Enterprise edition to companies in fields such as manufacturing, logistics, field services, and healthcare that may benefit for using a wearable device for information and resources, while their hands are busy. Workers at agricultural machinery manufacturer AGCO, for example, are already using Glass Enterprise Edition. By reducing the amount of back and forth involved with workers accessing checklists, viewing instruction manuals or sending photos from tablets or laptops as they assemble machines, Glass has reduced machinery production time by 25% and inspection times by 30%, according to an X blog post.
"Employees are now working smarter, faster and safer because they have the information they need right in their line of sight," said Peggy Gulick, Director of Business Process Improvement, AGCO.
While the previous version of Google Glass had a 5 MPixel camera, the new version features an 8 MPixel camera, as well as a longer battery life, lighter weight, a faster processor, a light to show when Glass is recording, and more secure wireless connectivity, according to CNET.
X has spent the past two years working closely with a network of more than 30 partners to build customized software and business solutions for workers in these fields. One of the biggest changes, notes TechCrunch, is that the new Glass module is now decoupled from integrated frames, allowing users to attach it to existing eyewear, such as industrial safety glasses. This, notes the article, will allow the device to be more easily shared and cheaply deployed across a wide range of different industries.
View more information on Google Glass.
View the X blog post.
Share your vision-related news by contacting James Carroll, Senior Web Editor, Vision Systems Design

To receive news like this in your inbox, click here.
Join our LinkedIn group | Like us on Facebook | Follow us on Twitter