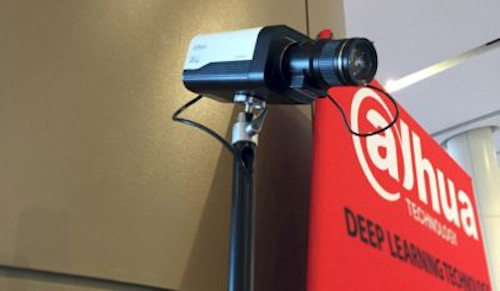 Video surveillancecameracompany Dahua Technology USA and Intel's Movidius—a company that develops embedded vision technology—have announced that a collaboration that will result in security cameras with advanced artificial intelligence capabilities that will train the devices to gather, analyze, and retain information similar to the human brain.
Movidius Myriad 2 Vision Processing Unit (VPU) technology will be integrated with a number of Dahua video surveillance cameras. The Myriad 2 VPU, which the company calls the industry's first "always-on vision processor," features an architecture comprised of a complete set of interfaces, a set of enhanced imaging/vision accelerators, a group of 12 specialized vector VLIW processors called SHAVEs, and an intelligent memory fabric that pulls together the processing resources to enable power-efficient processing.
"Deep learning is the fastest-growing field in Artificial Intelligence. It can enable computers to interpret large amounts of data in the form of images, sound, and text," said Mr. Zhu Jiangming, Executive Vice President of Dahua Technology. "With this sophisticated technology from Movidius, we can dramatically improve accuracy when analyzing video content, which will have a significant impact on the future of video surveillance."
Remi El-Ouazzane, Vice President of Intel New Technology Group and General Manager of Movidius, also commented.
"The new frontier for AI and machine learning is being able to deploy these technologies in real-world products. This means getting the power demand to a low enough level to be embedded right into the cameras themselves," he said. "The Myriad 2 VPU delivers a tremendous amount of compute for deep neural networks while requiring less than a single watt of power – allowing Dahua to create some of the smartest products to date."
Equipped with the Myriad 2 VPU, the Dahua 2 MP High Definition box camera will run the latest deep neural networks on the device itself, which enables new capabilities that include crowd density monitoring, stereoscopic vision, facial recognition, people counting, behavior analysis, and detection of illegally parked vehicles. For example, notes the press release, in the facial recognition category, a camera equipped with deep learning technology can detect gender, whether the subject is wearing glasses, age range, and even emotion.
View more information on the Movidius VPU.
View the Dahua press release.
Share your vision-related news by contacting James Carroll, Senior Web Editor, Vision Systems Design

To receive news like this in your inbox, click here.
Join our LinkedIn group | Like us on Facebook | Follow us on Twitter
Learn more: search the Vision Systems Design Buyer's Guide for companies, new products, press releases, and videos