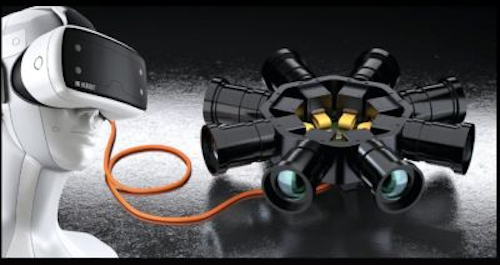 At the 2017 Embedded Vision Summit, XIMEAwill present a PCI Express-based multi-camera embedded system called the X Platform. This vision system concept, which will be discussed in depth by a presentation from Max Larin, CEO of XIMEA, utilizes PCIe technology along with the XIMEA's xiX and xiC cameras. The X Platform, according to the company, is being used in applications such as virtual or augmented reality (pictured), entertainment, 360 panorama cinematography, and sports. In addition, XIMEA will showcase a compact and portable hyperspectral imaging demonstration running on the NVIDIA Jetson TX1/TX2 platform, ideal for UAV use.
Embedded Vision Summit exhibit space: 606
To Learn More:
Contact: XIMEA
Headquarters: Münster, Germany
Product: PCIe Nest
Key Features: xiX and xiC cameras, PCIe Technology.

What XIMEA says:
View more information on Max Larin's presentation.
View more information on XIMEA cameras.

View More Products| Locate a vendor or system integrator | Receive e-mail updates
Share new products that you think are particularly interesting or helpful by contacting James Carroll, Senior Web Editor, Vision Systems Design.
Join our LinkedIn group | Like us on Facebook | Follow us on Twitter
Learn more: search the Vision Systems Design Buyer's Guide for companies, new products, press releases, and videos