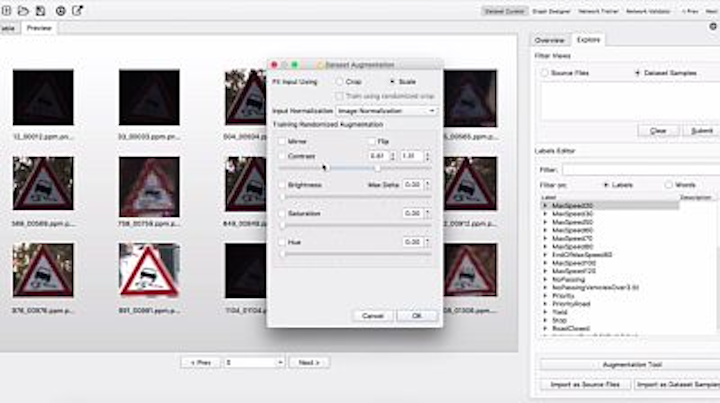 Au-Zone's DeepView ML Toolkit provides computer vision engineers with a graphical development environment to design, train, and deploy convolutional neural network solutions on a range of embedded processors. DeepView is integrated with TensorFlow, Google's training framework, and fully compatible with cuDNN, NVIDIA's training acceleration library, for desktop machines with compatible GPUs. With desktop support for Windows, Mac, and Linux, the toolkit enables developers to create and curate datasets, design custom networks, or select from existing templates and train with a single click using the TensorFlow framework from Google.
Additionally, the DeepViewRT production-ready inference engine is architecture optimized for ARM v7/v8 (NEON), x86, and other GPUs and FPGAs with OpenCL 1.2 support, and has heterogeneous processor support for CPU, GPU, and proprietary Vision Processors (VPUs)
To Learn More:

Contact:Au-Zone
Headquarters: Calgary, AB, Canada
Product: DeepView machine learning toolkit and run-time inference engine
Key Features: Dataset curation workspace, graphical development environment with ready-made network templates, integrated with TensorFlow, supports cuDNN, production-ready inference engine with hardware acceleration and architecture-specific optimizations for ARM v7/v8 (NEON), x86, and other GPUs and FPGAs with OpenCL 1.2 support.
What Au-Zone says:
View more information on the toolkit.

View More Products| Locate a vendor or system integrator | Receive e-mail updates
Share new products that you think are particularly interesting or helpful by contacting James Carroll, Senior Web Editor, Vision Systems Design
Join our LinkedIn group | Like us on Facebook | Follow us on Twitter
Learn more: search the Vision Systems Design Buyer's Guide for companies, new products, press releases, and videos