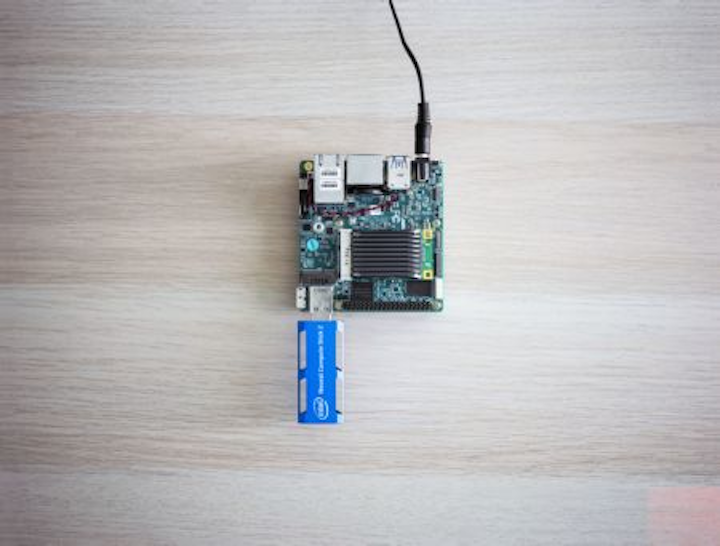 Intel has announced the release of its Neural Compute Stick 2 (Intel NCS2) which is a USB 3.0-based deep learning inference kit and self-contained artificial intelligence (AI) accelerator that delivers dedicated deep neural network processing capabilities to a range of host devices at the edge.
Intel's NCS2—which the company says offers performance boosts over the previous Neural Compute Stick model—is based on the Intel Movidius Myriad X vision processing unit (VPU), which features 16 SHAVE vector processing cores and a dedicated hardware accelerator for deep neural network inferences. The Intel NCS2 is also supported by the Intel Distribution of OpenVINO toolkit, which is based on convolutional neural networks (CNN) and extends workloads across Intel hardware to maximize performance. The Toolkit, suggests Intel, enables CNN-based deep learning inference on the edge and supports heterogeneous execution across computer vision accelerators including CPU, GPU, FPGA, and Intel Movidius Neural Computer Stick using a common API.
Enabling deep neural network testing, tuning and prototyping, the Intel NCS2 was designed to bring developers from "prototyping into production," by leveraging a range of Intel vision accelerator form factors in real-world applications.
"The first-generation Intel Neural Compute Stick sparked an entire community of AI developers into action with a form factor and price that didn't exist before. We're excited to see what the community creates next with the strong enhancement to compute power enabled with the new Intel Neural Compute Stick 2," Naveen Rao, Intel corporate vice president and general manager of the AI Products Group.
With a PC and the Intel NCS2, developers can have AI and computer vision applications up and running in minutes, according to Intel. The sticks ports to computer via USB 3.0 and requires no additional hardware. Supported deep learning frameworks include TensorFlow and Caffe, and compatible operating systems include Ubuntu 16.04.3 LTS (64 bit), CentOS 7.4 (64 bit), and Windows 10 (64 bit).
Intel's new NCS2 device builds on its previous generation of neural compute stick, the Intel Movidius Neural Compute Stick. This unit—which featured the Intel Movidius Myriad 2 VPU—was designed toreduce barriers to developing, tuning and deploying AI applications by delivering dedicated high-performance deep-neural network processing in a small form factor. Through software and hardware tools, suggested Intel at the time of the product's release, the Neural Compute Stick brings machine intelligence and AI out of the data centers and into end-user devices.
View more information on the Intel NCS2.
Share your vision-related news by contacting James Carroll, Senior Web Editor, Vision Systems Design

To receive news like this in your inbox, click here.
Join our LinkedIn group | Like us on Facebook | Follow us on Twitter