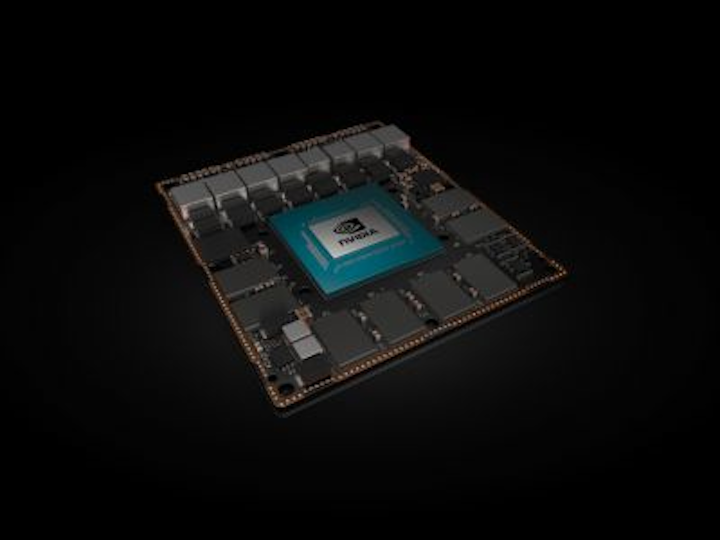 NVIDIA has announced the availability of NVIDIA Isaac, a new platform designed to power the next generation of autonomous machines, bringing artificial intelligence capabilities to robots for manufacturing, logistics, agriculture, construction, and more, according to the company.
The platform was launched at Computex 2018 by NVIDIA founder and CEO Jensen Huang, and includes new hardware, software, and a virtual-world robot simulator.
"AI is the most powerful technology force of our time," said Huang. "Its first phase will enable new levels of software automation that boost productivity in many industries. Next, AI, in combination with sensors and actuators, will be the brain of a new generation of autonomous machines. Someday, there will be billions of intelligent machines in manufacturing, home delivery, warehouse logistics and much more."
NVIDIA's new platform is powered by its new Jetson Xavier computer, which the company says is the first computer designed specifically for robotics. Jetson Xavier features 9 billion transistors and is capable of delivering more than 30 TOPS (trillion operations per second) — more processing capability than a powerful workstation while using a third the energy of a lightbulb, according to NVIDIA. The computer also has a Volta Tensor Core GPU, an eight-core ARM64 CPU, dual NVDLA deep learning accelerators, an image processor, a vision processor, and a video processor.
These processors, suggests NVIDIA, enable dozens of algorithms to be processed concurrently and in real time for sensor processing, odometry, localization and mapping, vision and perception, and path planning. Additionally, the computer features 16 CSI-2 camera lanes, enabling up to 16 cameras to be simultaneously connected, and offers multiple operating modes at 10W, 15W, and 30W and more than 20x the performance of its predecessor, the Jetson TX2.
Along with the Jetson Xavier computer, NVIDIA Isaac offers a software toolbox for the simulation, training, verification, and deployment of Jetson Xavier. The software consists of the following:
Isaac SDK – a collection of APIs and tools to develop robotics algorithm software and runtime framework with fully accelerated libraries.
Isaac IMX – Isaac Intelligent Machine Acceleration applications, a collection of NVIDIA-developed robotics algorithm software.
Isaac Sim – a virtual simulation environment for developers to train autonomous machines and perform hardware-in-the-loop testing with Jetson Xavier.
NVIDIA's Jetson Xavier developer kit, which includes the Jetson Xavier computer and Isaac robotics software, is available for $1,299, with early access starting in August from distributors worldwide.
In related news, on June 13, NVIDIA announced that it will invest in a new artificial intelligence (AI)research lab in Toronto, with the ultimate goal of tripling the number of AI and deep learning researchers working in the city by the year's end. NVIDIA's new lab will be led by leading computer scientist Sanja Fidler, who focuses on deep learning and computer vision, with connections to natural language processing. >>> View more information on the new lab here.
View more information on NVIDIA Isaac.
View more information on NVIDIA Jetson Xavier.
Share your vision-related news by contacting James Carroll, Senior Web Editor, Vision Systems Design

To receive news like this in your inbox, click here.
Join our LinkedIn group | Like us on Facebook | Follow us on Twitter