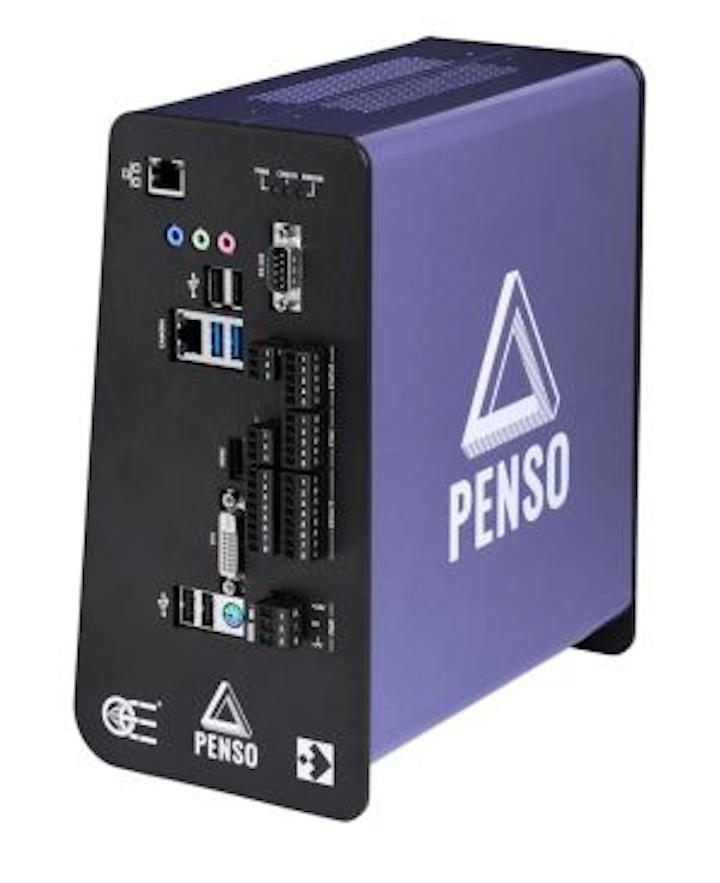 PENSO, an artificial intelligence-based computational unit for imaging applications,has been introduced by Opto Engineering. The vision unit features two camera-dedicated USB 3.0 ports, one camera-dedicated Ethernet port, 1 RS232 port, 1 RS485 port, four USB 2.0 ports, and multiple I/O for tasks including strobe trigger and camera trigger. The unit is available with a number of standard accessories, including GigE Vision and USB3 machine vision cameras from Matrix Vision, as well a 3D structured light camera option, as well as options for cables, lenses, lighting—both strobe and continuous—and lighting controllers.
PENSO learns the expected features of an object by looking at a series of samples, enabling it to "understand' what will then be considered normal and acceptable ("LEARN" mode). Opto Engineering notes that, since neither modeling nor programming is needed, users can immediately discern whether an application is feasible or not with basic configuration tools.
To Learn More:
Contact: Opto Engineering
Headquarters: Mantova, Italy
Product: PENSO artificial intelligence system
Key Features: LEARN mode image training process, USB 3.0 and GigE ports for cameras, multiple I/O, options for lenses, lighting, cabling, and lighting controllers.
What Opto Engineering says:
View more information on PENSO.

View More Products| Locate a vendor or system integrator | Receive e-mail updates
Share your vision-related news by contacting James Carroll, Senior Web Editor, Vision Systems Design

To receive news like this in your inbox, click here.
Join our LinkedIn group | Like us on Facebook | Follow us on Twitter