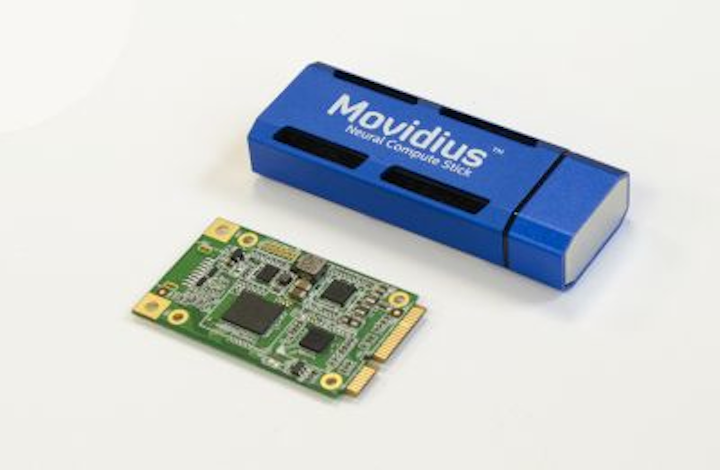 Intelhas announced the launch of "AI: In Production," a program that enables developersto bring their artificial intelligence (AI) prototypes to market.
Intel has selected embedded and industrial computing company AAEON Technologies as the first Intel AI: In Production partner. As part of this, AAEON provides two streamlined production paths for developers integrating the low-power Intel Movidius Myriad 2 Vision Processing Unit (VPU) into their product designs, according to Intel.
The first option is the new AI Core from AAEON's UP Bridge the Gap, which is a mini-PCIe module that features an Intel Movidius Myriad 2 VPU designed to work with a wide range of x86 host platforms. The AI Core is compatible with the Intel Movidius Neural Compute Stick—which has gained a developer base in the tens of thousands, according to Intel—and delivers the low-power capabilities of the Movidius Myriad 2 VPU deep neural networks accelerator.
The Myriad 2 VPU, which the company calls the industry's first "always-on vision processor," features an architecture comprised of a complete set of interfaces, a set of enhanced imaging/vision accelerators, a group of 12 specialized vector VLIW processors called SHAVEs, and an intelligent memory fabric that pulls together the processing resources to enable power-efficient processing. The Myriad 2 also includes a software development kit that enables developers to incorporate proprietary functions.
Intel's Neural Compute Stick, meanwhile, is a USB-based deep learning inference kit and self-contained AI accelerator that delivers dedicated deep neural network processing capabilities to a range of host devices at the edge. Designed for product developers, researchers and makers, the Movidius Neural Compute Stick features the Myriad 2 VPU and supports the Caffe framework and was designed to reduce barriers to developing, tuning and deploying AI applications by delivering dedicated high-performance deep-neural network processing in a small form factor
For companies requiring further customization, AAEON is offering development and board manufacturing services that will enable companies to move from Neural Compute Stick-based prototypes to custom boards.
"Intel AI: In Production means we can expect many more innovative AI-centric products coming to market from the diverse and growing segment of technologies utilizing Intel technology for low-power inference at the edge," said Remi El-Ouazzane, Intel vice president and general manager of Intel Movidius.
Fabrizio Del Maffeo, AAEON vice president, managing director of AAEON Technology Europe and founder of UP Bridge the Gap, also commented: "Intel Movidius Myriad 2 technology makes AI Core one of the most powerful and versatile AI hardware accelerators for edge computing," he said. "AI Core bridges the gap between the lab and volume production, allowing the innovators who adopted the Intel Movidius Neural Compute Stick to roll out a field deployment."
Intel customers, according to the company, are already building products using the Intel AI: In Production program. The first is from CONEX, a Diam International company that specializes in point-of-sale display systems for the cosmetics industry.
"Our innovation team started prototyping advanced retail deep learning algorithms and tested the Intel Movidius Neural Compute Stick," said Nicolas Lorin, president of CONEX. "Now through the Intel AI: In Production program, CONEX will be able to rapidly go from our validated prototypes to actual end products. Thanks to this new path to production, we will be deploying an AI-enhanced, point-of-sale retail device to some of the largest cosmetic goods retailers as soon as this spring."
View more information on Intel Movidius.
Share your vision-related news by contacting James Carroll, Senior Web Editor, Vision Systems Design

To receive news like this in your inbox, click here.
Join our LinkedIn group | Like us on Facebook | Follow us on Twitter