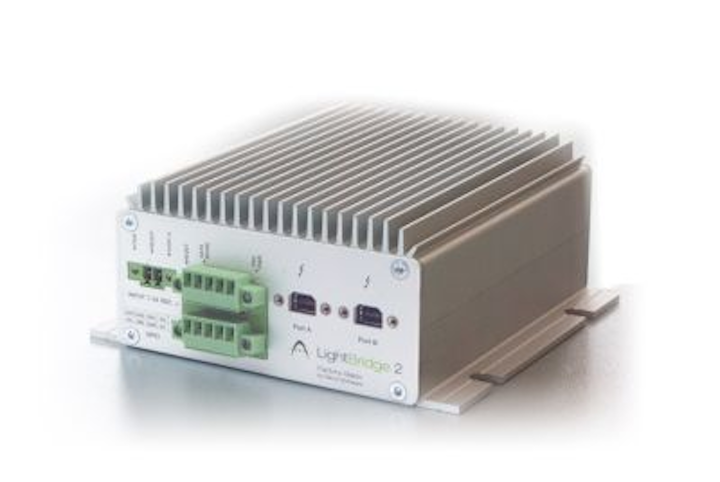 Designed for installation on the factory floor for image acquisition, pre-processing and processing, along with signal processing, the LightBridge 2 VCLexternal frame grabber from Silicon Software supports all formats of the Camera Link standard. Within the frame grabber, the FPGA processor integrated into the device controls the image acquisition and pre-processing as well as the image and signal processing with repeatable deterministic performance.
Additionally, LightBridge 2 VCL is graphically programmable with VisualApplets using data flow diagrams and is connected to the host PC by electrical or optical Thunderbolt (certified by Intel) cable using standard PCI Express (PCIe) bus technology. The LightBridge 2 VCL, via Thunderbolt 2 technology, also has a data bandwidth of 1,350 MB/s while also featuring 2 GByte DDR3-RAM on-board memory, various I/O, and third-party imaging tool interfaces for HALCON, Common Vision Blox, and other machine vision software options.
To Learn More:
Contact:Silicon Software
Headquarters: Manheimm, Germany
Product: LightBridge 2 VCL external frame grabber
Key Features:External frame grabber with Camera Link interface, Power over Camera Link, up to 60 m optical connection to host PC, up to 1,350 MB/s, custom programming with VisualApplets.

What Silicon Software says:
View more information on the LightBridge 2 VCL.

View More Products| Locate a vendor or system integrator | Receive e-mail updates
Share your vision-related news by contactingJames Carroll,Senior Web Editor, Vision Systems Design

To receive news like this in your inbox, click here.
Join ourLinkedIn group | Like us on Facebook | Follow us on Twitter