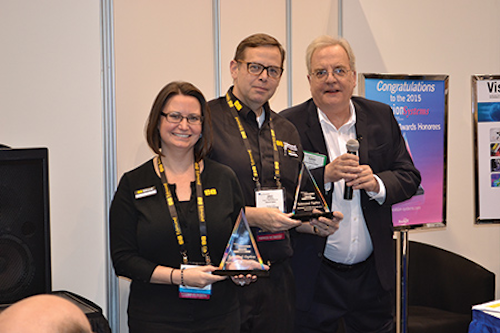 Last year, Vision Systems Design launched its first annual Innovators Awards program.
Vision Systems Design's Innovators Awards were developed to celebrate the disparate and innovative technologies, products, and systems found in the machine vision and image processing industry. Entries to the awards were reviewed by an expert panel of ten third-party judges who were asked to rate these based on originality, applicability and market need.
Based on the impartial ratings assigned by our judges, awards were assigned in four different levels-Bronze, Silver, Gold and Platinum-to companies or organizations that demonstrated excellence in a product or technology, an application, or in research and development. Submissions were judged on their originality, level of innovation, impact on designers and integrators, whether they fulfilled a market need, leveraged a novel technology or could be used to increase productivity.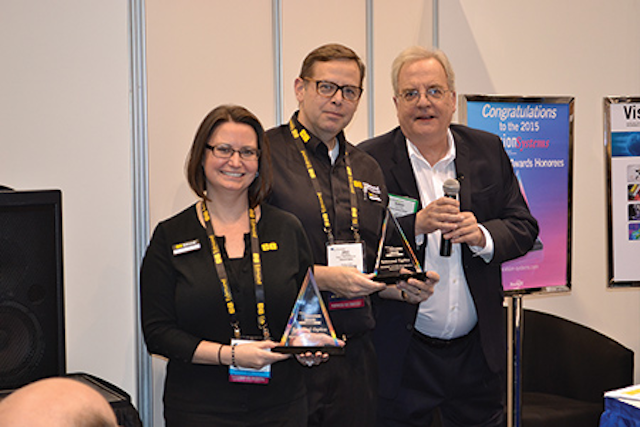 From left to right: Kirsten Bjork-Jones and Greg Hollows of Edmund Optics accepted two awards from Editor in-Chief Andrew Wilson.
To celebrate the Innovators Awards program, Vision Systems Design held a reception at the AIA's Automate trade show and conference in Chicago, IL, USA on March 25, 2015, where many representatives from companies at the show were on hand to accept their awards from Andrew Wilson, Editor-in-Chief of Vision Systems Design.
"For the first time in its 20 year history, our publication has recognized some of the leading-edge developments in vision," said Alan Bergstein, Publisher of Vision Systems Design. "Both the number and quality of the submissions were exceptional, and I would personally like to thank everyone that entered the awards program."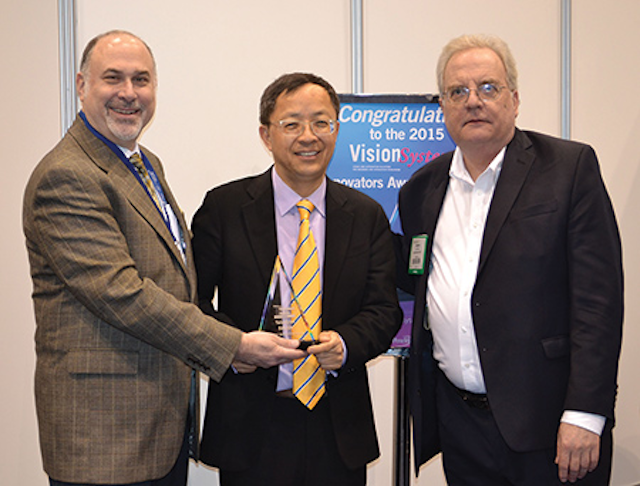 From left to right: Alan Bergstein, Group Publisher of Vision Systems Design, Sam Liu, President of Newnex Technology and Andrew Wilson, Editor in Chief.
This year's award's ceremony in Chicago marked the first year of Vision Systems Design's Innovators Awards program. Next year - the Second Annual Innovators Awards - will be held in April at the AIA's Vision Show in Boston, MA, USA. An announcement regarding how to enter next year's Awards program will be made in September this year.
---
PLATINUM
TAG OPTICS
TAG Lens 2.5. TAG Lens 2.5 varifocal lens is a type of gradient index of refraction lens that uses standing sound waves to produce a constantly changing gradient index of refraction within a liquid contained in the lens. When used in applications where speed is critical, it can create multi-focal images by combining information from user-defined spatial locations such that one frame is all that is necessary to capture 3D data. Alternatively, it can be synchronized with a camera to generate frame-by-frame focusing as fast as the camera will allow. www.tag-optics.com.
VIEWORKS
VN-25MX pixel shifting camera. The VN-25 MX is a pixel-shifting area scan CoaXPress camera that can achieve 100 MPixel resolution by using a 2D nano-stage piezoelectric actuator. The camera captures multiple images by using the piezoelectric stage to micro-shift the image sensor in x and y directions and then combines these images to generate a 100Mpixel output image. Images at this resolution can be acquired at 18 fps. www.vieworks.com.
VIDI SYSTEMS
ViDi software suite. ViDi Suite is bio-inspired industrial vision software for automated inspection and classification. The software provides human-like visual inspection abilities combined with the consistency of automated visual inspection systems through a set of machine learning algorithms to separate different classes based on a collection of labeled images. www.vidi-systems.com.
---
GOLD
ALLIED VISION
Goldeye G-033 SWIR camera. The G-033 is a 78 mm x 55 mm x 55 mm SWIR camera equipped with a 640 x 512 InGaAs detector with a 15μm pixel size. The 300fps GigE Vision TEC-cooled camera also features a rugged alloy housing and operates in an extended range of -4-122°F. In addition, the camera features tools such as non-uniformity correction and defective pixel correction. www.alliedvision.com.
BASLER
Time of flight cameras. The company's time of flight cameras are equipped with a pulse-emitting IR light source and are based on Panasonic CCD image sensors. With a working range of 50cm to 5m, the cameras have with a depth accuracy of ±1 cm and are available with sensors from VGA to 1.3MPixel. Featuring a GigE interface, the first model is the ToF-6m that features a 640 x 480 Panasonic MN34902BL sensor with an NIR light source and a frame rate of 30 fps. www.baslerweb.com.
HEADWALL PHOTONICS
Hyperspec Inspector. Hyperspec Inspector is a hyper-spectral inspection instrument consists of an imaging spectrometer, embedded processor, 320GByte hard drive and external illumination sources. Hyperspec INSPECTOR is available in several versions covering spectral ranges that include visible (380nm - 825nm), visible/NIR (400nm - 1000nm), extended VNIR (600nm - 1600nm), NIR (900nm - 1700nm) and SWIR (1000nm - 2500nm). www.headwallphotonics.com.
ISS INNOVATIVE SECURITY SOLUTIONS
3D CPS. 3D Control and Picking Solutions (CPS) integrates a laser scanner and an onboard processor. The unit has been designed to perform the 3D measurement and analysis tasks required for robotic bin picking applications and includes software to generate the trajectory of the robot. www.issweb.it/htmleng/guida.html.
KEYENCE CORPORATION OF AMERICA
LumiTrax XG and CV-X systems. XG and CV-X high-speed, multi-camera machine vision systems feature the company's LumiTrax function, which combines cameras, lighting and a shape-from shading algorithm. www.keyence.com.
NUMETRIX TECHNOLOGIES
Numetrix 3D digitizers/scanners. Numetrix NX3D digitizers/scanners employ a combination of split-spectrum light projection, dual-CCD camera technology and multispectral volumetric encoding (MVE) to create 3D models. www.numetrix.ca.
ODOS IMAGING
real.iZ VS-1000 3D vision system. The real.iZ time of flight 3D vision systems uses a pulsed time of flight technique. The system combines pixel-by-pixel range measurement technology and conventional image intensity information. www.odos-imaging.com
TELEDYNE DALSA
Piranha4 multispectral camera. The Piranha4 cameras 2048 x 4 quad-linear CMOS sensor provides three native RGB channels and a separate monochrome channel. Running at 70 kHz, the camera delivers a throughput of 573M pixels/s using Camera Link and can be interfaced to computers 15m from the camera. www.teledynedalsa.com
TELEDYNE DALSA
Piranha XL multi line CMOS TDI camera. The Piranha XL 16k monochrome time delay and integration (TDI) camera uses a 12-line CMOS image sensor and features a maximum line rate of 125kHz. The camera can operate in either 4, 8, or 12-line mode using a Camera Link HS interface and can deliver 2GByte/s data throughput using a single CX4 cable. www.teledynedalsa.com
VISION COMPONENTS
VC Z series cameras. VC Z smart cameras are programmable smart cameras that feature Linux firmware and dual-core ARM processors. The smart cameras feature five CMOS image sensor options to 4.2Mpixels, one trigger input and one flash trigger output. www.vision-components.com
---
SILVER
3I - IMPRESA INGEGNERIA ITALIA
L-TVB large telecentric vision box. The L-TVB family of telecentric lenses-which are designed for visual inspection systems-are housed within an enclosure, along with an illumination system and the camera, creating a complete vision system. The L-TVB telecentric lenses feature an aperture range of 500-2000mm. www.opto3i.com.
BAUMER
VeriSens color FEX 3D assistant. The company's VeriSens XC vision sensors feature Color FEX assistant that identifies object colors and their shades and visualizes them in 3D as color spheres. Absence of sphere collisions ensures reliable color inspection. Four vision sensor models are available with 640 x 480 or 1280 x 960 CCD image sensors. www.baumer.com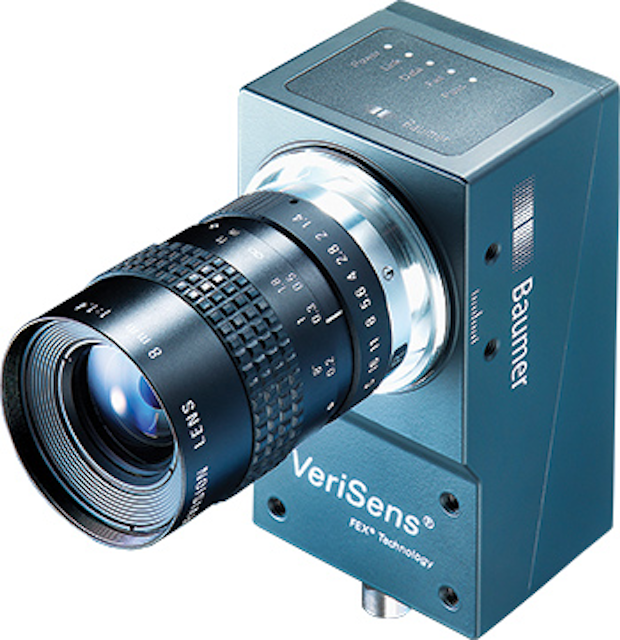 BIOAXIAL
CODIM100 microscope module. The CODIM100 module is an add-on to commercial confocal microscopes that is based on the illumination of labeled samples by light spots of the size of an Airy disc (~500nm diameter) in which the spatial distribution of the light intensity is controlled and "shaped" by conical diffraction. The illumination of the sample with a series of different light distributions allows the precise calculation of the position of fluorophores with a higher resolution than the one imposed by the diffraction limit. www.bioaxial.com.
EDMUND OPTICS
TECHSPEC variable magnification telecentric lens. Variable magnification telecentric lenses enable users to maximize their system's measurement accuracy. The lenses include an adjustable iris for depth of field control and feature a C-Mount design with 2/3in sensor coverage. TECHSPEC lenses are available in 0.25x-0.5x, 0.5x-1x, 1x - 3x and 0.15x - 0.5x variable magnification versions and 0.5x, 0.75x and 1.0x fixed magnification versions. Customized fixed versions are also available to meet volume requirements. www.edmundoptics.com.
GARDASOFT
Triniti technology. Triniti technology provides integration, networking, and advanced control of machine vision lighting from the product level to the application software level. This is achieved by integrating a Triniti chip in each light and providing integrated communications from the light to the controller. www.gardasoft.com.
ICRON TECHNOLOGY
USB 3.0 Spectra 3001-15 active copper 15m extension cable. The USB 3.0 Spectra 3001-15 extender is a 15m cable that provides 5Gbps throughput and 5V at 900mA. The cable features locking connectors, an LED indicator and is compatible with AIA USB3 Vision compliant devices. www.icron.com.
NEWNEX
FireNEX-uLINK USB 3.0 active repeater cable. The FireNEX-uLINK series of active USB 3.0 repeater cables are capable of extending USB 3.0 camera to computer distances up to 16m. The bus-powered cables use USB 3.0 standard copper cable and feature USB 2.0 backward compatibility, USB3 Vision-compliant locking and RoHS certification. www.newnex.com.
OPTO ENGINEERING
View-through system. View-through systems are illumination systems that allow for double-side object inspection. The systems consist of two symmetrical illumination modules, each one made of two illumination units: a diffusive strobe dome illuminator and an active "view-through" backlight unit. The system is designed to create compact inline inspection solutions that illuminate both sides of objects. www.opto-engineering.com.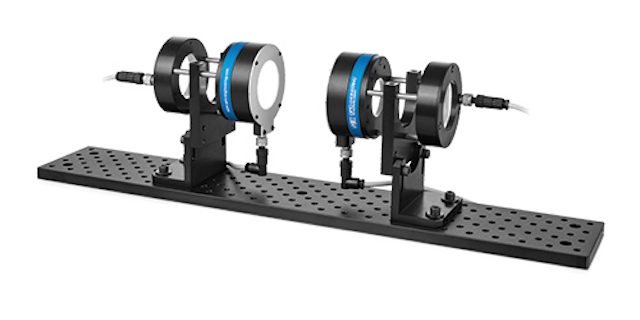 PLEORA TECHNOLOGIES
Transcoder gateway. Pleora's Transcoder Gateway-which is GigE Vision, USB3 Vision, and GenICam compliant-automatically converts video from up to four GigE Vision (depending on the model) or up to two USB3 Vision cameras into H.264 compression format. Video is then transmitted over a wireless or wired connection to a playback device such as an embedded PC, tablet, smartphone or monitor. www.pleora.com.
ROCKWELL COLLINS HEAD UP GUIDANCE SYSTEMS
EVS-3000 series enhanced vision systems. The EVS-3000 is a multispectral real-time imaging system design to present to pilots a "day-like" view, even at night, in the worst of weather conditions. The system incorporates multiple camera cores operating from visible through long-wave infrared bands, and presents a single combined image on a heads-up display. www.rockwellcollins.com.
SAHAJANAND TECHNOLOGIES
The Magnus Digital Diamond vision system. The Magnus Digital is a machine vision-based computer numerical control (CNC) measurement and planning machine for rough diamonds. It features a high-resolution color camera, multi-zone illumination system, a laser source for marking and software. The system creates virtual models of rough stones and plans for the best possible yield for diamond planning. www.sahajanand.co.in.
VISION RESEARCH
Phantom v2511. The Phantom v2511 video camera can capture up to 25,600 fps at full 1 MPixel resolution and features two HS-SDI ports, a 10GB Ethernet connection and a standard 1Gbit Ethernet connection. The camera is equipped with a 1MPixel CMOS image sensor with a 28 μm pixel size, 12-bit depth, and the company's CineMag interface which allows the user to save a images from camera memory to non-volatile storage. www.visionresearch.com.
Z-LASER
ZM18-T3 electronically stabilized wavelength laser module. The ZM18-T3 is an electronically-stabilized wavelength laser that, because of its minimized wavelength drift, will allow for more repeatable measurement performance when designed into an automated gauging application. It features an extended temperature range of -40-131°F. www.z-laser.com.
---
BRONZE
COGNEX
DS1000 Series 3D laser displacement sensors The DS1000 Series is designed for 3D inspection and analysis of manufactured components and products. At scan rates of up to 10 kHz, the DS1000 sensors can communicate results directly to an external device, such as a PLC. The IP65-rated sensors are supplied with Cognex Designer software. www.cognex.com.
COMPONENTS EXPRESS
BitMaxx USB3 Vision 25M cable. The USB 3.0 Bitmaxx cable enables USB3 Vision cameras to be operated up to 25 meters from a host computer. The 25 meter cable supports data rates of up to 5Gbps and requires no external power supply. www.componentsexpress.com
EDMUND OPTICS
Dynamic focus VZM lens. The Dynamic Focus VZM lens has a membrane-based liquid lens fully integrated into its optical assembly, giving the lens the ability to step through different working distances without the need to mechanically adjust the lens. Incorporating the liquid lens allows focus to be adjusted over a 7x range from 0.65x to 4.6x, while maintaining the zoom capabilities of the company's standard VZM zoom imaging lenses. www.edmundoptics.com.
LUMENERA
LT16059H high dynamic range camera. The LT16059H camera is equipped with a 16 MPixel ON Semiconductor (Truesense) KAI-16070 CCD image sensor with 7.4μm pixel size that can achieve a frame rate of 11fps at full resolution. www.lumenera.com.
METAPHASE TECHNOLOGIES
LED Illumination system. The High Speed LED Illumination System (HiSLED-1003) uses LED, optics, and a strobe controller to provide illumination at the short pulses required to capture non-blurred images of high-speed events. HiSLED-1003 features an intensity uniformity of +/- 15%, a luminance of >1 million Lux, Ethernet connection and a lifetime of 75,000 hours. www.metaphase-tech.com.
ON SEMICONDUCTOR
Python 2000 and Python 5000 CMOS image sensors. The Python 2000 (2.3MPixel) and 5000 (5.3MPixel) are global shutter CMOS image sensors with a 4.8μm pixel size. The Python 2000 achieves a frame rate of 245fps at full resolution, while the Python 5000 can run at 105fps. Both sensors feature 8-bit or 10-bit output mode. www.onsemi.com.
SIGHTLINE INNOVATION
Sightline Verify. Sightline Verify software is quality control software that capable of learning inspection tasks similar to human inspectors. Verify is powered by Sightline Innovation's machine learning cloud engine that is capable of processing large amounts of sensor data. www.sightlineinnovation.com.
TEXAS INSTRUMENTS
3D machine vision reference design. The company's 3D machine vision reference design allows developers to construct 3D point clouds by integrating a TI DLP LightCrafter 4500 digital micro-mirror device with cameras, sensors and motors. The reference design is supplied with schematics, design files, software and test data. www.ti.com.
XIMEA
Hyperspectral USB3 cameras. The xiQ series of USB3 cameras integrate three hyper-spectral sensors from imec that are available in a 100 band line-scan design, 32 band snapshot tiled design and a snapshot mosaic design with 16 bands in a matrix of 4 x 4 per-pixel filters. www.ximea.com.