Wilson's Websites
Wilson's Websites brings you the latest information on what's new on the web.
Sep 1st, 2005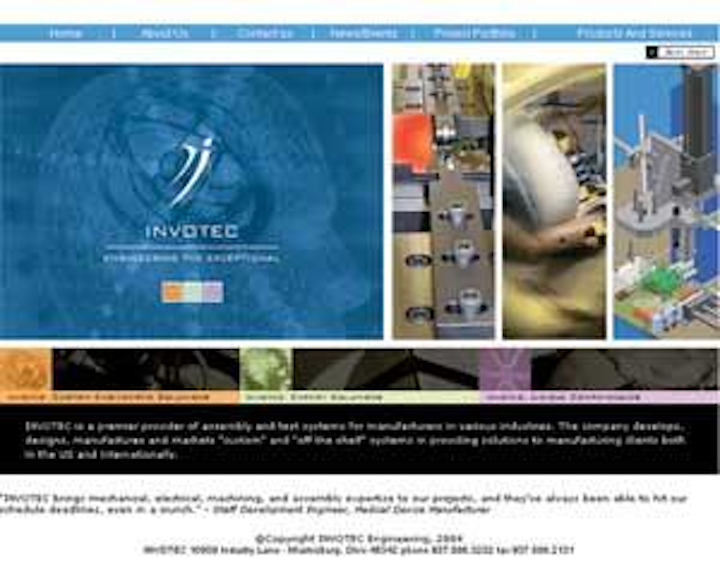 Wilson's Websites brings you the latest information on what's new on the web. To accomplish this, we provide links to tutorial information, hardware or software product developments, product database information, technical articles, associations, and on-line magazines. If you or your company would like to be considered for Wilson's Websites, please contact Andy Wilson at andyw@pennwell.com.
Custom projects
Invotec develops systems for integrated assembly, test, and inspection. On its Web site, there are many examples of the company's expertise in designing custom projects for testing airbag inflators, inspecting medical components, and pharmaceutical-vial counting.
Weld tracking
Liburdi is a supplier of automated equipment used to weld, machine, and coat aerospace and industrial components. On this site, you can read about its seam tracker, a structured-light system consisting of a remote-sensing head and a PC-based interface card.
Broken teeth
Go to this Web site to see a real-time video of how Motion Metrics International has installed an intelligent vision system on a mining shovel to detect for broken bucket teeth.
Mission critical
Real-time vision systems for space-based applications are the forte of Neptec. Of interest is an artificial vision unit that enables a space station's remote manipulator system, or Canadarm 2, to maneuver, align, and install additional components of the station's structure.
Machine control
ISE's Automated Control Engine lets engineers create reconfigurable control systems using a library of components that supports DSP, analog I/O, and motion-control boards. The company also offers a machine-vision system known as Espial.
At the core
Based in St. John's, Newfoundland, C-Core has developed a number of machine-vision and automated systems for the oil-and-gas, paper, and mining industries. The company's downloadable newsletter provides case studies of some of the company's successes.
Wireless vision
On this Web site you can read about the Applied AI Systems wireless camera vision turret that can transmit sound and video from the company's Khepera robot to a base receiver.
Intelligent systems
Go to Precarn's Web site to download a market report that presents a profile of Canada's intelligent systems industry.
Web inspection
Textiles, plastics, metals, and paper are just some of the application areas that have been tackled by Webview. On the Web site you'll find information on the company, its products, and how it approaches the challenges in these areas.
3-D imaging
Brontes Technologies' active wavefront-sampling technique enables 3-D imaging of objects of a variety of sizes.
Precise automation
Precise Automation develops robotic motion controls and mechanisms for small-part-material handling and assembly applications. Its PreciseVision System is a machine-vision software package that can run either in the company's Precise Guidance 3000 motion controllers or remotely on a PC connected to the controller by Ethernet.
Print and packing
Color-print and lithography registration, packaging inspection, and surgical-tubing inspection systems developed by Manufacturing Control Systems are all detailed on this site.
Bottle inspection
www.krones.com/krones/en/104_109_ENG_krones_group.htm
Krones has developed a number of automated systems for glass-bottle inspection. On the site, you can access information describing the inspection systems and how they have been deployed.
Hockey masks
Mercator Robotec has developed some sophisticated systems for painting hockey masks, sorting automotive brake shoes, and applying wear-resistant coatings to the inside of large pipes.
Hyper spectral imaging
www.photon-industries.com/vnir.htm
Photon Industries' VNIR 100E is a hyperspectral-imaging turnkey system that combines a 14-bit, Peltier-cooled, FireWire-based camera with a laptop computer installed with the company's HyperVisual software.