Snapshots
High-speed system inspects fasteners; Linescan system reads brake-drum code; System scans silk designs and MORE…
Jun 1st, 2006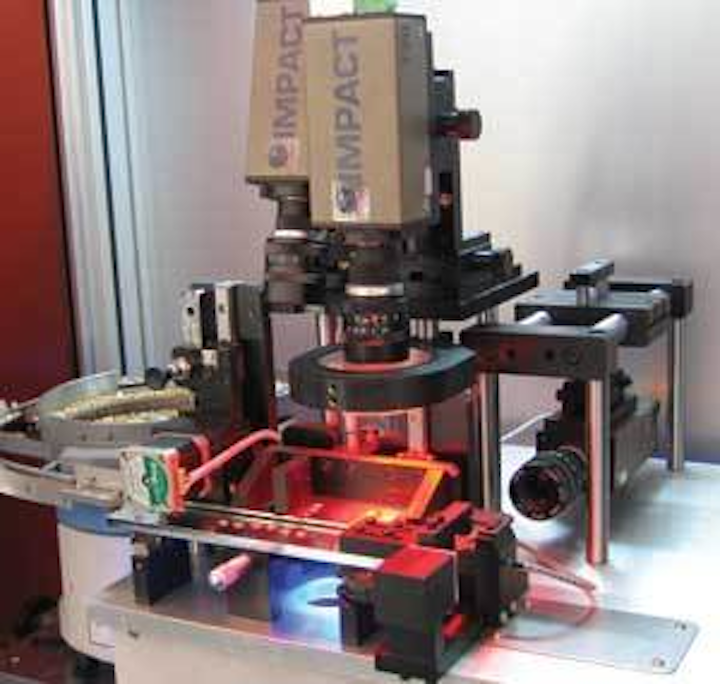 High-speed system inspects fasteners
Given the rapid growth of the manufacturing and assembly industries in China, quality control of fasteners during the production process is essential. To meet this need, Shanghai Kingtek (Shanghai, China; www.kingtek.net) has develop the KT-200 fastener-inspection and automatic sorting system that images each fastener from four positions and removes defective fasteners as they pass through the station.
The fasteners travel from a centrifugal feeder bowl onto a conveyor line that sorts and positions them before moving them past four Impact cameras from PPT Vision (Eden Prairie, MN, USA; www.pptvision.com). The first camera looks at the threads, checking for dust and chips. The second looks up at the interior of the chamfer. The third camera performs a top surface measurement check and the fourth measures the total height plus the outer diameter at several levels and grooves. Each rejected fastener is blown into a bin of fasteners with similar defects.
Shanghai Kingtek used the Impact Inspection Builder platform, including the Vision Program Manager, to develop the image-processing and management program. The cameras are networked to a common GUI, displayed on the exterior of the cabinet enclosing the system, from which a user can readily pick the part style of fasteners to be inspected. Xia Lin, president of Shanghai Kingtek, says that more than ten KT-200 systems have been sold and he sees good interest from potential customers.
Linescan system reads brake-drum code
System-integrator Factory Automation Systems (FAS; Atlanta, GA, USA; www.factoryautomation.com) uses machine vision to perform orientation, identification, and code-reading tasks within robotic machine-handling processes. For example, one system finds the orientation of a cylindrical, truck brake drum and positions it for pickup and further handling by a robot.
The design uses two Legend LS linescan cameras from Cognex (Natick, MA, USA; www.cognex.com) with effective resolution of 2048 × 8192 pixels to collect necessary data for an Allen-Bradley ControlLogix PLC connected to a Rockwell Automation (both Milwaukee, WI, USA; www.rockwellautomation.com) servomotor that performs precise positioning.
The system had to locate and read a 2-D dot-peen Data Matrix code imprinted on a specular machine surface; the code could appear anywhere within a 20-in. window and at different heights. Initially, FAS considered using several 2-D cameras and overlapping diffuse on-axis lights (DOALs). But the expense and need for overlapping pictures caused the company to choose linescan cameras that read one line at a time very fast and build an image line by line. For DOAL illumination FAS used two red LED line sensors by CCS America (Waltham, MA, USA; www.ccsamerica.com), each with an emitting surface of 301 × 12 × 32 mm.
To deal with the scaling issues caused by products of differing heights, FAS used a passive system of rollers and linear bearings that allow the cameras and lights to be mounted to an assembly that rides on top of the part, keeping the cameras and lights at a fixed distance from the code. The resulting system has cut inspection hardware costs in half.
System scans silk designs
Ratti (Como, Italy; www.ratti.it), a producer of high-quality silk and other natural fibers for the fashion and home-furnishing industry, creates 5000 hand-designed prints every year and has more than 170,000 archived textile designs. Recording and archiving the designs has always been essential, but conventional desktop scanners are too small to scan the large drawings and fabrics that contain creases or folds. Ratti approached VLV Tecnologie e Communicazioni (Cormano, Italy; www.vlv.it) to upgrade the system that VLV had originally installed 12 years ago.
VLV used a 1024 × 768-pixel, 30-frames/s progressive-scan camera from WolfVision (Götzis, Austria; www.wolfvision.com) to capture designs in better detail. The maneuverable camera was installed on a ceiling rail, which allows high-angle shots of each design. With a wide-angle lens capable of 12X optical or 2X digital zoom, the IR-controlled camera focuses on a custom-designed table on which the fabrics and drawings can be spread out. With holes in the table and a fan system installed below, all drawings and fabrics are sucked to the table top to keep them in place, eliminating the problem of folds and creases. Details of the images can be searched live on a monitor and the images saved to Ratti's image database. Potentially this system could be used to record high-quality images from color charts, art books, fashion magazines, or catalogs.
Potatoes find faster processor
Key Technology (Walla Walla, WA, USA; www.key.net) has introduced a faster potato processor, the ADR 5, which combines high-resolution visible/IR cameras, a belt conveyor, a rotary cutter, and high-speed vibratory conveyors to align, singulate, inspect, and trim potato strips. It can inspect potato strips and cuts out defects at production rates of up to 16,200 pounds (7.4 metric tons) per hour.
The electro-optical platform of the processor includes a controller, modular vision engine, and trichromatic cameras that combine more pixels and faster scan rates than previous models to achieve more complex and robust inspections. It uses an LED light source rather than traditional fluorescent lights to achieve a more stable light over a much longer time. The cameras-with red, green, and infrared channels-accurately identify green defects based on visible light, and differentiates between potato peel and brown defects such as bruises and rot using IR sensors, enabling the system to detect and remove a range of defects on both peeled and peel-on potato strips.