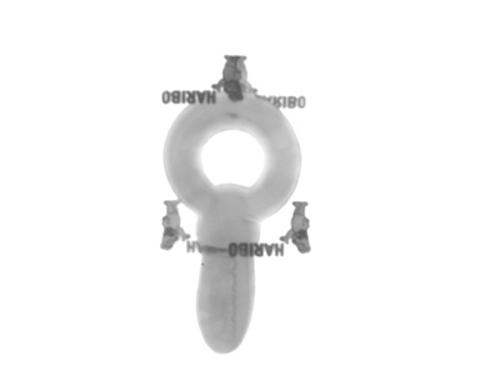 Food manufacturers must ensure that the correct number and types of products are properly packaged and sealed before they are boxed and shipped to their customers. In the production of small candy products, numerous types of products may be produced on a single packaging and sealing system. After sealing, these products must be checked to ensure that only a single product is wrapped and sealed, that no broken or misshapen parts have been packaged and that no product is trapped in the formed seal.
One German systems integrator was faced with this task after being approached by its customer, a large candy manufacturer, also based in Germany. In turn, the systems integrator turned to Eye Vision Technology (EVT; Karlsruhe, Germany; www.evt-web.com) to develop a vision system to perform this task.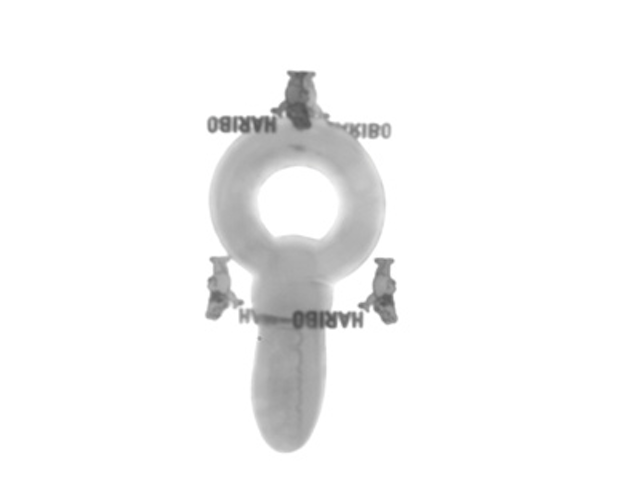 EyeVision software is used to perform a modified blob analysis on the image that returns the size, width and height of the packed product.
In the deployed system, different types of candy are fed from conveyors and individually fall vertically into a continuous roll of plastic wrap. Because the plastic wrap is heat sealed, an individual candy is then held in place while a second seal seals the complete package while at the same time applying a seal to trap the net candy as it falls from the conveyor. Sealed candies in individual seals are then separated and cut and boxed for final shipment.
"Before each sealed candy package is cut," says Michael Beising, CEO of EVT, "the system must check whether a single product is present and that no candy product is trapped in the seal." To accomplish this, Beising and his colleagues developed a machine vision system using off-the-shelf components that can perform this task at the rate of 1-2 parts/s.
"In the design of the system, it was important to ensure that the effects of extraneous lighting and sunlight were minimized," says Beising. To do so, the continuously moving clear plastic wrap was back illuminated using a 400x500mm 830nm IR backlight from TMS Light (Penang, Malaysia; http://tms-lite.com). Images of this plastic wrap are then captured over a 150x100mm field of view (FOV) using 2Mpixel monochrome GigE camera from Basler (Ahrensburg, Germany; www.baslerweb.com) fitted with a 25mm fixed focal length lens from Fujinon (Tokyo, Japan; www.fujifilm.com) placed 150mm from the wrap.
"Equipping the lens with a daylight cut filter allows images with enhanced contrast to be captured while reducing the effects of ambient light," says Beising.
To ensure that images of the packages are captured after they are sealed and before they are cut, the sealing system is used to trigger the camera. Images are then transferred over the camera's GigE interface to a host PC running the Linux operating system.
Captured images must then be analyzed to check whether a single candy is in place and no candy is trapped in the seal. To do so, EVT's EyeVision software is used to perform a modified blob analysis on the image that returns the size, width and height of the packed product . This data is then compared with a database of known good parts stored in a relational database management system (RDBMS) on the PC.
"Should a part be good," says Beising, "the package will be cut and fall through to a conveyor where it can be transferred for further packaging. In some cases, however, two candies may be present in the wrap or a product could be trapped in the seal. If this is the case, the blob analysis tool will return an extraneous result and, when this is compared with known good data in the RDBMS, must alert the system to reject the part."
To accomplish this, the PC is interfaced over a Profibus interface to a programmable logic controller (PLC) from Siemens (Munich, Germany; www.siemens.com), that in turn controls an electro-mechanically actuated flap. After the package is cut, this then re-directs the product to a reject bin where it can be recycled for further processing.