Flat-panel monitors tolerate tough use
According to the latest DisplaySearch Monitor from DisplaySearch (Austin, TX), the liquid-crystal-display (LCD) monitor, thin-film transistor (TFT) LCD, and controller integrated-circuit (IC) markets are experiencing faster-than-anticipated growth.
Feb 1st, 2002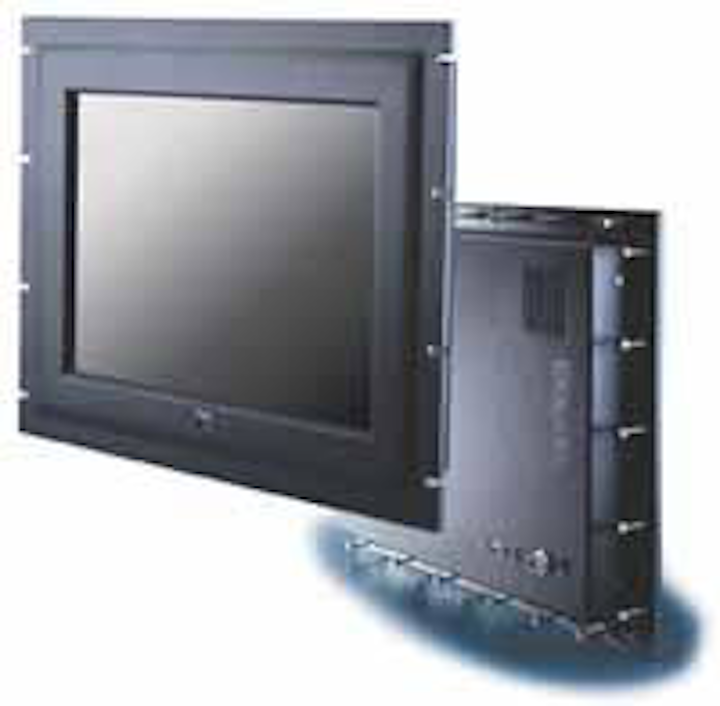 By observing standards, industrial FPDs function reliably despite hazardous factory conditions.
By Andrew Wilson, Editor
According to the latest DisplaySearch Monitor from DisplaySearch (Austin, TX), the liquid-crystal-display (LCD) monitor, thin-film transistor (TFT) LCD, and controller integrated-circuit (IC) markets are experiencing faster-than-anticipated growth. Says the market researcher, this growth is due to new price points caused by the reduction in panel pricing from April 2000 to September 2001. Interestingly, most of the growth in TFT LCD monitor/LCD PC module shipments have resulted from shipments of LCD monitors rather than LCD-based PCs.
In 2000, third-quarter shipments of LCD monitors totaled more than 10 million units. Based on these numbers, DisplaySearch estimates that 2001 LCD monitor shipments will climb to 15.5 million, and these shipments are expected to reach 24 million units in 2002. The majority of LCD monitors are standard commercial products from vendors such as Viewsonic (Walnut, CA) and Hitachi (Westwood, MA). However, in many trade applications, performance and environmental conditions require flat-panel monitors with more capabilities than standard commercial products.
In industrial, medical, scientific, military, government, and transportation applications, for example, sunlight, visibility, and factory-floor and extreme environments dictate that flat-panel-monitor vendors build displays with a variety of formats and features. To successfully sell into these markets, however, OEM monitor vendors face still other challenges. Perhaps the most important one is overcoming the perceived cost of such products.
Because of their experiences with low-cost consumer displays, many users imagine that similarly priced products should meet the needs of industrial applications. However, products designed for industrial environments differ considerably from their consumer counterparts in terms of operational temperature, durability, shock, and vibration levels. In addition, they are also supplied with a number of different interfaces and options such as touchscreens and industrial panel PCs.
INDUSTRIAL DISPLAYS
To classify the different types of industrial-display enclosures, the National Electrical Manufacturers Association (NEMA; Rosslyn, VA) has developed several standards. When implemented, these standards render displays or display subsystems less susceptible to dirt, dust, water, liquids, and other environmentally damaging materials (see table on p. 26). Whereas most industrial display manufacturers conform to these standards, many also adhere to International Electrotechnical Commission (IEC) standards, such as drop-test IEC 68-2-31, or military pressure, temperature, altitude, and immersion standards.
To enable today's industrial FPDs to survive on the plant floor, manufacturers offer a range of displays that conform to standards. Available in resolutions that span VGA to UXGA, these monitors can be installed either as stand-alone display panels attached remotely to a host PC or as an integrated PC display subsystem. Dolch Computer Systems (Fremont, CA), for example, offers rugged displays for industrial, transportation, and military applications. Its rugged Orca panel-mounted flat-panel displays (FPDs) are rated at NEMA 4 for water, dust, and dirt intrusion and are tested to MIL-STD-810E for shock and vibration levels (see Fig. 1). The company's 15-in. (XGA) and 18-in. (SXGA) color panels both feature a contrast ratio of 300:1 and a brightness of 235 nits.
General Digital (South Windsor, CT) also offers a number of FPDs. For some industrial applications, where space is at a premium and monitoring computer-based functions as they occur may not be required, the company sells various rack-mountable displays. With resolutions from 640 x 480 to 1280 x 1024 pixels, the company's Stowaway rack-mount or hinged displays can be supplied with a diagonal viewing area of 12, 15, 17, or 18 in. When stowed, these displays fit in an enclosure that occupies one vertical rack unit of 1.75 in. When deployed, the monitor extends out 4.375 to 6.375 in. from the rack chassis. All the power, serial, and video interfaces use locking connectors located on the bottom of the enclosure, and strain-relieved cables do not bind when the monitor is stowed or deployed.
INTERFACE STANDARDS
Despite the number of vendors supplying industrial FPDs, analog interfaces including VGA are often used to interface such displays to host computers. But in many future designs, digital standards such as the digital visual interface (DVI) and digital flat-panel (DFP) interfaces also need to be supported (see Vision Systems Design, Nov. 1999, p. 36).
To meet the demands for a unified interface, the Video Electronics Standards Association (VESA; Milpitas, CA) has approved the M1 Display Interface Connector Standard. Whereas most other interface specifications, such as DVI, focus on the host computer interface, the M1 standard concentrates on the display-side interface connector. This connector supports both analog and digital display interface requirements and couples a range of host systems to a single video port on the display, which may be a cathode-ray tube, a flat panel, or other display device.
In use, the M1 connector system enables displays to be connected to a host system with VGA, DVI, DFP, or legacy plug-and-display connectors. With a single connector available for any display device, this system lowers the cost of systems integration by providing device interoperability from multiple vendors through industry standards.
Interestingly, companies building consumer products have been first to embrace these digital standards. In its 19-in. VG191and VG191b LCDs, for example, Viewsonic features a multimode input technology that supports both digital (DVI) and analog (VGA) signals. Targeted at financial, government, and corporate users, these displays feature a 19-in. viewable screen, 250-nit brightness, and 500:1 contrast ratio. Similarly, the AU4831DT display from Iiyama (Santa Ana, CA) is also a 19-in. color TFT LCD that can be driven by both an analog and a DVI signal input. With 1600 x 1200-pixel resolution, the monitor features a luminance of 200 nits and a contrast ratio of 300:1.
In the industrial arena, however, VGA is still the most popular display standard, with well-known companies such as Allen-Bradley (Milwaukee, WI), Contec (Milpitas, CA), and Xycom Automation (Saline, MI) offering flat-panel monitors with standard VGA, XGA, and SXGA interfaces. By using these interfaces, OEMs can leverage the large number of industrial PCs that have yet to support the next-generation of digital flat-panel standards.
EMBEDDING PCS
To survive on the plant floor, industrial displays may be required to meet NEMA, FCC, UL, and CE requirements. Often, the stand-alone FPD does not meet the requirements of industrial applications. In industrial machine-vision control systems, for example, smart FPDs may be required to set up, control, and monitor vision systems. To meet these demands, several flat-panel vendors have developed flat-panel industrial PCs.
By featuring standard operating systems and networking and software tools, these smart display subsystems can be used as industrial controllers linked over an Ethernet network. Better yet, by using standard software such as ActiveX tools, these systems can exchange plant-floor data with office applications. And, because these embedded PCs use industry-standard storage options, networks, software, and expansion slots, they can be rapidly configured to meet a number of applications.
Offering optional mounting accessories, such as swing arms to panels and racks, the Advantech Technologies (Irvine, CA) IPPC-9150 typifies this type of industrial panel PC. Supporting Pentium III processors up to 850 MHz and Celeron processors up to 700 MHz and housed in an aluminum panel, this PC comes with a tempered-glass 15-in. TFT LCD, a stainless-steel structure, and two expansion slots (see Fig. 2).
Flat-panel PCs from Innova Electronics (Houston, TX) also use Pentium and Celeron processors in their designs. The company's STS-2000 series, for example, are integrated-panel PCs supplied in a range of display sizes from 14 to 18 in. Supporting Windows NT, QNX, and Linux operating systems, the 333-MHz Pentium II based systems can be configured with a number of serial and network cards for factory automation applications.
TOUCHSCREEN, TOO
To provide improved production control and access to critical data throughout a plant, many systems integrators are replacing mechanical pushbuttons, digital thumb wheels, gauges, and pilot lights with programmable touch-panel displays. Besides saving space, such interfaces centralize the control of automated manufacturing processes, providing greater ease of use and operator efficiency. Using such displays, systems integrators can provide real-time display of monitored processes and graphical displays of one-dimensional information such as temperature and speed.
Three common technologies used in these touchscreens are capacitive, resistive, and surface acoustic wave (SAW). In capacitive touchscreens, electrical signals determine the position of a finger as it contacts the surface. Despite tolerances to grease, water, and dirt, capacitive touchscreens do not work well if workers wear insulated gloves. In such cases, capacitive pens or alternative technologies such as resistive touchscreens can be used.
Resistive screens use a flexible membrane coated with a transparent metal oxide and a grid of spacers. With resistive technology, several methods can be used to activate the panel including fingers, insulated gloves, pens, and other pointing devices. Rather than use attached membranes, SAW touchscreens operate by emitting and receiving sound waves across the front of the panel. Although this method reduces transmission light loss, any contaminant on the screen can absorb the waves and result in inactive zones on the screen.
Because these touchscreen technologies provide both advantages and disadvantages, many manufacturers of FPDs and smart PC-based flat-panel PCs incorporate different technologies into their range of displays. In its range of SV1800 displays, for example, Stealth Computer (Woodbridge, Ontario, Canada) offers optional resistive, capacitive, and SAW touchscreens (see Fig. 3). The 18.1-in. displays offer autosync resolutions to 1280 x 1024 pixels and can be either panel- or rack-mounted. Likewise, for its series of Gen-Pak LCD computers, the company also offers both resistive and capacitive touchscreen options.
In integrating industrial displays and smart terminals, systems integrators must be aware of the environmental specifications, rack- and panel-mounting options, and long-life-cycle requirements of their customers. And, while industrial units are more expensive than commercial FPDs, their productivity increases are more than worth the expense.
Company Information
Due to space limitations, this Product Focus article does not include all of the manufacturers of the described product category. For information on other suppliers of machine-vision software, see the 2002 Vision Systems Design Buyers Guide (Vision Systems Design, Feb. 2002).
Advantech
Irvine, CA 92618
Web: www.advantech.com
Contec Microelectronics
Milpitas, CA, 95035
Web: www.contec.com
DisplaySearch
Austin, TX 78746
Web: www.displaysearch.com
Dolch Computer Systems
Fremont, CA 94538
Web: www.dolch.com
General Digital
South Windsor, CT 06074
Web: www.gendig.com
Hitachi
Westwood, MA 02090
Web: www.hitachidisplays.com
Iiyama North America
Santa Ana, CA 92705
Web: www.iiyama.com
Innova Electronics
Houston, TX 77040
Web: www.innovaelec.com
NEMA
Rosslyn, VA 22209
Web: www.nema.org
Rockwell Automation/Allen-Bradley
Milwaukee, WI 53204
Web: www.ab.com
Stealth Computer
Woodbridge, Ontario,
Canada L4L 8H2
Web: www.stealthcomputer.com
Viewsonic
Walnut, CA 91789-0708
Web: www.viewsonic.com
Xycom Automation
Saline, MI 48176
Web: www.xycom.com