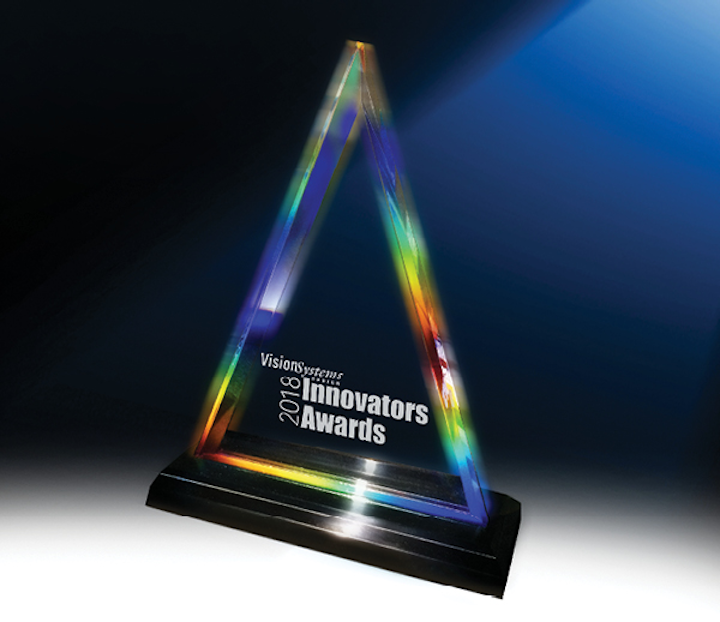 For the fourth straight year, Vision Systems Design held its Innovators Awards program, which celebrates the disparate and innovative technologies, products, and systems found in machine vision and imaging.
Based on the impartial ratings assigned by our judges, awards were assigned in four different levels-Bronze, Silver, Gold and Platinum, to companies or organizations that demonstrated excellence in a product or technology, an application, or in research and development. This year, we added categories to distinguish our honorees: vision systems; cameras (visible, non-visible, 3D, and specialty); image sensors; lighting, lenses, and optics; connectivity; software; frame grabbers and boards; embedded vision; and R&D/startup category.
Submissions were judged on originality; innovation; their impact on designers, systems integrators or users; whether they fulfilled a new market need; leveraged a novel technology and/or increased productivity.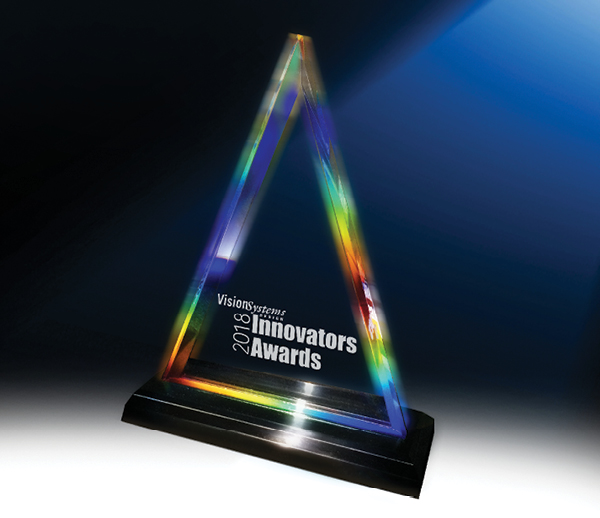 To celebrate our fourth annual Innovators Awards Program, Vision Systems Design held a reception on the show floor of The Vision Show 2018 on April 10, 2018, where many representatives from companies at the show were on hand to accept their awards from John Lewis, Editor-in-Chief and Alan Bergstein, Publisher of Vision Systems Design.
John Lewis, Editor in Chief, commented on the 2018 recipients: "The 2018 group of honorees provides a great look at where we stand in the machine vision market today, as this year we saw easily the most unique collection of cutting edge products and solutions in our awards program to date."
Our panel of expert judges consisted of systems integrators, consultants, and academics with years of experience in specifying, designing and configuring image processing and machine vision systems. This year's judges were as follows:
JUDGES
Craig M. BorsackPresident, G2 Technologies (Apex, NC, USA; www.g2tek.com)
Tom BrennanPresident, Artemis Vision (Denver, CO, USA; www.artemisvision.com)
Shawn A. Campion, President and CEO, Integro Technologies (Salisbury, NC, USA; www.integro-tech.com)
David DechowStaff Engineer, Intelligent Robotics / Machine Vision, FANUC America Corporation (Rochester Hills, MI, USA; www.fanucamerica.com)
Tom HermaryPresident, Hermary (Coquitlam, BC, Canada; www.hermary.com)
Dr. Daniel L. Lau, Kentucky Utilities Professor and Certified Professional Engineer, Department of Electrical and Computer Engineering, University of Kentucky (Lexington, KY, USA; www.uky.edu).
Rex Lee, President and CEO, Pyramid Imaging (Tampa, FL, USA; www.pyramidimaging.com).
Bhaskar Ramakrishnan,Technical Sales Engineer, DWFritz Automation, Inc. (Wilsonville, OR, USA; www.dwfritz.com).
William SchrammPresident, PVI Systems, Inc (Niantic, CT, USA; www.pvisys.com).
Robert Tait, Partner at Optical Metrology Solutions LLC (Niskayuna, NY, USA; www.opticalmetrologysolutions.com).
Rick van de Zedde, Senior researcher / business developer Computer Vision, Wageningen UR Food & Biobased Research (Wageningen, Netherlands; www.wur.nl/en.htm).
Steve Varga, Principal Scientist, Imaging and Instrumentation R&D, Procter & Gamble USA (Cincinnati, OH, USA; www.us.pg.com).
Prof. Dr.-Ing. Stefan WerlingBaden-Wuerttemberg Cooperative State University Mannheim Mechatronik (Stuttgart, Germany; www.dhbw.de/english/home.html)
Perry WestPresident, Automated Vision Systems, Inc. (San Jose, CA, USA; www.autovis.com).
Earl Yardley Director, Industrial Vision Systems Ltd (Oxfordshire, UK; www.industrialvision.co.uk).
Andy Wilson Founding Editor of Vision Systems Design, European Editor for Vision Systems Design, Chiltern Editorial Services
2018 Innovators Awards: bronze-level honorees

VISION SYSTEMS | T3 All-in-One SCARA Robot
Using a SCARA robot, such as the T3, provides fast re-configurations when compared to slide-based systems. The integrated controller, moderate price and optional integrated vision make the T3 an attractive solution for a variety of applications.
Epson Robot; Carson, CA, USA; www.epson.com
SOFTWARE | Neural Vision
Neural Vision software allows people with no machine vision experience to inspect and classify products, by simply clicking items of interest. These same operations are then applied in millions of combinations behind the scenes, looking for any recurring pattern or key measurements that identify a good or bad product.
Cyth Systems; San DIego, CA, USA; www.cyth.com
LIGHTING, LENSES, OPTICS | 3D Pattern Projector System for Phase-Shift Measurement
As a standalone off-the-shelf projection system for phase-based imaging, system integrators with minimal prior 3D experience may more readily deploy this advanced technology for the diverse applications that come their way.
MORITEX North America, Inc.; San Jose, CA, USA; www.moritex.com
CAMERAS-3D | Photoneo PhoXi 3D Scanner
PhoXi 3D Scanners are available in sizes XS, S, M, L, XL, depending on scanning volume and utilize a structured light technique to offer impressive scan quality. Powered by the NVIDIA Jetson platform, this standalone structured light product features an extended depth of field.
Photoneo; Bratislava, Slovakia; www.photoneo.com
CAMERAS-VISIBLE | Baumer SmartApplets
With the LX VisualApplets series, Baumer pioneered the approach of application-specific industrial cameras with FPGA image processing to simplify setup, improve system performance and reduce overall cost.
Baumer Group; Frauenfeld, Switzerland; www.baumer.com
CAMERAS-3D | Gocator 3210 3D Smart Snapshot Sensor
Featuring a 2 MPixel stereo camera and achieving 3D snapshot scans at 35 μm, the Gocator 3210 has a 100 x 154 mm field of view (FOV) and according to LMI, is suitable for inline inspection of large parts such as automotive components and body assemblies.
LMI Technologies; Burnaby, BC, Canada; www.lmi3d.com
EMBEDDED VISION | MitySOM-5CSX Embedded VDK for Basler dart
The MitySOM-5CSX Embedded Vision Development Kit (VDK) for Basler dart provides a flexible system for application development with on-board image processing, FPGA fabric and dual-core ARMs, along with rapid prototyping using Altera's VIP Suite and OpenCL.
Critical Link; Syracuse, NY, USA; www. criticallink.com
VISION SYSTEMS | Bio-Inspired Machine Vision
Getting inspiration from biology is the kind of innovative thinking which is needed in the vision industry. Prophesee has developed an innovative sensing approach that combines improved data compression and independent frame rates for each pixel.
Prophesee; Paris, France; www.prophesee.ai
LIGHTING, LENSES, OPTICS | Focusing lens
Opto Engineering has very competently implemented an "add on" non-motorized flexible focus device that offers simple and plug-and-play connectivity, with the module placed in front of a standard fixed focal CCTV lens.
Opto Engineering; Mantova, Italy; www.opto-engineering.com
EMBEDDED VISION | Nuvo-6108GC Series
Featuring an NVIDIA GeForce GTX1080 graphics processor (or TITAN X) and an Intel Xeon E3 v5 or 6th Gen Core processor with C236 chipset, this powerful industrial-grade GPU computer supports up to 32GB ECC/non-ECC DDR4 memory and has GigE, USB 3.0, video ports, and serial ports.
Neousys Technology Inc.; New Taipei City, Taiwan; www.neousys-tech.com
CAMERAS-VISIBLE | HAWK MV-4000 Smart Camera
The HAWK MV-4000 is Microscan's new smart camera, which has four times the processing power, and up to six times the frame rates over the previous generation of smart cameras from Microscan.
Omron Microscan Systems; Renton, WA, USA; www.microscan.com

CAMERAS-VISIBLE | Phoenix Camera
Featuring Sony Pregius CMOS image sensors, the Phoenix camera was specifically designed for OEMs. Measuring 24 mm x 24 mm, it's the smallest and lightest GigE PoE camera, according to the company, and offers a unique, transformable design that can be simply configured to fit into a wide range of OEM systems.
LUCID Vision Labs, Inc.; Richmond, BC, Canada; www.thinklucid.com
CAMERAS-3D | 3DPIXA 2.5µm dual HR
The 3DPIXA camera combines line scan technology and stereo imaging algorithms running on a GPU. Its open architecture accommodates a variety of interfaces including HALCON (MVTec), MIL (Matrox), LabVIEW (National Instruments), and Coake (SAC), along with Chromasens' own 3D-API.
Chromasens; Konstanz, Germany, www.chromasens.de/en
CAMERAS-VISIBLE | Apex Series AP-3200T-USB Camera
The Apex Series AP-3200T-USB camera is a prism-based, 3-chip, RGB color area scan camera that utilizes a custom optical prism and patented alignment technology to overcome three primary issues that have previously caused many system designers/integrators to compromise the quality of their color vision system by choosing traditional Bayer color cameras over 3-chip prism technology.
JAI; San Jose, CA, USA; www.jai.com
VISION SYSTEMS | Rapid Deployment Video Recording Kit
For processes where occasional errors occur, the Rapid Deployment Video Recording Kit (RDVRK) will improve efficiency compared to the cost of sending in experts to analyze the situation. This kit provides engineers/quality inspectors and production line managers with a quick understanding, and remote connection for long-distance support.
McNaughton-McKay Electric Company; Madison Heights, MI, USA; www.mc-mc.com
EMBEDDED VISION | BOXER-6640M
The BOXER-6640M provides a nice balance of power with 7th Generation Intel Core Desktop Processor and a high number of LAN and USB ports to fill a need in current security and surveillance applications.
AAEON Technology; New Taipei City, Taiwan; www.aaeon.com
CAMERAS-VISIBLE | Subminiature 18 Mpix USB3 camera
This 18 MPixel USB3 camera features a 15x15 mm footprint and weighs only 5 grams with an FPGA, USB3 interface, and a frame rate of up to 24 fps. Based on an 18 MPixel CMOS image sensor, its data and control interface is fully compliant with GenICam / GenTL and can offer full image processing pipeline on NVIDIA GPU in real-time.
XIMEA; Münster, Germany; www.ximea.com

VISION SYSTEMS | InPhoto-4W
Using a dual or quad-sensor camera and four different light sources with different wavelengths, the InPhoto-4W obtains four primary images in a single capture without the need for complex synchronization.
INFAIMON; Barcelona, Spain; www.infaimon.com
SOFTWARE | DynamicImager
DynamicImager helps to prototype standardized algorithms with an environment that supports multi-dimensional and multispectral image processing and includes a large and expanding library of ISO 12087 (PIKS) based image processing modules.
Trollhetta AS; Trondheim, Norway; www.trollhetta.com
CAMERAS-VISIBLE | HDselect - multi-use board-level camera with real-time image processing
This board-level camera offers a rich feature set in a compact, modular form factor for embedded vision and single-use applications including endoscopy where a remote head footprint from 1/3" to 1 mm² would be beneficial.
NET New Electronic Technology Finning; Germany; https://net-gmbh.com
EMBEDDED VISION | Smart Vision System CORSIGHT with radar-aided Object Analysis
NET combines line scan and radar technology to provide an open, distributed and scalable processing solution for intelligent transportation applications requiring remote object analysis that is independent of object distance and speed.
NET New Electronic Technology; Finning, Germany; https://net-gmbh.com
VISION SYSTEMS | safePXV and safePGV
These safety-rated Data Matrix code readers provide absolute positioning with a single sensor and offer useful alternative to encoders and proximity switches to address guidance/location and data redundancy via proprietary multi-color DataMatrix code tape and red and blue LEDs.
Pepperl+Fuchs; Mannheim, Germany; www.pepperl-fuchs.com
IMAGE SENSORS | Diamond Image Sensor
The Diamond Sensor Chip features an exceptional 1 MHz line rate and combines a pixel array with high-performance signal processing, column ADCs and 16 serial LVDS outputs. The Pixel array has 864 optical 4T Pixel cells sized 21 x 21 µm size and with approximately 60,000 electrons full well capacity.
Tichawa Vision; Friedberg, Germany; www.tichawa-vision.com
VISION SYSTEMS | In-Sight 7000
The In-Sight 7000 is a full-featured, powerful vision system that performs fast, accurate inspections of a wide range of parts across all industries. Its compact footprint easily fits into space-constrained production lines and the unique, modular design is highly field-customizable.
Cognex Corporation; Natick, MA, USA; www.cognex.com

VISION SYSTEMS | Artificial Sensing for Retail Banking Operations
Artificial Sensing for Retail Banking operations allows bank executives to make better sales and operations decisions based on customer behavior data captured by a grid of 3D sensors (structured light sensors + RGB and IR) placed in the ceiling of a branch office.
Akcelita Innovation Labs; San Juan, PR; www.akcelita.com
CONNECTIVITY | AOC USB 3.0 cable
Available in 5, 10, 15, and 20-meter options, the AOC USB 3.0 cable from Senko features a transmission speed of up to 5 Gbps while supporting the USB3 Vision standard. The optical fiber and power connection cable provides 900mA/5V to the device and features a Micro-B connection with lock screws, and hot plugging with no drivers necessary.
Senko; Marlborough, MA, USA; www.senko.com
SOFTWARE | UC USB 3 to 10 GigE software converter
A mini PC (e.g. Intel NUC) is connected to a high-resolution USB 3 camera which via the software functions as a converter - transmitting image data from the USB 3 camera to a 10 GigE interface which enables significantly more image data over one cable.
The Imaging Source; Bremen, Germany; www.theimagingsource.com
CAMERAS-3D | OPEX 3D Overheight Detection
Using "infraredtime-of-flight" camera technology, combined with proprietary algorithms, the OPEX 3D Overheight Detect can identify a potential over-height situation, force a non-advancement condition of the vehicle and alert a human operator to inspect the grouping and reposition the items within the vehicle as necessary.
OPEX Corporation; Moorestown, NJ, USA; www.opex.com
2018 Innovators Awards: silver-level honorees

SOFTWARE | SuaKIT
SuaKIT is deep-learning based machine vision software library. Based on image analysis technology, SuaKIT can be implemented in various manufacturing fields for which it has been traditionally difficult to conduct inspection with existing machine-vision technologies, thanks to its significantly superior accuracy and speed of inspection, according to SUALAB.
SUALAB; Seoul,South Korea; www.sualab.com
LIGHTING, LENSES, OPTICS | AR/VR Lens
The Radiant Vision Systems AR/VR lens has a unique optical design for measuring near-eye displays (NEDs), such as those integrated into virtual (VR), mixed (MR), and augmented reality (AR) headsets.
Radiant Vision Systems; Redmond, WA, USA; www.radiantvisionsystems.com
CAMERAS-SPECIALTY | Octoplus Camera - Optical Coherence Tomography(OCT) for Ophthalmology/Industrial
OctoPlus line scan cameras for optical coherence tomography are available in both Camera Link and USB 3.0 models and are based on a monochrome 2048-pixel CMOS line scan image sensor with two options for pixel sizes: 10 x 20µm and 10 x 200µm.
Teledyne e2v; Chelmsford, UK; www.e2v.com
LIGHTING, LENSES, OPTICS | COBRA Multispec
Available in wavelengths from 365 – 1500nm and in configurations from two to twelve wavelengths in a compact form factor, COBRA MultiSpec has been designed to deliver multispectral tunable illumination allowing image acquisition optimization. With discrete control of up to 12 wavelengths, contrast can be maximized by choosing optimal colors and providing more intensity in specific wavelengths.
ProPhotonix; Salem, NH, USA; www.prophotonix.com
LIGHTING, LENSES, OPTICS | LLM Multiple Quadrant "Photometric Stereo" Lighting Manager
To address the lighting requirements of photometric imaging systems, Smart Vision Lights introduced the LLM light manager/light controller. By varying the successive illumination of four light sources using the LLM Multiple Quadrant "Photometric Stereo" Lighting Manager, successive images taken by a single camera can be used to determine the surface orientation at each image point across the object's surface.
Smart Vision Lights; Muskegon, MI, USA; www.smartvisionlights.com

CAMERAS-SPECIALTY | EoSens 3FIBER
Mikrotron, with the design of the new Mikrotron EoSens 3FIBER camera, finally makes fiber technology available to high-speed machine vision applications. This fanless high-speed camera combines high performance with all advantages of the fiber technology, delivering 3 MPixel resolution at 566 fps and up to 1200 fps at 1280 x 1024 pixels resolution.
Mikrotron; Unterschleissheim, Germany; http://www.mikrotron.de/en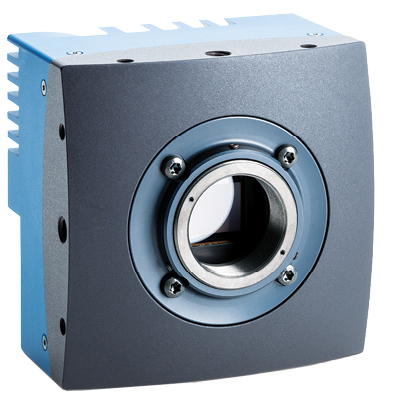 EMBEDDED VISION | S12MP
Featuring a 12MPixel CMV12000 CMOS sensor, this Tattile camera features a powerful image processing architecture, including the Xilinx Zynq 7030 with a Kintex7 FPGA featuring 125 K elements that enable acquisition and pre-processing of images at speeds up to 300 fps at full resolution. A Cortex-A9 Dual Core 667MHz processes the data, performs the controls required by the application, and sends results either to the machine or to the user line.
Tattile; Mairano, Italy; www.tattile.com

LIGHTING, LENSES, OPTICS | EBAR Curve
This bar light creates a homogeneous lighting effect across the field of view and eliminates bright spots in the middle of images. Users can adjust the brightness of the light manually to fit an application and lock the setting into place. The IP65 rated light, according to the company, will illuminate the entire surface of the field of view, enabling users to specify a bar light with the same dimensions as of the FOV.
TPL Vision; La Chevrolière; France; www.tpl-vision.fr/en
LIGHTING, LENSES, OPTICS | Cr Series Ruggedized Lenses
These lenses are designed to reduce and eliminate issues associated with point accuracy, shocks occurring during transport and installation, and vibrations over time of their use. The Cr lens line has been adapted to handle more grueling applications than Edmund's normal lenses, and are available in 6, 8.5, 12, 16, 25, 35, and 50 mm focal lengths.
Edmund Optics; Barrington, NJ, USA; www.edmundoptics.com
LIGHTING, LENSES, OPTICS | F4D High Resolution Technology
FUJINON lenses' unique "4D High Resolution" performance maintains a high level of consistent image sharpness at the center as well as around the edges, while mitigating resolution degradation that typically occurs when changing a working distance or aperture value.
FUJIFILM North America Corporation; Valhalla, NY, USA; www.fujifilmusa.com
VISION SYSTEMS | EyeT+
EyeT+ is an integrated, 3D vision device that combines a camera, two single line laser projectors and a rotary actuator to reduce integration and installation time. Sweeping dual laser lines across the field of view, reportedly helps avoid occlusions and makes the system twice as fast compared to systems with a single projector.
IT+Robotics; Padova, Italy; http://www.it-robotics.it/?lang=en

CAMERAS-SPECIALTY | GigE Vision camera GigEPRO with FPGA-based HDR Mode
NET´s GigE Vision camera, GigEPRO, features an innovative high dynamic range functionality without any lowering of the initial image transfer speed. This is achieved through processing of two images on the camera-embedded FPGA. The extended dynamic range at no loss of speed improves applications considerably, and is not achievable with PC-based approaches. GigEPRO cameras with FPGA-based HDR mode qualify for a wide range of industrial and medical applications that require time-sensitive processing or visualization of high dynamic images.
NET New Electronic Technology; Finning, Germany; https://net-gmbh.com
CAMERAS-SPECIALTY | High-speed camera – nHSC-31-S
The nHSC-36-S is a miniature camera designed to capture high-speed imagery and record data in the harsh environmental conditions. It is suitable for use in demanding applications such as aerospace, store separation and military and automotive crash testing. The nHSC-36-S1-1 camera supports the imaging of high speed events at up to 500 fps at full resolution (1280 x 1024). Because the nHSC-36-S1-1 is pre-tested and pre-qualified for the harsh environments typical of airborne testing, it can be rapidly deployed with little effort, according to the company.
Curtiss-Wright; Charlotte, NC, USA; www.curtisswright.com
CAMERAS-VISIBLE | IC-M50T-CXP
Although thermoelectric cooling is not a new technology, the ISVI IC-M50T-CXP, according to the company, is the first camera to combine a unique set of features such as high-resolution, a high frame rate, global shutter CMOS, fast camera interface, compact size and a TEC system to maintain sensor temperature for long exposures and reduced thermal noise.
ISVI Corp. Gyeonggi-do; South Korea; www.isvi-corp.com

CAMERAS-3D | In-Sight Laser Profiler
The In-Sight laser profiler is a measurement system with intuitive GUI and the web-enabled access that verifies part dimensions meet specifications. This combination of features makes easy-to-integrate sensor that is suitable for a wide range of applications requiring high accuracy measurement on the factory floor.
Cognex Corporation; Natick, MA, USA; www.cognex.com
LIGHTING, LENSES, OPTICS | SWIR LED Illumination for Area & Line Scan Imaging
Metaphase Technologies partnered with LED manufacturers to bring the first high-power SWIR LEDs to market, manufactured from a material called InGaAs. SWIR LEDs and lights were previously used in machine vision, however, they were limited to 5 or 50mW LEDs. These SWIR LED illuminators can be more than 14 times as powerful, creating new possibilities of SWIR integration into machine vision applications.
Metaphase Technologies; Bristol, PA, USA; www.metaphase-tech.com
LIGHTING, LENSES, OPTICS | Gardasoft S106
The Gardasoft S106 is a multi-channel ultra-low current LED controller with Ethernet interface that is reportedly the first lighting controller to produce a stable, adjustable current drive from a maximum of 90 mA all the way down to just 7 µA. The controller, according to Gardasoft, also provides accurate ultra-low light control in continuous or pulse modes. It offers 16 independent constant-current output channels which each have two current ranges that are software-configurable.
Gardasoft Vision; Cambridge, UK; www.gardasoft.com
RESEARCH & DEVELOPMENT/START-UP CATEGORY | CRISP-ML
Algolux CRISP-ML uses novel machine learning methods to automatically optimize your full imaging and vision system for image quality. CRISP-ML can effectively combine large real-world CV training data sets with standards-based metrics and chart-driven Key Performance Indicators to holistically improve the performance of your vision systems; this can be done across combinations of components and operating conditions previously deemed as unfeasible, according to the company.
Algolux; Montréal; QC, Canada; www. algolux.com
2018 Innovators Awards: gold-level honorees

SOFTWARE | Deep Learning on FPGAs with VisualApplets 3.0 new CNN Extension Library
The VisualApplets Deep Learning Library Extension is an Operator Library that allows Integrators and OEMs to quickly implement their Caffe and TensorFlow GPU-generated Inference Models inside an FPGA via a drag-and-drop user interface.
Silicon Software; Manheimm; Germany; www.silicon.software
CAMERAS-3D | Ranger3
Ranger3 compact high-speed 3D streaming cameras feature sensor resolution of 2560 x 832 pixels. The Ranger3 provides full frame imaging at 7kHz profile rate and up to 30kHz at ¼ of the sensor rows (200 rows) with 2560 3D coordinates per profile. In addition, the sensor is offered in a small housing (55 x 55 x 77 mm) that facilitates narrow space integration.
SICK; Waldkirch, Germany; www.sick.com
CAMERAS-SPECIALTY | ACCEL Series - 8K Line Scan Camera with the 25 GigE Interface
The Accel LB-8K provides more than a two-fold increase in data transmission speeds over its 10 GigE Vision predecessor, and twenty-five-fold increase over the industry standard GigE Vision interface. Suitable for high-speed continuous motion and other applications, this camera will help reduce installation costs of many long-distance applications requiring extenders.
Emergent Vision Technologies; Maple Ridge, BC, Canada; www.emergentvisiontec.com
CAMERAS-SPECIALTY | Phantom v2640 high-speed camera
The v2640 is a high-speed camera that uses a new proprietary 4 Megapixel (Mpx) CMOS image sensor (2048 x 1952) with multiple modes built into it, affording unmatched flexibility, according to the company. Correlated Double Sampling (CDS) is performed for low noise, high dynamic range operation. This capability may also be switched off to achieve higher throughput.
Vision Research; Wayne, NJ, USA; www.phantomhighspeed.com

CAMERAS-SPECIALTY | VT-MS16K
VT-MS16K model is the world's first HYBRID multispectral TDI, time delayed integration, line scan camera with Vieworks' proprietary TDI line scan sensor bearing the CCD pixel structure implemented by using the CMOS technology. In short, the hybrid TDI line scan sensor is bringing the benefits of CCD structure and the benefits of CMOS technology together.
Vieworks Co., Ltd. Anyang-si, Gyeonggi-do, South Korea; www.vieworks.com
CAMERAS-3D | Zivid 3D color camera
The Zivid camera acquires 2.3MPixel, full-color 3D point clouds with 100μm depth resolution at a rate of 10Hz. The rugged, compact and lightweight industrial packaging makes the camera suitable for mounting on a robot or in the robot's vicinity to deliver high spatial resolution, exact pixel/3D voxel alignment of color information at a high frame rate.
Zivid Labs; Oslo, Norway; www.zividlabs.com
EMBEDDED VISION | CEVA-XM6 Computer Vision and Deep Learning Platform
The CEVA-XM6 computer vision and deep learning platform helps designers to bring advanced artificial intelligence (AI) capabilities to embedded devices within the tight power and cost constraints under which the developers of these products operate.
CEVA Inc.; Mountain View, CA, USA; www.ceva-dsp.com
CAMERAS-SPECIALTY | Prime BSI Scientific CMOS camera
Balancing resolution and sensitivity with a pixel design optimized for commonly used 60 times magnification and near perfect 95% quantum efficiency, this camera targets live cell techniques including Total Internal Reflection Fluorescence, ratiometric imaging and light sheet microscopy. The 4.2 MPixel camera features 6.5 μm pixels, achieves a 100%-pixel fill factor, does not rely on micro-lensing technology to increase detection and boosts sensitivity by 30%.
Photometrics; Tucson, AZ, USA; www.photometrics.com
SOFTWARE | QualityWorX Vision
QualityWorX Vision provides manufacturers with a comprehensive data management platform for machine vision images and image data. These datasets can be collected and analyzed with other datasets from the production line to drive quality, increase yield and better inform decisions.
Sciemetric; Ottawa, ON, Canada; www.sciemetric.com

SOFTWARE | GigESim GigE Vision simulator
GigSim is a software package which converts computers, applications and embedded devices into a set of virtual GigE Vision cameras. GigESim includes a powerful and easy-to-use SDK that allows developers to assign images generated by their application to a simulated and remotely controlled GEV camera and stream them to the network for further processing and analysis.
A&B Software; New London, CT, USA; www.ab-soft.com
LIGHTING, LENSES, OPTICS | Telecentric lenses with tunable working distance
In corporation with Optotune Switzerland, Sill Optics has designed telecentric lenses with a tunable working distance maintains the necessary resolution without any mechanical movement.
Sill Optics; Wendelstein, Germany; www.silloptics.de/en
CAMERAS-3D | Ensenso X Series
Ensenso X 3D cameras work according to the "projected texture stereo vision" principle. Each modelEhas two monochrome GigE uEye cameras with 1.3 or 5 MPixel CMOS sensors and a projector that casts high-contrast textures onto the object to be captured by using a pattern mask. The design offers flexible configuration options, 100 W LED projector power and integrated GigE switch.
IDS Imaging Development Systems; Obersulm, Germany; www.ids-imaging.com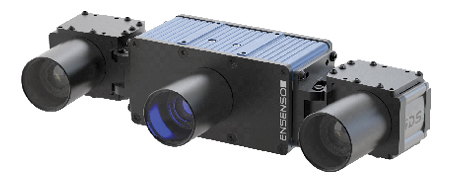 CAMERAS-NON-VISIBLE | Specim IQ
Specim IQ is a mobile hyperspectral camera designed for the analysis of material samples. Based on a VNIR CMOS image sensor (400 – 1000 nm range), along with a 5 MPixel CMOS viewfinder, the camera features an intuitive GUI, USB Type-C camera interface, 5200 mAh Li-Ion (Type 26650) battery and can make approximately 100 measurements with one SD card and battery.
Specim; Oulu, Finland; www.specim.fi
VISION SYSTEMS | KuvioVision for Raspberry Pi
KuvioVision for Raspberry Pi is a self-contained vision platform that transforms a Raspberry Pi into a smart camera. It includes core vision apps and network connectivity for easy deployment in production environments with configuration, control, and GUI provided by a remote PC.
Kuvio Automation; Tampere, Finland; www.kuviovision.com

CAMERAS-VISIBLE | LINEA Multi-line CMOS Camera
This multiline CMOS sensor architecture and camera design allows users to control the start and stop time of each line exposure independently, delivering a high level of flexibility that enables capturing images using standard TDI and HDR modes. Furthermore, it enables new capabilities of capturing multi-field or multispectral images in a single scan.
Teledyne DALSA; Waterloo, ON, Canada; www.teledynedalsa.com):
EMBEDDED VISION | Predator3D Bead Inspection
Predator3D mounts directly to robotic dispensing nozzles to inspect adhesive and sealing beads measuring width, height, volume and location simultaneously as the bead is being dispensed. It integrates with robotic controllers and provides 3D measurements to detect defects while providing closed loop control.
Coherix; Ann Arbor, MI, USA; www.coherix.com
LIGHTING, LENSES, OPTICS | Hyperspectral LED illumination
The new line of hyperspectral LED illumination products enables machine vision systems to parcel out different shades of color better than the human eye, and even allow for measuring of individual chemical compounds without the downfalls of a combustion light-source. The lights feature two new broadband and highly customized illumination systems, both for VNIR HSI (350-1000nm) and Broadband SWIR (1000-1680nm) spectrums.
Metaphase Lighting Technologies; Bristol, PA, USA; www.metaphase-tech.com
RESEARCH AND DEVELOPMENT/START-UP CATEGORY | CANA
Algolux's Camera Aware Neural Architecture (CANA) provides a novel approach by replacing the traditional ISP that delivers a processed image to the upper level perception stack (e.g. classification, object detection, etc.) with a unified camera-aware neural architecture that integrates the image formation model (optics, sensor) with the high-level computer vision model, resulting in significantly improved robustness and accuracy across difficult imaging scenarios vs. current methods.
Algolux; Montréal; QC, Canada; www.algolux.com
CAMERAS-VISIBLE | Lumenera LtX45R Camera Series with P-Iris Lens Support
The Lumenera LtX45R camera series are currently the only Sony Pregius-based USB 3.1 Gen 1 cameras on the market equipped with a controller to accept P-Iris lenses. Lumenera designed the P-Iris lens connector into its cameras for systems that require remote control of the lens' iris to further the camera's light management abilities.
Lumenera Corporation; Ottawa, ON, Canada; www.lumenera.com
2018 Innovators Awards: Platinum-level honorees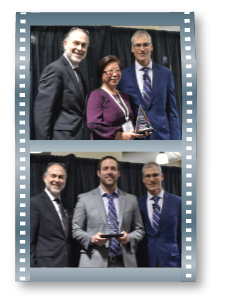 RESEARCH & DEVELOPMENT/START-UP CATEGORY | KITOV ONE
Kitov Systems' solution enables operators with no previous machine vision, robotics or programming to set up the system in just a few hours. Using robotics and sophisticated optical head, the system can inspect any 3D geometry and material and supports the automated planning of the inspection processing using CAD models or 3D scans of the product, according to the company.
Kitov Systems; Rosh Ha'ayin; Israel; www.kitovsystems.com):
CAMERAS-SPECIALTY | CRYSTA high-speed 2D polarization camera
The Photron Crysta is a high-speed polarization camera for the two-dimensional analysis of birefringence measurements, film thickness analysis, and surface roughness inspection, and is a powerful tool to understand phenomena such as birefringence, retardation, stress and impact fracture mechanisms of materials and fluids. The 2D polarization camera is based on a 1 MPixel CMOS image sensor with a 20 µm pixel size and a pixelated polarizer array made from photon crystal affixed directly to the sensor. This photonic crystal lattice features pixels, in groups of four square, each having a different polarization axis at 0˚, 45˚, 90˚ and 135˚.
Photron; San Diego, CA, USA; www.photron.com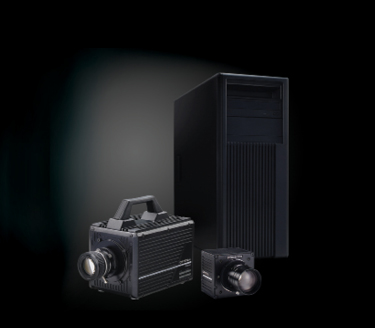 CAMERAS-SPECIALTY | 25 GigE 50MP Camera
Being powered by the latest 25 GigE Vision interface, the HB-50000 provides more than two-fold increase in data transmission speeds over its predecessor, 10 GigE Vision and twenty-five-fold increase over the industry standard, the GigE Vision interface. Delivering an image resolution of 7920 x 6004 pixels, the HB-50000 can be used in environments where products/objects are moving at high speeds and/or the camera is placed at long distance from the image processing unit using fiber cable from 1M to 10KM without the need of fiber converters or repeaters, according to the company.
Emergent Vision Technologies; Maple Ridge, BC, Canada; www.emergentvisiontec.com
VISION SYSTEMS | Multi-Spectrum Vision System
Keyence's Multi-Spectrum Vision System uses monochrome cameras to capture eight images with eight different wavelengths of light, visible and non-visible, in the blink of an eye. So fast, in fact, that the images can even be captured and inspected for moving parts. On every trigger, each pixel captures an intensity value for every flash of color - ultraviolet, blue, green, amber, red, far-red, Infrared, and white, allowing for analysis to be performed based on 2568 levels of color differentiation, as compared to 2563 levels in conventional color cameras, without any loss of spatial resolution, according to the company.
Keyence Corporation of America, Elmwood Park, NJ, USA; www.keyence.com