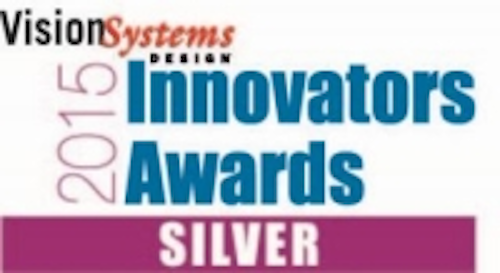 Silver levelhonorees of our 2015 Innovators Awards Program are as follows:
3I - Impresa Ingegneria Italia– L-TVB large telecentric vision box. The L-TVB family of telecentric lenses—which are designed for visual inspection systems—are housed within an enclosure, along with an illumination system and the camera, creating a complete vision system. The L-TVB telecentric lenses feature an aperture range of 500-2000mm.
Baumer– VeriSens color FEX 3D assistant. The company's VeriSens XC vision sensors feature Color FEX assistant that identifies object colors and their shades and visualizes them in 3D as color spheres. Absence of sphere collisions ensures reliable color inspection. Four vision sensor models are available with 640 x 480 or 1280 x 960 CCD image sensors.
Bioaxial– CODIM100 microscope module. The CODIM100 module is an add-on to commercial confocal microscopes that is based on the illumination of labeled samples by light spots of the size of an Airy disc (~500nm diameter) in which the spatial distribution of the light intensity is controlled and "shaped" by conical diffraction. The illumination of the sample with a series of different light distributions allows the precise calculation of the position of fluorophores with a higher resolution than the one imposed by the diffraction limit.
Edmund Optics– TECHSPEC variable magnification telecentric lens. Variable magnification telecentric lenses enable users to maximize their system's measurement accuracy. The lenses include an adjustable iris for depth of field control and feature a C-Mount design with 2/3in sensor coverage. TECHSPEC lenses are available in 0.25x–0.5x, 0.5x–1x, 1x – 3x and 0.15x – 0.5x variable magnification versions and 0.5x, 0.75x and 1.0x fixed magnification versions. Customized fixed versions are also available to meet volume requirements.
Gardasoft- Triniti technology. Triniti technology provides integration, networking, and advanced control of machine vision lighting from the product level to the application software level. This is achieved by integrating a Triniti chip in each light and providing integrated communications from the light to the controller.
Icron Technology –USB 3.0 Spectra 3001-15 active copper 15m extension cable. The USB 3.0 Spectra 3001-15 extender is a 15m cable that provides 5 Gbps throughput and 5V at 900mA. The cable features locking connectors, an LED indicator and is compatible with AIA USB3 Vision compliant devices.
Newnex –FireNEX-uLINK USB 3.0 active repeater cable. The FireNEX-uLINK series of active USB 3.0 repeater cables are capable of extending USB 3.0 camera to computer distances up to 16m. The bus-powered cables use USB 3.0 standard copper cable and feature USB 2.0 backward compatibility, USB3 Vision-compliant locking and RoHS certification.
Opto Engineering –View-through system. View-through systems are illumination systems that allow for double-side object inspection. The systems consist of two symmetrical illumination modules, each one made of two illumination units: a diffusive strobe dome illuminator and an active "view-through" backlight unit. The system is designed to create compact inline inspection solutions that illuminate both sides of objects.
Pleora Technologies –Transcoder gateway. Pleora's Transcoder Gateway—which is GigE Vision, USB3 Vision, and GenICam compliant—automatically converts video from up to four GigE Vision (depending on the model) or up to two USB3 Vision cameras into H.264 compression format. Video is then transmitted over a wireless or wired connection to a playback device such as an embedded PC, tablet, smartphone or monitor.
Rockwell Collins Head Up Guidance Systems -EVS-3000 series enhanced vision systems. The EVS-3000 is a multispectral real-time imaging system design to present to pilots a "day-like" view, even at night, in the worst of weather conditions. The system incorporates multiple camera cores operating from visible through long-wave infrared bands, and presents a single combined image on a heads-up display.
Sahajanand Technologies –The Magnus Digital Diamond vision system. The Magnus Digital is a machine vision-based computer numerical control (CNC) measurement and planning machine for rough diamonds. It features a high-resolution color camera, multi-zone illumination system, a laser source for marking and software. The system creates virtual models of rough stones and plans for the best possible yield for diamond planning.
Vision Research –Phantom v2511. The Phantom v2511 video camera can capture up to 25,600 fps at full 1 MPixel resolution and features two HS-SDI ports, a 10GB Ethernet connection and a standard 1Gbit Ethernet connection. The camera is equipped with a 1MPixel CMOS image sensor with a 28 µm pixel size, 12-bit depth, and the company's CineMag interface which allows the user to save a images from camera memory to non-volatile storage.
Z-LASER -ZM18-T3 electronically stabilized wavelength laser module. The ZM18-T3 is an electronically-stabilized wavelength laser that, because of its minimized wavelength drift, will allow for more repeatable measurement performance when designed into an automated gauging application. It features an extended temperature range of -40-131°F.
Next page:Gold level honorees

Page 1 | Page 2 | Page 3 | Page 4 | Page 5