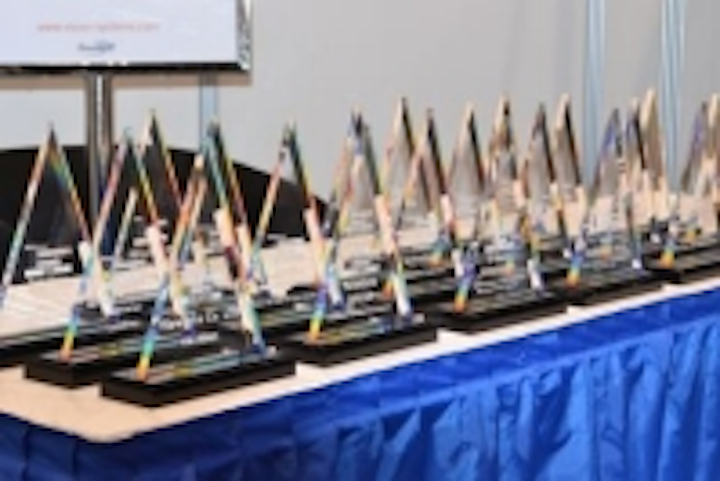 Editor's note: This article is continued frompage one.
"For the first time in its 20 year history, our publication has recognized some of the leading-edge developments in vision," said Alan Bergstein, Publisher of Vision Systems Design. "Both the number and quality of the submissions were exceptional, and I would personally like to thank everyone that entered the awards program."
This year's award's ceremony in Chicago marked the first year of Vision Systems Design's Innovators Awards program. Next year – the Second Annual Innovators Awards - will be held in April at theAIA's Vision Show in Boston, MA, USA. An announcement regarding how to enter next year's Awards program will be made in September 2015. 
Additional notes from the A3 Automate show recap include:
84% of attendees have a key role in the acquisition of automation products and systems, while 70% said their company plans to purchase automation components and/or systems in the next 12 months.
96% of exhibitors said that Automate 2015 either exceeded or met their expectations, and 88% are likely to exhibit at the 2017 show.
The next Automate show will be held April 3-6, 2017 at McCormick Place in Chicago, collocated once again with ProMat, which is sponsored by MHI.
The success of this year's show has led to a record request for booth space, and it's likely the show will sell-out of floor space for the first time in its history, according to A3.
"Automate was once again a fantastic event for us with nearly triple the number of high quality leads," said Nick Tebeau, Vision Solutions Product Group Manager at LEONI. "With all the different automation technologies under one roof, Automate gives us significant exposure to key potential customers. We're already looking forward to Automate 2017."

View theA3 press release.
Share your vision-related news by contactingJames Carroll, Senior Web Editor, Vision Systems Design
To receive news like this in your inbox,click here.
Join ourLinkedIn group | Like us on Facebook | Follow us on Twitter| Check us out on Google +
Page 1 | Page 2