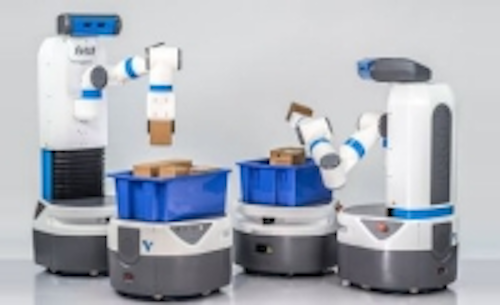 Fetch Robotics has announced the launch of a vision-guided robot tandem called "Fetch and Freight," which are designed to autonomously complete various tasks in logistics and warehouse operations.
The system is comprised of a mobile base (Freight), and an advanced mobile manipulator (Fetch), and is designed specifically to assist in high-pressure logistics and e-commerce warehouse environments.
"The growth of e-commerce and mobile e-commerce is pressuring retailers to invest in solutions that can handle the burdens of an on-demand economy," said Melonee Wise, CEO of Fetch Robotics in a press release. "We see our robots as a key ingredient for warehouses that are looking to become more efficient with respect to fulfillment and customer satisfaction."
Fetch and Freight are built upon the open-source robot operating system ROS and include software to support the robots and integrate with the warehouse environment. The robots are designed to work alongside humans, performing such tasks as warehouse delivery and pick and pack. Used in tandem, Fetch and Freight are capable of handling the vast majority of all items in a typical warehouse, according to Fetch Robotics.
Each of the two robots features different sensors for purposes of autonomous navigation. Fetch has a modular gripper that is equipped with an ISO standard interface, and includes an Ethernet connection so that users can integrate a camera for vision. In addition, it has a PrimeSense RGB 3D depth sensor in its head, which is capable of pan and tilt, according to IEEE Spectrum. Additionally Fetch has a number of mounting points for additional sensors, should the environment require it. In Fetch's base, there is a charging dock, 25-meter range laser scanner for navigation, and an obstacle avoidance laser from SICK. Freight features also features a 25-meter range 2D laser scanner, which it uses to detect people and follow them around. In addition, Freight—which can navigate as speeds up to 2 meters/s—has a stereo speaker and a computer access panel.
Both robots can autonomously recharge via a common dock, which is designed with a distinctive shape to help the duo locate it with lasers. The docks can charge the robots in 20-minute bursts to maximize uptime, but during less busy times, the docks can do three-hour deep cycle charges.
Fetch Robotics has yet to release a price point or official ship date for the robots just yet, but according to the IEEE Spectrum article, Wise is confident that the company will be able to ship both of their robots in Q2 of 2015. Fetch and Freight may initially be deployed in pilot programs in real warehouses within the next few months, but the first look that the public will get at the robots will be at ICRA, the IEEE Robotics and Automation Society's flagship conference on May 26-39 in Seattle, WA, USA.
View more information on Fetch and Freight.
Share your vision-related news by contacting James Carroll, Senior Web Editor, Vision Systems Design
To receive news like this in your inbox, click here.
Join our LinkedIn group | Like us on Facebook | Follow us on Twitter | Check us out on Google +