Live from VISION 2016: North American and European machine vision outlook
A current look at the machine vision and imaging markets in North America and Europe
Nov 8th, 2016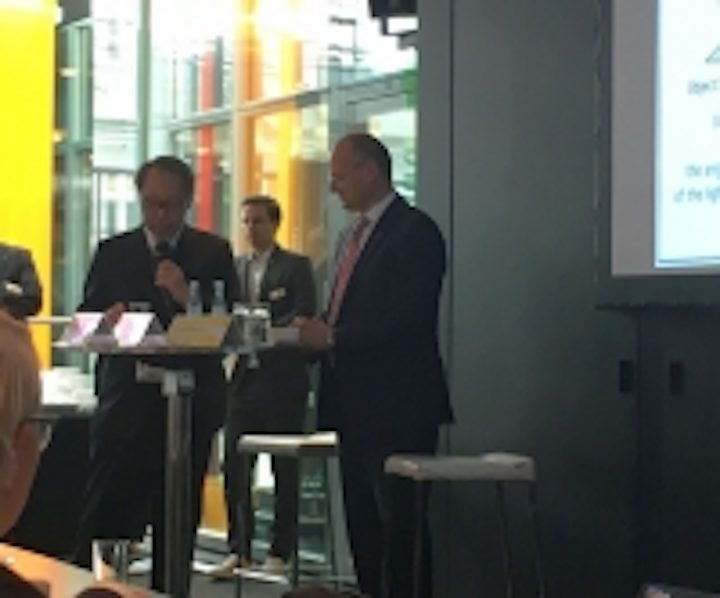 A current look at the machine vision and imaging markets in North America and Europe
At the current time I am writing this, it's near the end of the first day ofVISION 2016 in Stuttgart. While I saw numerous vision industry experts and veterans today—all of which I will write about at some point—right now I am going to focus on the market both in North America and in Europe.
First, I had the opportunity to attend the opening VISION press conference, which saw representatives from MVTec, ISRA Vision, ifm electronic, Silicon Software, and Messe Stuttgart give various presentations on the state of the market and Industry 4.0. Specifically, Dr. Olaf Munkelt, on behalf of the VDMA, provided some insight into the current state of the industry in both Germany and Europe overall.
Before doing so, however, he highlighted the importance of light in machine vision, and how without it, many of these technologies would not be able to function. This was because right before Munkelt spoke, the VISION 2016 Award winner, Machine Vision Lighting Inc., was introduced. Shigeki Masumur (pictured with Munkelt) President and CEO of Machine Vision Lighting Inc., gave a brief presentation on his company's technology, which is referred to as the VISA Lighting Method (Variable irradiation solid angle) lighting, which enables precise and uniform control over the shape and angle of lighting.
From there, Munkelt highlighted an 8% growth in the market in Europe and Germany. He noted that the industry is on a growth path, and will stay there. In addition, incoming orders area up, as are sales. Sales in Germany are up 20% from January to September, while sales in Europe overall are up 8% in the same time period. Munkelt then listed off the areas with the largest machine vision turnover in 2015, with Germany (13%) and North America (11%) leading the pack.
In terms of the markets driving growth, he listed automotive as number one, which he says will remain there for quite some time. From there, it was followed by electronics/semiconductors, metal, food/tobacco, and glass. He mentioned Asia (China, South Korea, and Japan) as growth drivers, as well as the United States, where many investments across various industries are being made, including in non-industrial applications.
Later on in the afternoon I had the pleasure of meeting with Alex Shikany, Director of Market Analysis, AIA. I began the conversation by asking about the most recent AIA report, which indicated that the North American market saw a slight decrease in Q1 of 2016. When asked why this was, Shikany provided news for optimism.
"Luckily, we've already come out of this a bit," he said. "In Q1 and Q2, we saw a downward trend. But when I started looking back, I noticed that this has happened before, as the industry is cyclical. In 2012 it happened, which also happened to be an election year."
He added, "We expect 2018 and 2019 to be very strong years. Q3 is already looking for us, as we are seeing bigger spending from companies like Samsung and Apple, which is a good indicator for us."
In terms of what markets or applications could create further growth, Shikany talked about the intersection of technology and new application areas, noting that embedded vision is proliferating, and has started to overlap some machine vision applications.
"New industries are being tapped into," he said. "This is our best path forward for 'larger than usual' growth. This includes [those used in] life sciences, drones, and others outside of the factory. Technology is meeting the opportunities."
In the immediate future, robotics and 3D imaging represent growth areas. Bin picking applications, Shikany noted, are prevalent in the industry, but they are "just the tip of the iceberg" in terms of the capabilities of 3D and robotics. Additionally, he stated that embedded vision crossing over with 3D technology opens up new applications.
"A lot of companies are looking for robots to be able to perform autonomously, and this will almost always require vision," he said.
Autonomous vehicles and drones are also a hot topic that could have an impact on the vision industry both now, and going forward. While there may only be a handful of companies developing autonomous vehicle and ADAS technologies right now, the demand will grow, and being in an industry that develops cameras, sensors, and so on, this may provide additional opportunities for companies in our industry as well.
Lastly, Shikany noted that the AIA has recently reached 350 members for the first time as a result of people recognizing that vision can help them.
"We see more and more OEM/systems integrators that recognize the benefit for vision the world, and we strive to be the portal for information for these folks," he said.
Follow us for live updates fromVISION 2016.