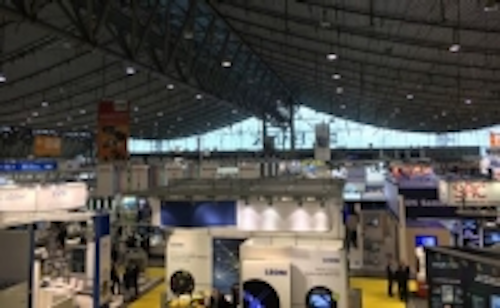 Just like that, VISION 2016 has come and gone. The world's largest machine visiontrade show, which is put on by Messe Stuttgart and held every other year in Stuttgart, Germany, saw nearly 10,000 visitors from 58 countries, as well as 441 exhibitors showcasing the latest and most innovative machine vision and imaging products and demonstrations.
From the perspective of the entire Vision Systems Design team, the show was an overwhelming success. Throughout the three days on the show floor, I met with more than 25 companies from all over the globe, and nearly all of them echoed this sentiment, noting both the number of people at the show and the level of expertise of the visitors who came by their booths. I think I could have spent an entire week walking the show floor, and I still would have walked away without seeing all of the companies I wanted to see. That's how much was going on. I would be remiss not to mention the entire Messe Stuttgart team, who planned, developed, and hosted an excellent show with what seemed to me like relative ease—with smiles on their faces (and orange sneakers on their feet.)
From my end, I was able to meet with industry veterans who specialize in products such as machine vision lighting, 3D cameras, hyperspectral cameras, industrial cameras, image sensors, frame grabbers, software, embedded vision products, and so on. One thing that perhaps gets lost in the wave of information and data I gathered from all of my conversations is just how nice it is to put a face to a name and meet someone new for the first time, or to reconnect with someone you only get to see on a seldom basis, in a face-to-face fashion. That said, I did gather quite a bit of information from all these interviews, which I will be covering in individual articles throughout the next few weeks.
During the show, we used a live Twitter stream embedded into an article on our website to provide a look in at the show, which included photo and video of the show and events. We also experimented a bit with doing some "Show Daily" e-newsletters, for which I wrote a recap article of what I saw at the show each day. Check these articles out there:
Additionally, we published yesterday the full presentation that Alex Shikany, Director of Market Analysis for the AIA, gave at the AIA Networking Reception on the North American vision market update. You can check those out there.
Like I mentioned above, there will be much more in the way of VISION show coverage in the near future from both John Lewis and myself, so be on the lookout for these soon.
Share your vision-related news by contacting James Carroll, Senior Web Editor, Vision Systems Design

To receive news like this in your inbox, click here.
Join our LinkedIn group | Like us on Facebook | Follow us on Twitter
Learn more: search the Vision Systems Design Buyer's Guide for companies, new products, press releases, and videos