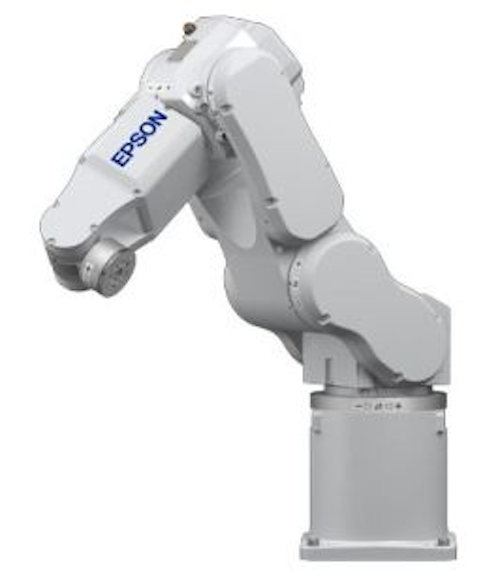 C-4 series robots are the latest addition to the C-Series robots from Epson. These 6-axis robots feature a longer arm reach (Lengths from 665-965mm), faster speeds (0.37 seconds cycle time), and a 4kg maximum payload. C-4 robots come with Epson's new RC700 controller, Epson RC+ Controls software, and fully integrated options like vision guidance, .Net support, conveyor tracking, GUI builder, Ethernet/IP, DeviceNet, and Profibus. These robots are suitable for use in a variety of applications, including automotive, medical, lab automation, consumer products, industrial products, telecommunications, pharmaceutical, semiconductor, and electronics.
To Learn More:
Contact:Epson
Headquarters: Carson, Calif., United States
Product: C-4 six-axis robots
Key Features: Arm lengths from 665-965mm, 0.37 seconds cycle time, 4kg maximum payload, RC700 controller.
What Epson says:
View more information on the Epson C-4 robots.
View More Products| Locate a vendor or system integrator | Receive e-mail updates
Share new products that you think are particularly interesting or helpful by contacting James Carroll, Senior Web Editor, Vision Systems Design.
Join our LinkedIn group | Like us on Facebook | Follow us on Twitter | Check us out on Google +